From sunny Nevada comes this color-matched V-4 sportbike. Not unmarked but nicely neatened up, this 700 might be an economical path to the sportbike hobby.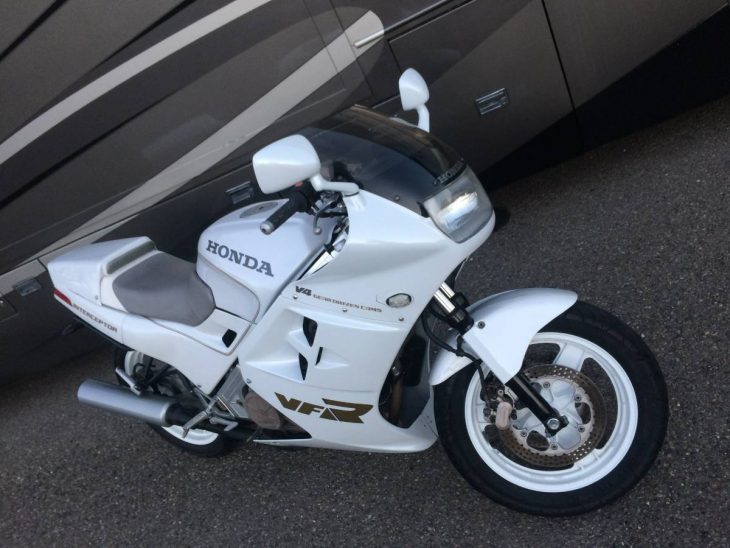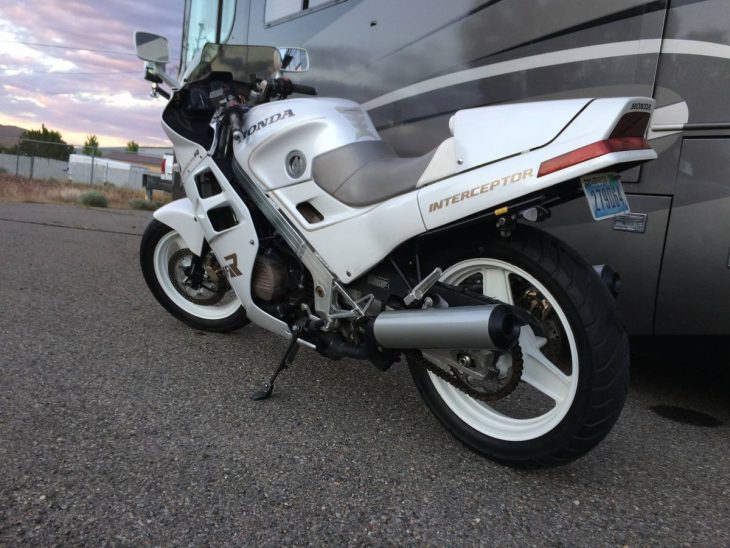 Honda went down an unusual path in the early 1980's developing a mid-size V-4 for road and race use.  After some cam reliability issues, the bikes were re-introduced with gear driven cams and other changes which bulletproofed the engines.  In the square-tube cradle, the 699cc four generates 81 hp up at 10,000 rpm, quietly with water cooling.  Showa dampers front and rear. the forks incorporating Honda's TRAC anti-dive.  Staggered tire sizes are 16″ front and 18″ rear, to help quicken handling.
From the looks of the clutch cover, this VFR700 had a close shave at some point, but survived.  The sunbelt gold and pearl white have been preserved and touched up as necessary.  Gray solo seat and re-covered white pillion somehow look better than the factory black vinyl.  From the eBay auction:
It's a 2 owner bike, super clean and very well looked after.

28000 original miles, seat has been recovered in silver and white and looks good.

Everything works on the bike, I have the original blinkers and licence plate holder, nothing has been cut.

Just put new tire and brake pads on the back, 

Needs new grips and front tire soon.

Super fun bike to ride, handles great, sounds awesome.

This bike was way ahead of its time, would suit collector. Very hard to find in this condition.

Real head turner, people can't believe its 31 years old.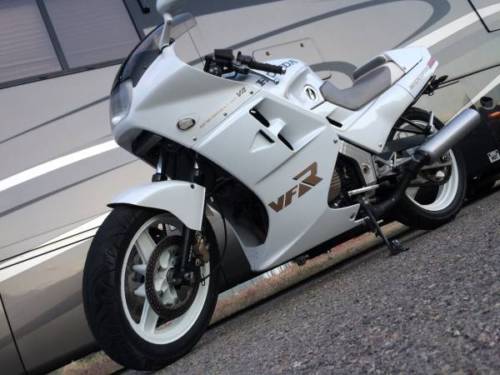 To re-affirm their engineering leadership, Honda over-engineered and built the second generation of V-4's, and though hefty, they run like the Energizer bunny. Smooth power and steady handling, the VFR700F was an early combatant in the tariff wars, and kept the VFR dynasty alive through the mid-eighties.  Looking for a great starter, or maybe hack-around bike ?  Even in the desert southwest the riding season's drawing to a close, and this one's liable to go for a low price…
-donn