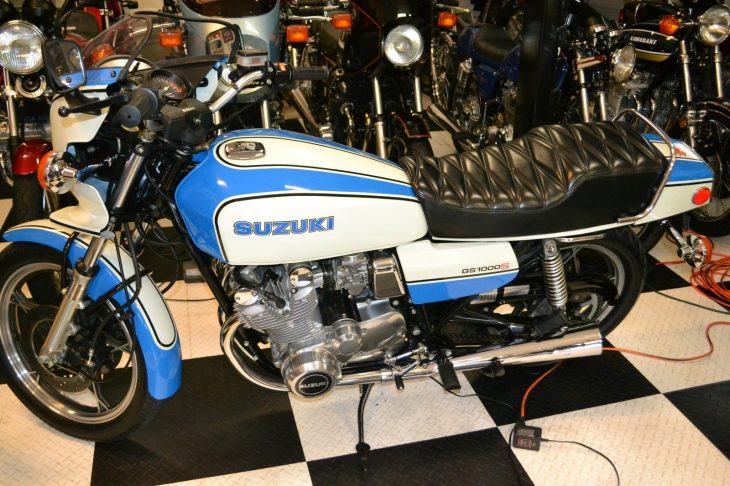 It may not look like a sportbike or a race-replica to riders weaned on GSX-Rs and Repsol Hondas, but this classic blue-and-white Suzuki GS1000S is both. In fact, this upright, bikini-faired, four-cylinder monster is one of the original "superbikes," and competed on road and track against other air-cooled inline fours from the Japanese manufacturers. "Bigger is better" was the order of the day, and displacements grew along with cylinder count, and weight crept steadily upwards to match.
It's hard to imagine today a serious sportbike could have twin shocks and skinny handle bars mounted to risers on top of the triple clamps, but there you go: we all have to start somewhere. And, believe it or not, the Suzuki GS1000S was quite the handler at the time. In fact, that was its calling-card: the GS didn't have the power of a Z1 or CB, but it could out corner them. And with engines developed by the legendary "Pops" Yoshimura and riding taken care of bike the likes of Wes Cooley, the bike saw significant success in competition.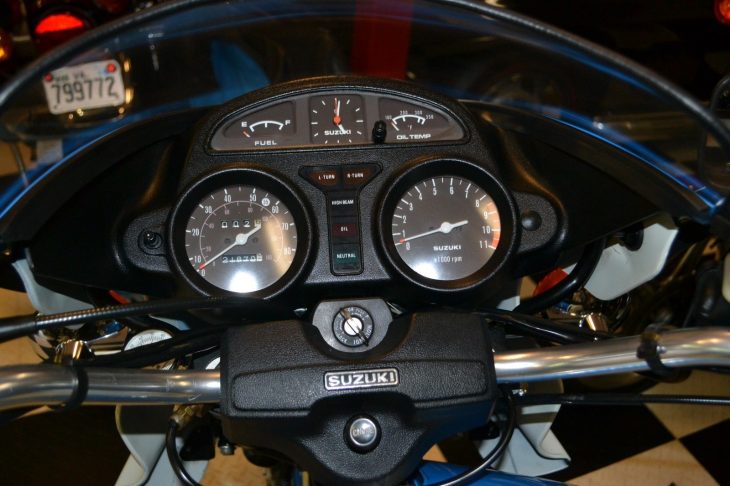 Interestingly, the 997cc motor that powered the GS1000S was a development of the GS750 engine, but was actually lighter. The bike was originally intended for the European market, where folks actually cared about going around both left and right corners. But Wes' championship wins in AMA racing led to the blue-and-white bike being unofficially called the "Wes Cooley Replica," and the name stuck.
From the original eBay listing: 1980 Suzuki GS1000S Wes Cooley Replica for Sale
The bike you  are looking at is a mostly original 1980 Wes Cooley replica, I bought the bike the way you see it with the front fork brace, aluminum handlebars and front fork air gauge other than that the bike looks to be all original sans new tires. The bike is unrestored but looks amazing and has just been serviced and runs unbelievable. The bike is not flawless but is very nice with just the right amount of patina not like a 38 year old bike that it is, but more like a 4 or 5 year old bike might have. Look at the pictures and decide for yourself and email with any questions and I will do my best to answer promptly. I have a large collection of Japanese Superbikes from the 70's and early 80's and I have decided to sell some as I just can't ride them all and they have become too time consuming  to maintain and store, and I have included some pictures in this auction of some bikes that will be coming up for sale and they range from flawless some of the best in existence original bikes, to best of the best top quality restorations and survivor bikes that look new or restored. Every single bike I own runs to perfection and is ready to go. If you have an interest in a bike let me know I will tell you when I am going to list it.
The Suzuki GS1000S is actually very rare, with approximately 1200 made: 500 in 1979 and 700 in 1980. This second-year model featured electronic ignition, a stepped seat, slotted brake rotors, and other minor updates to its appearance. There are over 21,000 miles on the odometer, but the GS1000S is built like a tank and it should have plenty of life left in it: Suzuki's big four cylinder was extremely popular among drag racers and can handle all sorts of abuse and still make it home under its own power. Bidding is very active and up to $8,500 with another day or so left on the auction. Considering the age of the bike, this one appears to be in exceptional condition.
-tad