After Doug Polen's 1991 Superbike championship aboard a 888 Corsa, the Ducati 851 SP3 ( which used the 888 engine ) was updated to the 888 SP4 for the 1992 model year.  Though there was also an even racier 888 SPS, the SP4 used the winning 851 frame and 888cc engine.  Quite rare here in the USA,  this one is located in Minnesota and while the photos aren't comprehensive, appears to be stock and undamaged.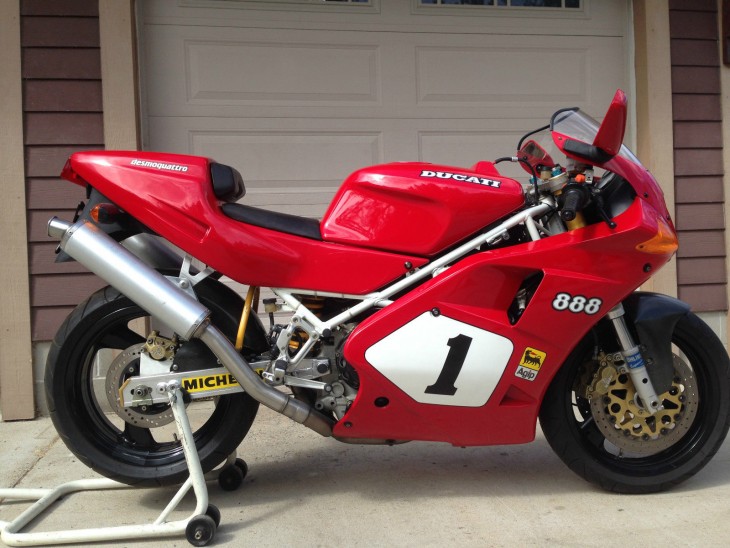 First introduced in 1987, the Desmoquattro four-valve head was the beginning of a long successful run, with belt-driven cams, fuel injection and water cooling.  The 888cc engine delivers 116hp at 10,200 rpm.  Fully adjustable Ohlins forks and shock absorber support the white-painted frame.  Full-floating cast iron disks are 320mm in front and 245mm out back.  Some mild modernization of the fairing appears very successful on this sweet-looking machine.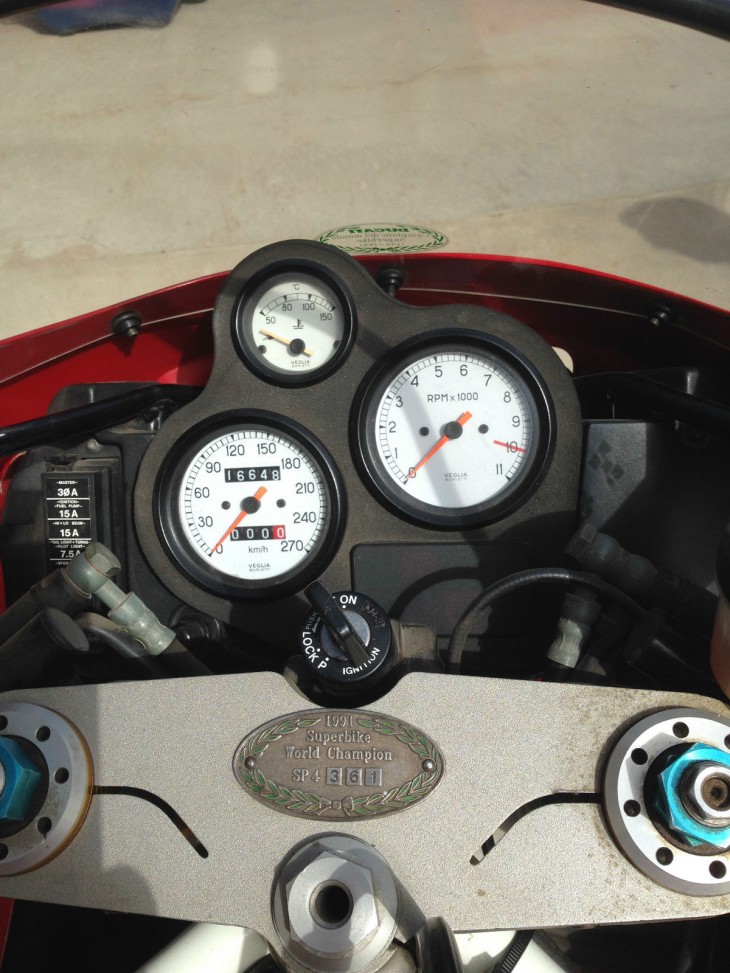 With a little over 10,000 miles, this particular bike has not been ignored and looks in very nice shape.
1992 Ducati 888 SP4 in very good original condition. I have owned since Jan.1997. One previous owner. All body parts have original factory paint and no cracks or repairs. Bike comes with the original tires ( Michelins TX HI Sports) and new OEM hand grips . Just had injectors clean and flow tested as well as new fuel filter . Will need new sprocket and chain soon and probably cam belts.  Engine runs well – has not been apart other than  a cam timing in 2000 by Doug Lofgren at Motor Cycle Performance.

Bike has a clear Minnesota title. Some factory upgrades from the standard sport/strada are 45/50mm exhaust , twin injectors per cylinder, hotter cams, full ohlins suspension , adjustable rear ride height rocker, close ratio transmission, full floater cast iron rotors, factory carbon fenders and rear shock heat guard, better clutch, solo tail with aluminum sub frame, a bit more compression maybe some others but can't recall right now.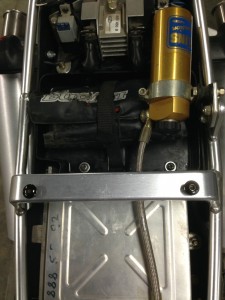 Certainly one would expect to renew the rubber, belts, and liquids before running this bike as intended, and inspect the sprockets and chain as the owner recommends.  But once those are done, it's off to the races, as it were.  And speaking of races, 12 hours into the auction there are 14 bids, up over $10K which hasn't met the reserve, looks like interest in this model and condition will be strong.