Ducati is responsible for some of the most iconic motorcycles in the world. They are also purveyors of more marketing ploys than any other manufacturer, as evidenced by the endless parade of Limited Edition models. Therefore, words like "special" and "rare" are used so often as to appear meaningless. But limited numbers aside, Ducati has made some revolutionary leaps along its long history, cementing their place in motorcycling history with truly milestone machines. Not content to simply evolve one step at a time, at certain points in history Ducati doubled down on a new idea, catapulting forward along the performance curve. The introduction of the 851 was just such a moment. Today's bike, a 1991 851 Strada, is a good example of that revolution.
If you think about the major technological jumps prior to the late 1980s, Ducati went from being a small bore, single cylinder manufacturer to producing twins. The L-twin configuration evolved over time, but was invariably a small step forward along the same route. The introduction of the Pantah could be seen as a leap, but in reality that move was more towards efficient production than outright performance. The Pantah was essentially the same air-cooled, two valve desmo twin as the bevel drive that came before, with only mild steps in go-power. With the 851, however, Ducati turned their own ideas of performance on its head. Simultaneously introducing liquid cooling, fuel injection AND a four valve, desmo actuated head, the 851 was a massive step forward from a technology perspective and performance. Did it work? Raymond Roche, participating in World SBK, took 3rd overall in 1989, was champion in 1990 and came in second in the two years to follow.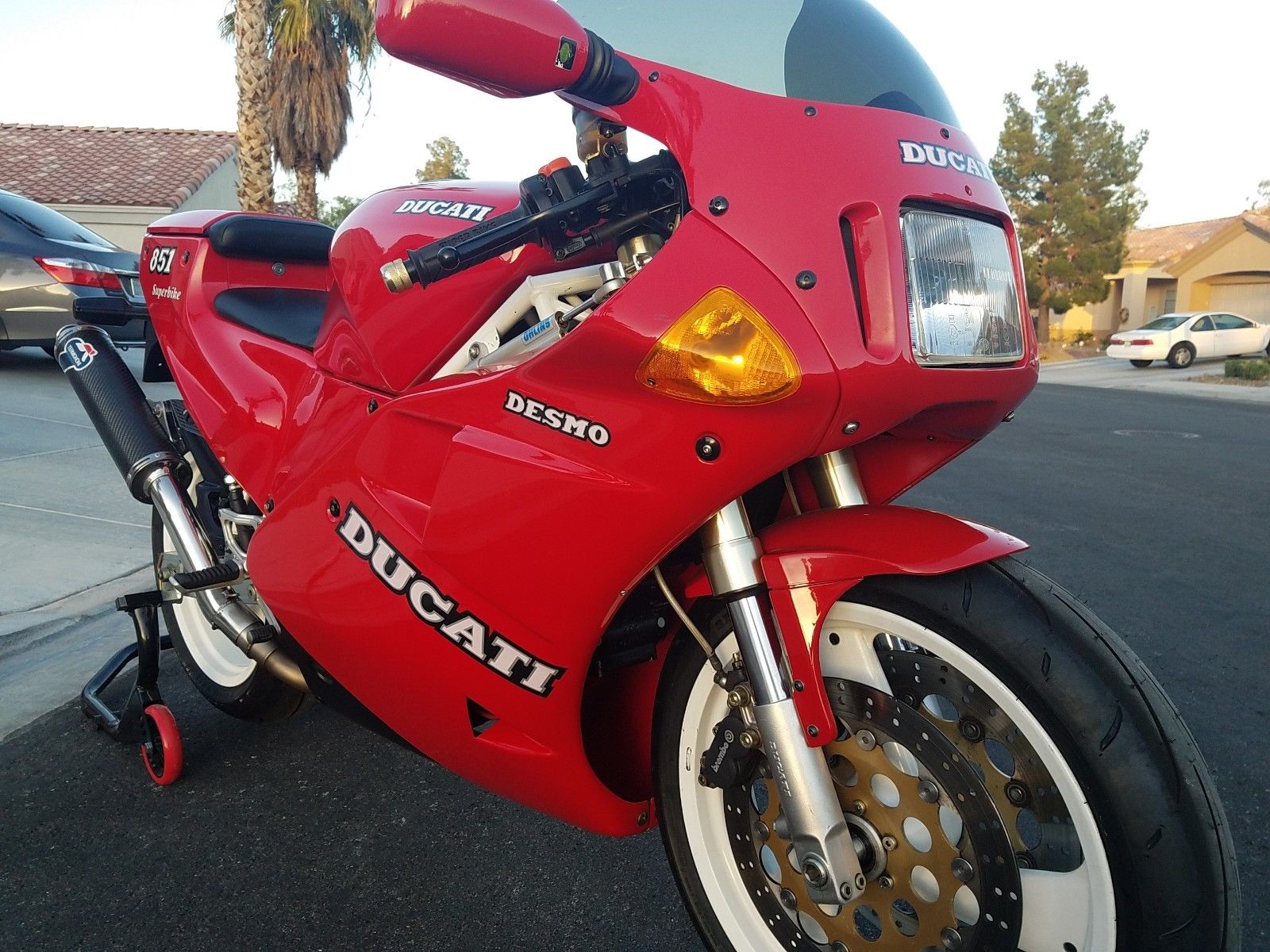 From the seller:
Ducati 1991 851 Strada, mostly original condition 14,600 miles.

Stored in Las Vegas Nevada for 8-12 years by the 2nd owner. Condition was not damaged or crashed.

Work that's been done since Nov 2017:
Major service including valve and shim adjust, new cam belts installed, degree the cams and clean and adjust throttle bodies by a qualified Ducati service tech.

New parts include:
fuel pump
fuel filter (Mahle)
Air Filter (BCM)
all fuel lines, inside the tank and out, plus clamps
cam belts (Exactfit)
radiator hoses and water pump hoses (Samco)
clutch master cylinder (Brembo)
front brake master cylinder (Brembo)
stainless steel clutch line (Galfer) and slave cylinder
chain (DID)
sprockets
Dunlop Q3+ tires
oil (15/50) full synthetic and Ducati filter,
tinted windscreen (Zero Gravity)
lithium battery (Shorai LFX18A1-BS12)
new voltage regulator

Plus, brakes have been flushed and radiator has been flushed. Left and right fairings have been painted.

Also I chose the very rare, period correct carbon Termignoni high mount exhaust and they sound beautiful. There is also a header modification, see pics. Other special parts included are rear Ohlins shock with remote adjuster. Ohlins steering damper.
Included with the bike are the original mufflers, passenger footpegs, owner's manual, one key and original windscreen.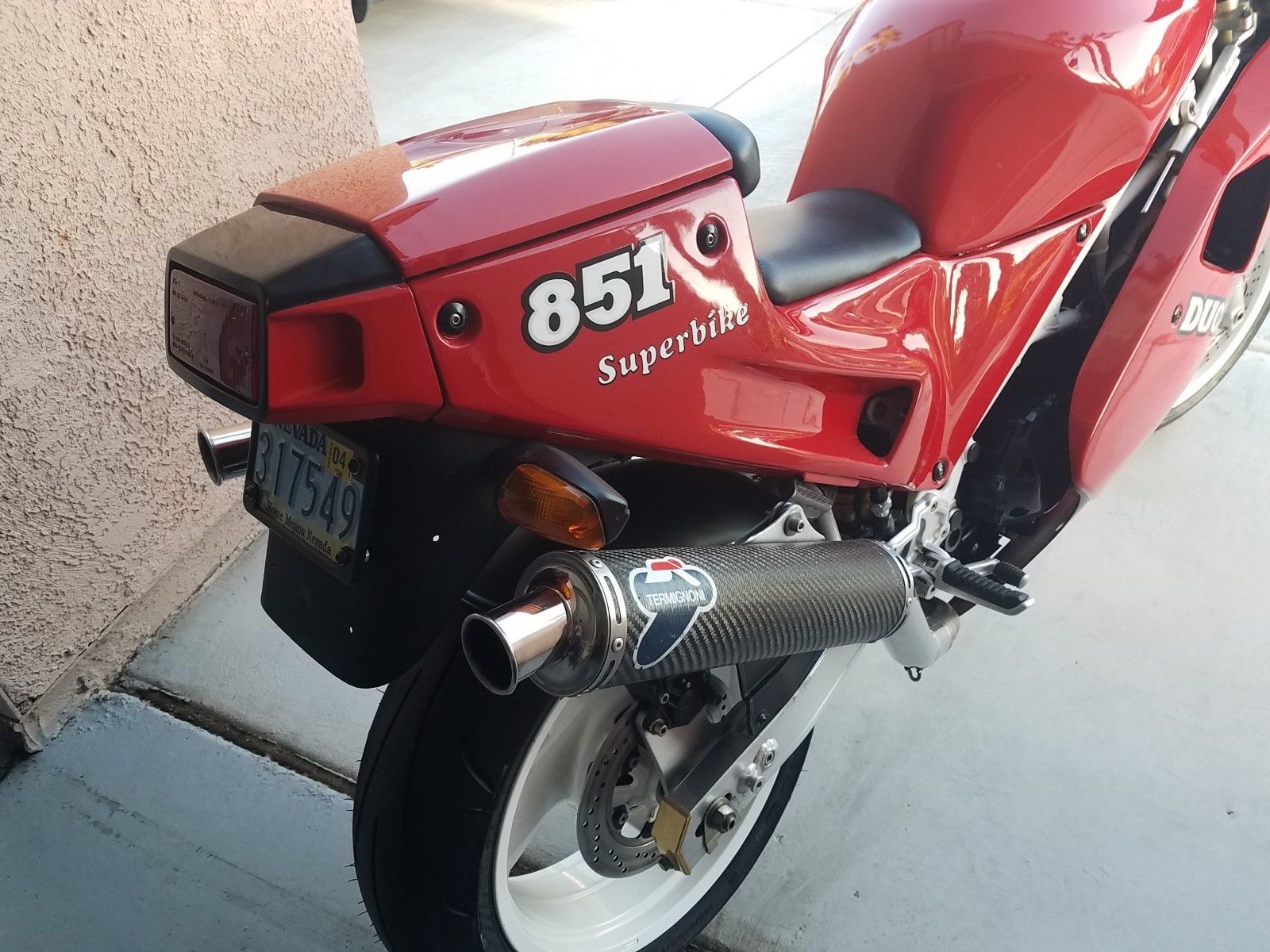 Like many Ducatis, the 851 was released in a few different flavors. What you see here – the Strada or street edition – was the base model. This is not a homologation bike, although the basic platform is the same to the SP series. The Strada was the most streetable, complete with a passenger pillion hiding under the color coded tail cover, and nifty passenger grab handles that pivot out from beneath the seat. 1991 and 1992 were the last years of the 851 – the 1992 SP versions of this model actually contained a 888 motor, although the Strada remained an 851. But this speaks to the robustness and longevity of the basic mill, as even the 888 eventually became a 916 while still being badged as an 888. This is a milestone bike for Ducati, and the platform that won SBK victories and birthed the 888 and legendary 916.
Today's 851 Strada example looks to be in great shape – with wonderful photos. Mileage is reasonable considering you are looking at a 27 year old performance bike. There are a few added farkles in the manner of tinted windscreen and carbon bits, and the high-mount carbon Termis which look great. They interfere with the passenger pegs, however, so those have been removed (but are available with the sale). The Ohlins upgrades are choice, to be sure. The add ons and upgrades do not cause concern. The seller notes that both sides of the fairing have been painted – with no comment as to why. It may have been simply cosmetic, as there is no real evidence of the bike being down. Either way, it looks great in the pictures, appears to be very clean and cared for, and with those Termi cans I'm sure it sounds incredible. A big plus is that all services have been recently completed.
Well-preserved 851 examples have held up in value reasonably well. This was a watershed bike for Ducati, and it continues to be a sought-after model. This particular bike sits below $6k at time of writing, with reserve not met. No telling how high the reserve is set, but I would estimate somewhere around $7-8k would be in the money. We have definitely seen these cross the auction block for less, but the market can be a funny thing. Just check out some of the comments on the more rare examples of Ducati exotica featured in the pages of RSBFS to read comments such as "I remember when you could pick up one of those for just $xxx…" Check out the auction here, as this bike is currently a bargain. Will it close that way? What is the current market temperature for a beloved Ducati model (albeit non-homologation base model)? Watch on, and good luck!!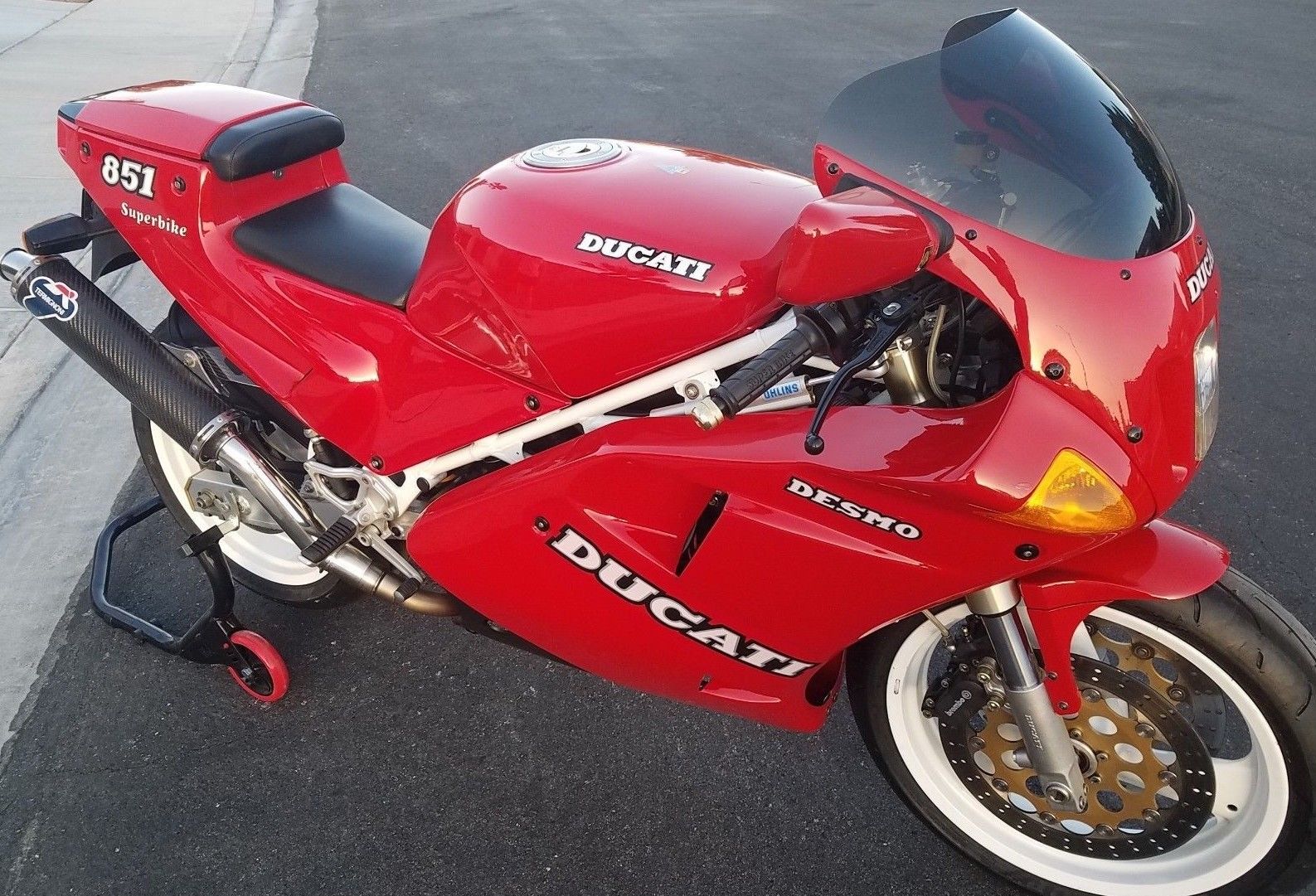 MI