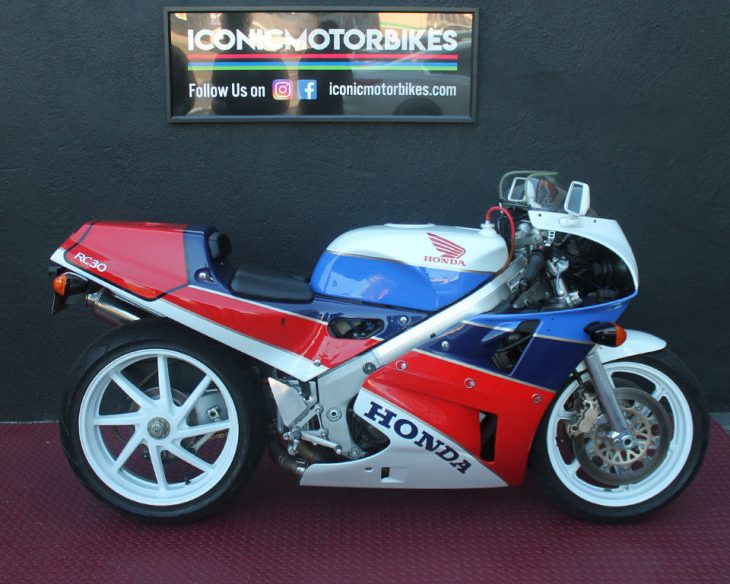 If you stop through this dusty corner of the Internet often, you have by now figured out that our buds at Iconic Motorbikes pull no punches when it comes to lining up the finest wares for their museum/dealership. It's easy to say that they deal in the best or nothing, but a cruise through their inventory will back it up. This 1990 Honda RC30 is absolutely no exception.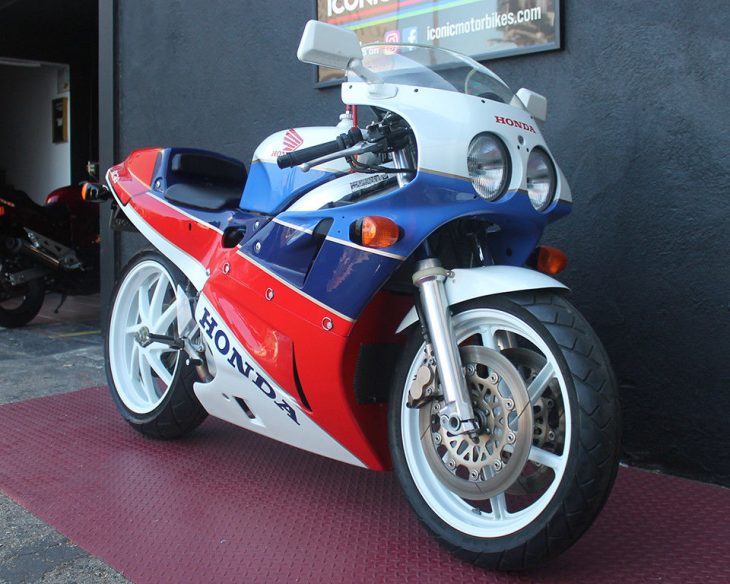 It is a 7,400-mile U.S.-spec example, and it's original down to the plastic spiral around the rear brake lines. After the first owner racked up the street miles, the bike was sold to a Honda dealership, where it sat in a climate-controlled display without being ridden. That means that the bodywork, aluminum parts, plastic and rubber are all free of the aging you often see on long-dormant machines. The only giveaway is the sheen on the tires, which we would swap out if you plan to ride it.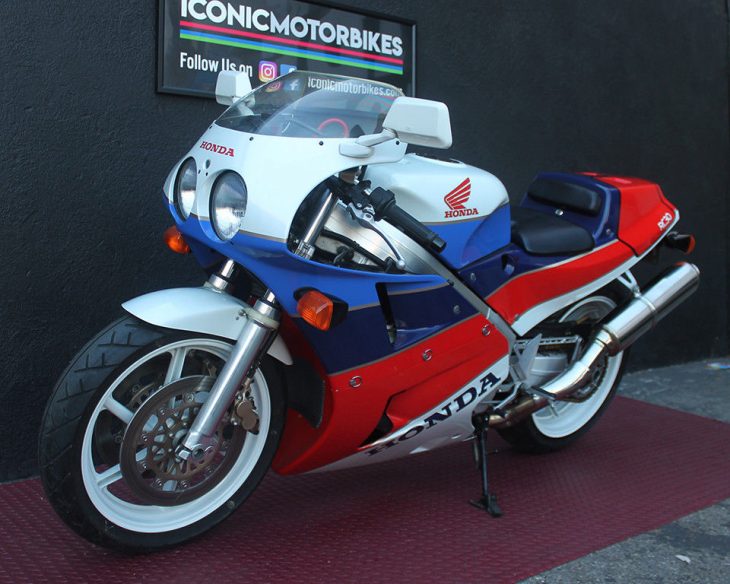 From the eBay listing:
1990 Honda RC30 in fantastic condition & all stock! LOW MILES!
Honda RC30's are arguably one of the most collectible and sought after sport bikes and their values continue to climb! A recent zero mile example fetched over $92,000 at auction in Las Vegas in Jan, 2018. I personally bid on the other RC30 that was at Mecum and it too fetched $44,000 and honestly, it doesn't hold a candle to this one as I went through it with a fine tooth comb prior to bidding. Still pondering the values, there are a few on Ebay UK right now, the nice ones are very close to our asking price and if you add in shipping, crating, import fees, you'll be at over $45K and still not know what you bought until you receive it and we all know how that can go….(I for one sure do…unfortunately)

This particular one is in fantastic shape and babied since new with only 7400 miles. It's a US Version bike so speedo is in MPH which makes it that much more collectable (and sought after). Note the 17 digit vin as well.

The second owner of this motorbike was a Honda Dealer that just used it for display and put 0 miles on it so it stayed indoors and in a climate controlled environment.

Has a Title, original handbook, original Honda RC30 Sales Brochure, some articles, magazines and other cool tid bids calling out how special the bike was at the time. Also equipped with the OEM tool kit and a very rare RC30 paddock stand which will be included with the sale.

You'd be very hard pressed to find another example this clean and near perfect. Most are Japan imports with oxidation or have had crash repairs, etc. Not this one…Beautiful as it is and needs nothing but a new owner! You will not be disappointed!

Feel free to come see her in person at our Dealership in Marina Del Rey, CA. We're only about 15 minutes from LAX and staff permitting, we'll even come pick you up at the airport need be. Take a look at some of our other super rare bikes for sale at iconicmotorbikes.com as check back often as we're adding and selling bikes every week. As it sits today, we have 6 more bikes to post including a KTM 1290, a Derbi 50, a CBR400 and a few others. We even have a Rare Harley VR1000 with zero miles up for sale.

We'd be more then happy to help with shipping. Whatever we can do to make your transaction as easy and stress free as possible.

Motorbike is for sale locally at our Dealer / Museum so auction may end early without warning.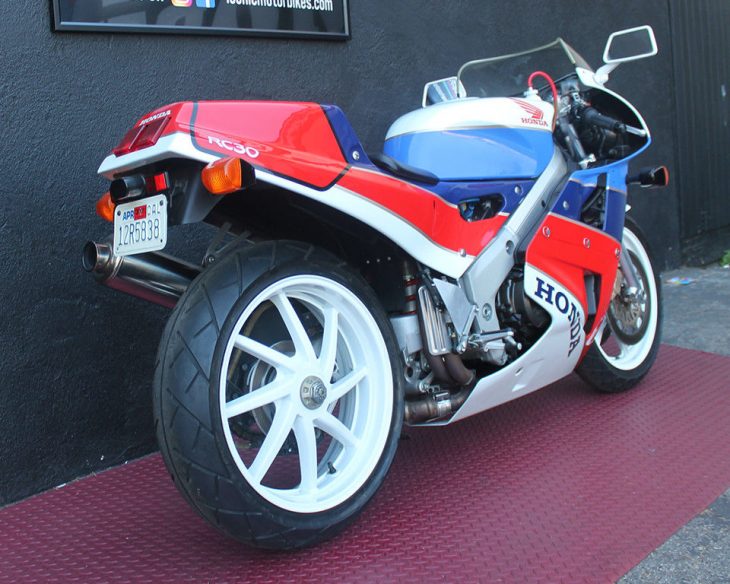 The best part of this deal is that the bike has all its U.S. paperwork in order, and could quite easily be seen before purchase, which is so rarely the case with these bikes. If it's up your backstraight, though, we'd hurry. There's not much doubt the RC30 will be gone in short order.