Super Singles of the 1980's week continues with this machine. It may look at first blush like another ratty little 80's graphics-festooned track day special that might have been ridden back in the day by Vanilla Ice with no helmet "so his hair can blow." But this Wood-Rotax SJ676 is truly something special: one of 16 ever produced, it was touted as the "World's Fastest Single" in Cycle Magazine at the time it was created.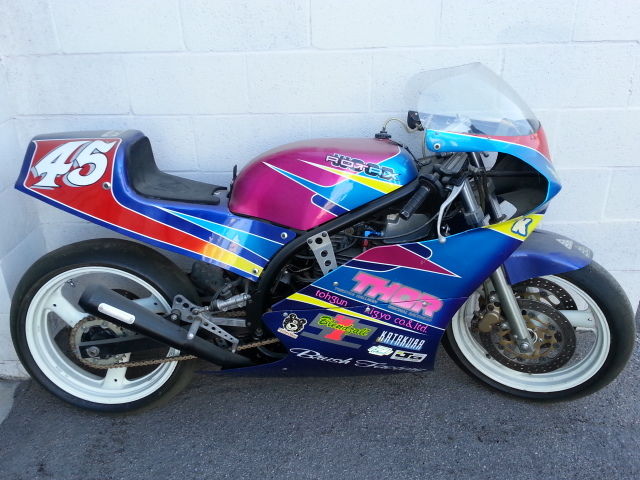 Started in 1982 and focusing primarily on dirt-track racing, Ron Wood Racing distributed Rotax engines and soon began making in-house frames for dirt and flat track competition. The Wood-Rotax SJ676 was developed by Ron Wood and Steve Jentges in 1986 to compete in an AHRMA singles road-racing class, and featured an oil-carrying frame that not only saved weight by storing the vital fluid, but also by doing double-duty as a giant radiator.
The powerplant was a DOHC, 676cc Rotax single heavily tuned to produce over 70hp, providing a terrific power-to-weight ratio for this featherweight bike: it was ridden by Walt Dorsch to a Formula Singles lap record at Willow Springs Raceway that still stands.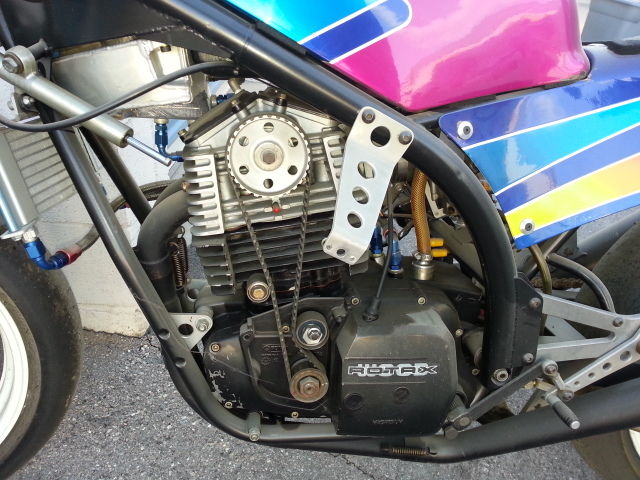 From the original eBay listing:
Very rare Woods Rotax Road Racer
Pretty sure they only made a run of 16 in total??
The history of these bikes is quite well documented
This one is in very nice cosmtic condition
I'm told it's quite original and doesn't look to have ever been dropped or crashed
Condition of the motor is unknown
This is an ex race bike so it is sold as seen
This has been stood unused for some time in a private collection
I have no idea of its history, please let me know if you have any info on it
Just in the same condition as the day it finished racing
No attempt has been made to run the engine.
I would recommend a complete recommission before use or just keep it in your collection
Great opportunity to buy a valuable investment
Bike is located in Sacramento, CA
Photos aren't really the best, and show little detail, although considering the life many racebikes lead, this one does look to be in very good shape. And beggars can't be choosers when it's one of 16: if you want an SJ676 , you'd better snap it up quickly! Parts for the engine should be relatively easy to come by, and Ron Wood's shop is still around, so you could probably even contract them to tune it for you.
If you've the nerve to chance such a rare bike at a trackday, I'll be it would be very entertaining to give guys on bigger machines a real run for their money on this lithe little scrapper.
-tad