Unwanted Ago's:  #173 And #87 Looking For New Homes
We might have to stop calling these rare if this run continues.  For the past three months or so there has been a steady stream of Ago's up for sale.  Below are the latest two.
________________________________________________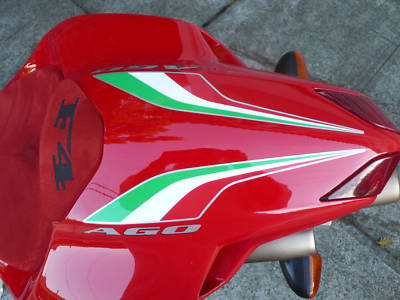 Ago #1 is number 173 of the 300 bike run.  It has covered only 1,198 in its' lifetime.  As with most of the Ago's that have appeared for sale, this one has been lovingly cared for and is practically showroom fresh.  I want this darn thing just for the MV Agusta jumpsuit that comes with it (check out the auction).  MV Ago's should not be wrenched on  in mere jeans and t-shirts.
The auction details:
I have decided to sell my AGO due to an imminent move in November. The bike has always been stored in a garage under a felt cover. After delivery, the bike's road history is three rides only. It was taken down to Carmel for the MV Augusta Concur and then again the year afterward for Moto GP that's it. No racing. No track time. Everything is bone-stock.
All the accessories are still in the original package and include:

MV Agusta Corse Mechanics Suit
MV Agusta AGO satin cover
MV Agusta Corse grip covers
MV Agusta Corse Ti Pipes
MV Agusta Ti mid pipe
MV Agusta Corse chip
CRC Certificate
Cagiva USA COV
MV Agusta display stand
All books, tools and charger
2 keys

 This is it!

The most beautiful motorcycle CRC built at the very height of their existence. The F4 AGO 173/300. Massimo Tamburini, Claudio Castiglioni and Giacomo Agostini built a motorcycle for the ages. Timeless beauty. This was their opus in  my opinion. All the other bikes afterwards were derivations of this model.

The bike is perfect as it was new. The only disclosure is a small scratch on the right mirror. You can see it in the photo. It was there from the shipping container. It is very slight.

Can ship internationally. Contact me to discuss any international transactions.
 How about that seat?  I'm not sure I'm sold on that.  Plenty of people have no problem with it as there seems to be quite a bit of interest in this one with quite a few bids.  She still hasn't met reserve though.  If have room in the garage of this beauty .
______________________________________________________
Ago #2 came of the production line a little earlier and is #87.  Your first question to the seller should be, "Do I get the MV Agusta jumpsuit?".  As seems to be usual this bike has very low miles and looks to be in excellent condition. 
 Not much info from the ad:
2005 MV Agusta AGO series #087/300 Excellent condition 2978 miles
The owner is asking $16,000 for the bike and it is located on Albuquerque Craigslist.  Have a heart and pick one of these bikes up as they should always have a loving home.
IK