Warning!
This post is in our archives. Links in this post have been updated to point to similar bikes available to bid on eBay.

If we were to ask RSBFS readers what 750cc sportbike of the 1990's they would most like to own now, I would bet most would choose a Suzuki GSX-750R Limited Edition or maybe a Yamaha OW01 or perhaps a Kawasaki ZX7R/ ZX7RR.  A few intrepid souls might throw a Honda VFR750 or Ducati 748 into the mix but would anyone have the Suzuki Katana 750 on their list?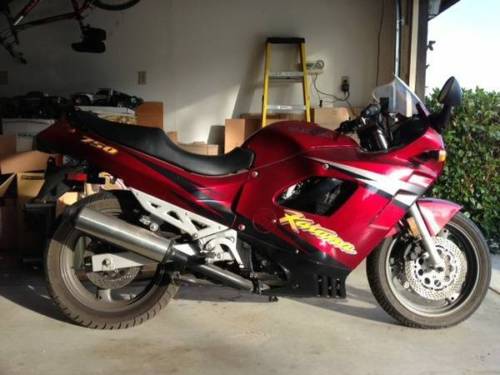 The 2nd generation Katana 750 (also known as the GSX-S) was produced at a time when Suzuki couldn't seem to figure out where to focus its efforts.  Suzuki's lineup included race oriented machines such as the 4 cylinder powered GSX-750R and a new V-Twin powered TL1000 series.  These were offered along with several more two other street-oriented models; the Katana 750 and the "dramatically styled!" RF900.  And to make matters more complex, new models such as the GSX-600R, TL1000R, RF600R and Katana 600 were already in the pipeline and would be introduced within the next year.  This wide variety of offerings was great for potential buyers who could find a bike exactly suited for their particular needs and price range but it also meant intense competition for development and marketing monies.  The result was the Katana lineup (and to a large extent, the RF lineup too) didn't received the attention/development monies to keep up with the competition and regularly came in last in model comparisons.
Even though it never got much development support from the Hamamatsu home office, the 2nd generation Katana wasn't a bad bike.  Based on the same long-stroke 750 engine as the GSX-R750 but tuned to focus more on lower and mid-range torque delivery than top speed, the Katana was perfectly adept as a street oriented sportbike with light touring aspirations.  While the competition were all moving towards pressed aluminum featherweight frames and fuel injection, the Katana frame was still steel and 36mm carbs were used to preserve low and mid-range torque while not sacrificing too much top end, and suspension/forks were standard for the time 41mm.  Styling was contemporary for the period and build quality was good (although not a match of Honda of the period).
Its important to note the Katana did have one "ace" over the competition; price.  The wide lineup meant all the major components were already available to Suzuki.  The result was that while many other 750 sport bikes were bumping the $8,000 USD price barrier, the Katana 750 was offered for barely over $7000.
Overall the 750cc Katana sold well but not spectacularly.  A revision in 1998 (the year after this bike)  with updated bodywork and improved mechanicals did help make the Katana a bit more popular but it seems like the entire model line was never a priority for Suzuki.   The 2nd gen Katana/GSX-S seems to fall into the same category as the Kawasaki ZX6/ZZR600 or maybe the Yamaha FZR's of the same period; a sportbike not really intended for track use, bikes with a focus more on price/value than pure performance.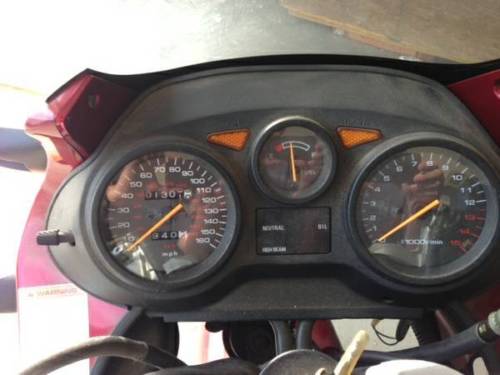 This particular Katana 750cc has obviously been parked for quite a while and the seller freely admits it will need servicing.  Pictures are limited but everyone looks to be OEM and intact.  Mileage is only 1300 miles since new so its really not even been broken in.
Here is what the seller has to say
Only 1,300 miles.
Has been stored since 2004.
Has a small dent in the gas tank where I dropped my helmet on it and a broken mirror.
There are a couple minor scratches. Otherwise in excellent condition.
Will need a new battery.
Overall it seems like it was a bike that was bought, ridden for maybe a season or two and then tucked away with "I'll get back into riding next year".  Obviously any new owner would need to plan for fresh fluids and rubber as well as a possible shock rebuild and maybe front fork fluids being done.  Also the seller indicates some pending registration fees in California so this one might be best suited to someone intending to take it out of state?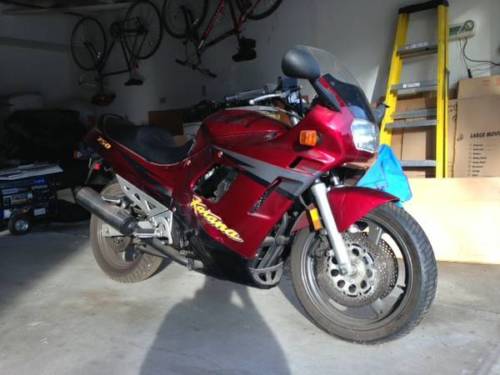 Okay so now the question – why should you consider this 750cc Katana? Given its lack of breakthrough technology and historical reputation against the competition of the time it seems highly unlikely that it will appreciate much in value.  I only found one other post on RSBFS for a 2nd generation Katana and that was back in 2011 for a 1990 edition so the market value of this one can't really be known.
Essentially this is a 20 years old bike that was never broken in.   Yes it needs a full refresh  so it will take some monies to enjoy it but the stupid low price of $1200 USD and ultra low mileage makes me think you really can't go wrong on this one – its probably worth that price in parts alone given Suzuki's interchangeable component philosophy of the times.  This really seems like a good opportunity for someone to pick up a 750cc sportbike that can easily be brought back into daily use, especially if they are looking for a daily driver with some light touring capabilities.
-Marty/Dallaslavowner