I can't say I've ever seen a Strada for sale in the U.S. before. Check out this (21k miles, $1050 reserve not met with 5 days to go):
quote from the eBay listing:
This 1991 Ducati 851 Strada bike is 1 of 225 imported. It is a strickly stock bike except for the Corbin seat and stainless steel braided brake lines ( both nice improvements!) It is in EXCELLENT condition for age( marks here and there, a "6 footer" ); REVS, RUNS AND RIDES beautifully! I really hate to let this great bike go.

–> ONLY 21, 660 miles! DESMOQUATTRO ENGINE STARTS, RUNS, and REVS LIKE NEW! This year 851 Ducati is one of the best in many ways: Ohlins front and Showa rear; both fully adjustable! Had 20,000 mile service. Electrical systems work fine. Clutch is typical Ducati. Tires are in good shape also! It is an Italian bike and rides like one; stiff but ready to rock and roll when necessary. At a stop light or parked, always gets noticed.

In some ways more fun to ride than later Ducati Sportbikes! ( at a fraction of the cost!)
And here's a sexy yellow (19k miles, $4k reserve not met with 4 days to go):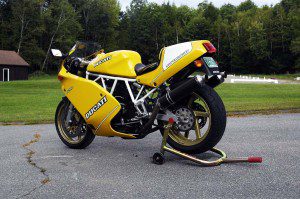 quote from seller's listing:
1993 Ducati 900 SS/SL Superlight

* Superb condition. Runs beautifully.
* 19,059 miles.
* BCM 944 kit
* High-tensile head studs
* Recent valve job
* New battery.
* Marchesini wheels
* Dunlop Sportmax tires – 170/60 ZR17 rear, 120/70 ZR17 front
* Arrow carbon fiber mufflers
* Corbin saddle

Includes:

* Original mufflers
* Original saddle
* Eclipse touring bag
* Tank bra
* Weather-proof cover
* Pit-bull bike stand
* Spare 900 SS (non-perforated) clutch cover.
The one thing that strikes me about both bikes is that they've been ridden, and I applaud that! Two exceptional enthusiast rides that deserve to be ridden even more!
dc