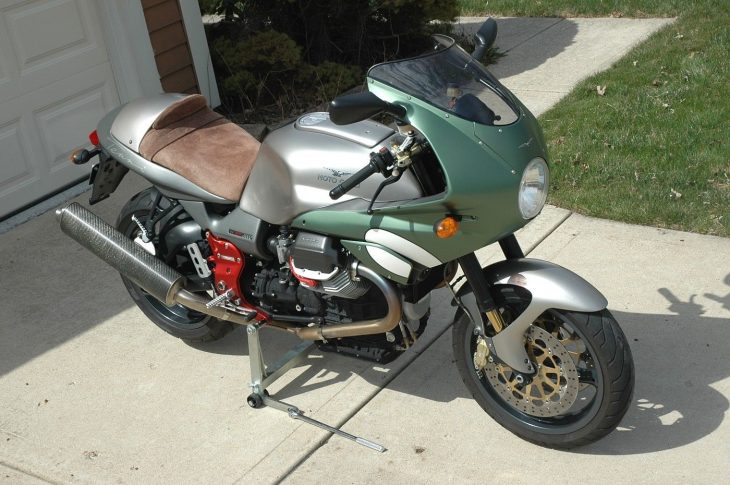 In spite of its shaft drive and pushrod valvetrain, the original Moto Guzzi Le Mans went head-to-head against bikes like the Ducati 900SS. Unlikely as it might seem, it held its own, but later generations gradually lost ground on the competition. A new platform and six-speed gearbox introduced in 2000 on the V11 Sport was a huge leap forward for Guzzi, but the fully-faired Le Mans that followed was still pretty far from a lightweight sportbike. No problem, this Moto Guzzi V11 Tenni embraces the bike's more sport-touring bent with a set of soft luggage, and this one comes with plenty of other extras as well.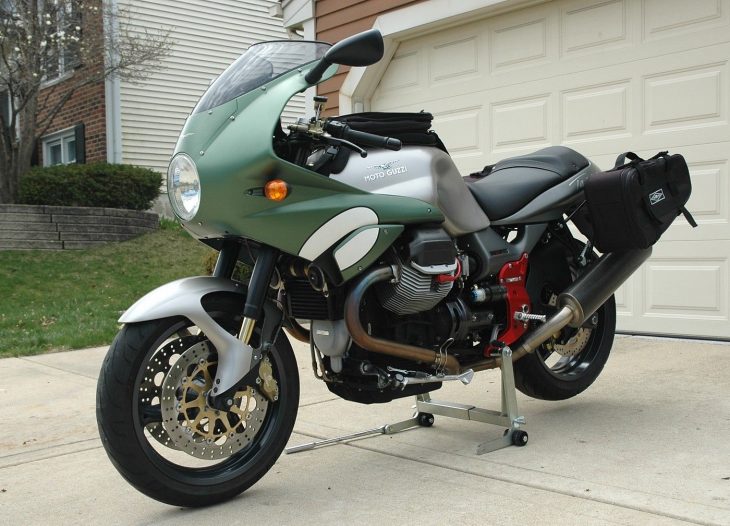 So the Le Mans doesn't look like much on paper: it's more of a mature sportbike. The big 1064cc v-twin still uses pushrods in this version and puts out 80hp and 65ft-lbs of torque to motivate the 557lb machine. It's no screamer, but pulls nicely once you get past the usual v-twin grumbling at lower rpm, and the longitudinal crankshaft's torque effect is pretty mild. Don't worry: you'll get used to it very quickly.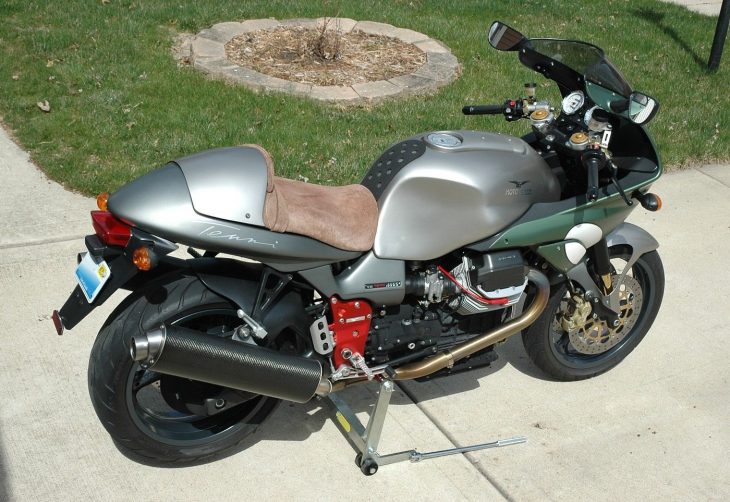 The V11 is pretty heavy, but handles surprisingly well: upgraded Öhlins suspension at the front and rear of the Le Mans improve the handling further and offer up a bit of unexpected bling for such a retro machine. The six-speed isn't as slick as those found on most modern bikes, but was a noticeable improvement when compared to the earlier, much-maligned five-speed that worked just fine as long as you planned ahead, used the clutch, consulted an oracle, made the correct ablutions…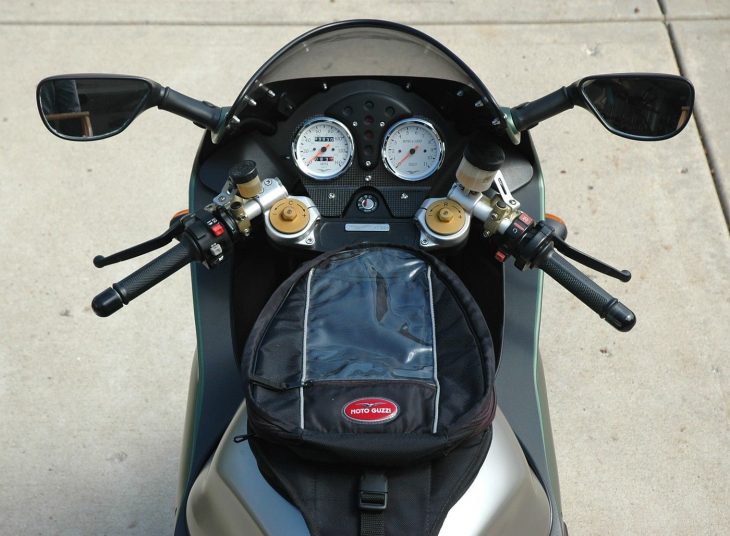 This particular example is done up in very 1930s racing colors to commemorate Omobono Tenni's success racing Guzzis during that period. It's a very limited edition, if collecting is something you're into. I just really like the colors and think Guzzis are cool.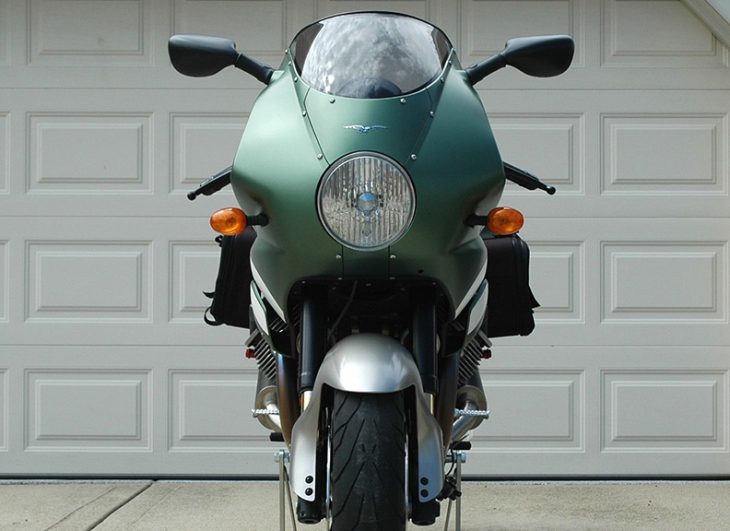 From the original eBay listing: 2002 Moto Guzzi V11 Tenni for Sale
#122 of 170 – with numbered plate on top triple clamp.

This V11 Tenni is a rider, not a museum piece. They don't show up in the photos, but there are numerous small nicks / marks on the tank, rear, and lower sides (the front fairing is almost perfect). The imperfections never bothered me, as I purchased this V11 to ride – and it rides well. I've owned Aprilias, Ducatis, and Triumphs – all chain driven with transverse engines. This was my first Moto Guzzi, and it took some getting used to. Steering requires a little more effort, and at low speeds you have to be mindful of the rotational forces of the longitudinal engine and drive shaft – but once you've got it down, this bike rewards with amazing stability, a comfortable ride, and possibly the best fairing ever made – both in beauty and smooth airflow. The hydraulic clutch is light but not limp, and the 320mm dual 4 piston front Brembos with braided lines are a pleasure to use with great feel and predictable, progressive stopping power.

The separate function forks are adjustable for compression and rebound damping, while the rear shock (just rebuilt) is fully adjustable. It's also equipped with an adjustable Bitubo Steering Damper. The bike is currently wearing Pirelli Angel GT tires that I estimate are good for another 1000 miles – I am including a new set of Dunlop Roadsmart III tires with purchase of the bike.

Comes complete with both the black and the brown suede saddles, rear seat cowl, 3-piece OEM luggage kit, tool kit, owner's manual, shop manual, extra air and oil filters, and service stand.

Mileage may go up slightly before end of auction (test rides), but it will be kept below 10,000.

Additional photos and close-ups of cosmetic issues available on request (24 pic. eBay listing limit).

Expandable Moto Guzzi Branded Tank Bag

Clear map pocket
Numerous storage compartments.
Easily unzips from tank pad for refueling.
Converts into a comfortable back-pack.
Reflective piping.

Expandable Tekno (OEM) soft panniers/saddle bags:

Zip and buckle closure.
Expands to double size.
Internal water resistant draw-string liner.
Easily removed from bike.
Locks to bike with internal key.
Mounting hardware goes on/off bike quickly and easily (only 3 bolts per side).

Also included with bike:

Paddock/service stand
Brand new set of Dunlop Roadsmart III tires from Sport Bike Track Gear
Spare Air Filter
Spare Engine Oil Filter
Spare valve cover gaskets
Owner's manual & warranty book
Service / shop manual
Two sets of keys (4 total: 2 ignition and 2 luggage keys)

Recent services:

New Fuel Filter at 6300 miles
Cleaned internal fuel tank filter screen at 9800 miles
New Air Filter at 6300 miles
Revised transmission spring
Uprated under-seat relays
Additional rectifier grounds
Lubricated throttle cables
Lubricated drive shaft
New Choke / High Idle cable
Fully adjustable rear shock just serviced by Ken Hall / SB Suspension
Oil changed at 9800 miles with Maxima full synthetic, new filter and sump gasket, cleaned internal stainless mesh screen
Hydraulic fluid flushed at 9800 miles
No coolant to worry about – engine is air / oil cooled
Brake pads & discs are in great shape with plenty of life left

I am not interested in trades, thanks.

Test rides available to serious buyers with an M endorsement and cash in hand. Tire kickers on a permit – please look elsewhere. Please show up with a helmet and riding gear. If you are local, I will gladly help you transport all the extras included with this bike (saddle, luggage, paddock stand, tires, books, etc.) back to your home. If you are from out of town, and looking to do a fly & ride, I can pick you up at O'Hare Airport and assist with shipping all the extras included with this bike (saddle, luggage, paddock stand, tires, books, etc.) Everything will be well packed in sturdy boxes with plenty of protection.

Clean & clear Illinois title in hand.

Thanks for looking!
There are not takers yet at the $7,500 starting bid and there is very little time left on the auction. With just 9,800 miles, this thing isn't even broken in, and the owner's soft luggage fitment is in the spirit of the bike. This is a sport-tourer with class and history, a bike that, when well-ridden could definitely embarrass much more sophisticated machines on a back-country road, but would get murdered at a track day. If you want a V11, the earlier Sports are cheaper, but this seems like a very nice price for a versatile bike like this, and it looks great in the Tenni colors.
-tad