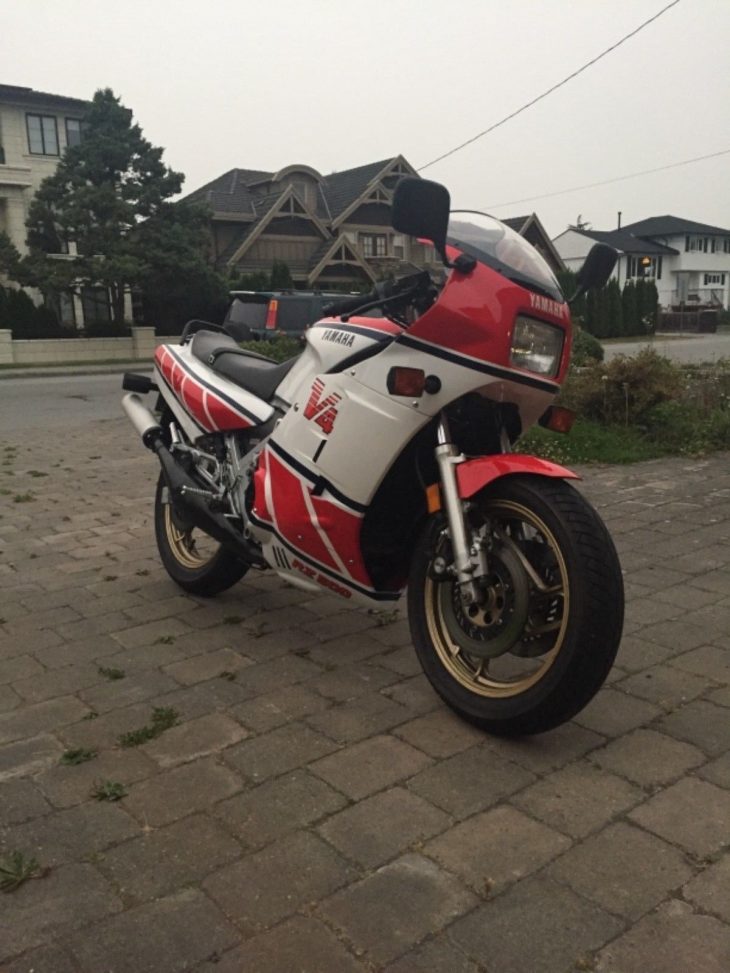 The Yamaha RZ500 promised GP-bike glory for the every man when it hit the scene in '84, with a quartet of exhaust pipes poking out at odd angles producing a biblical scream. By '85, Suzuki had rained on the parade a little with the RG500, which was lighter, more powerful and a few notches crazier, but the big Yamaha remained a sweet street bike, even if it wasn't king of the boy racer heap any more.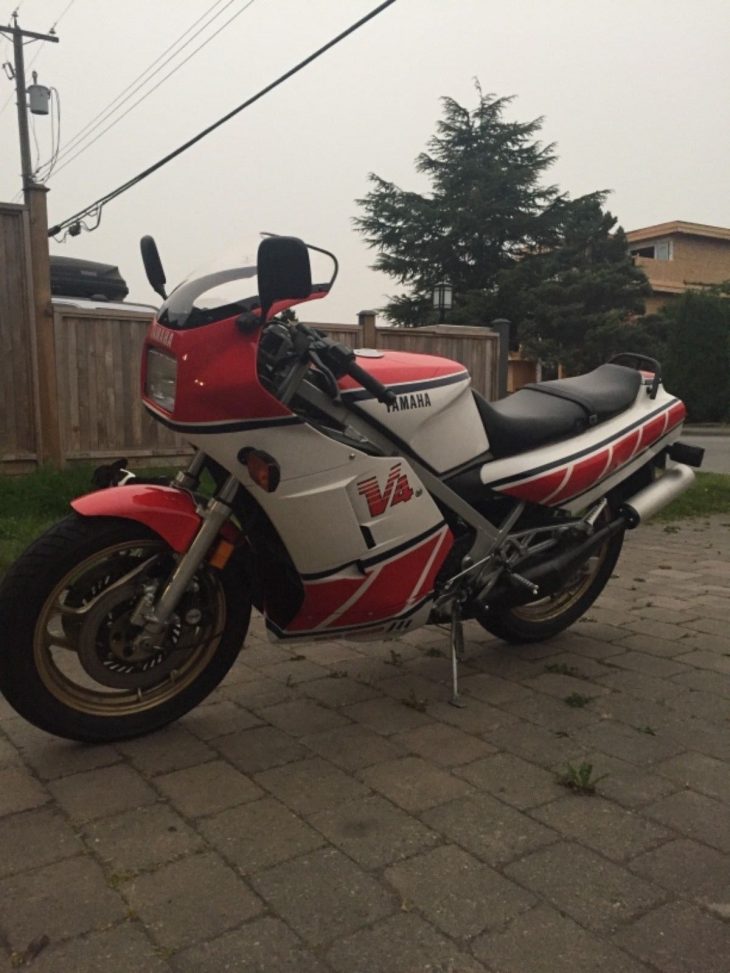 This 1985 Yamaha RZ500 lives in Canada and was pulled from a private collection in the last couple years and given a full engine rebuild to cure the ills of long-term dormancy. In the course of the engine rebuild one of the two crankshafts was replaced after being ruined by a gummed up oil injection pump. Including an ultrasonic carb cleaning and all-new OEM gaskets and pistons, the rebuild supposedly totaled $10,000.
The seller says the bodywork is all original and in mint condition, but the stock seat cowl is missing and one exhaust header is dented.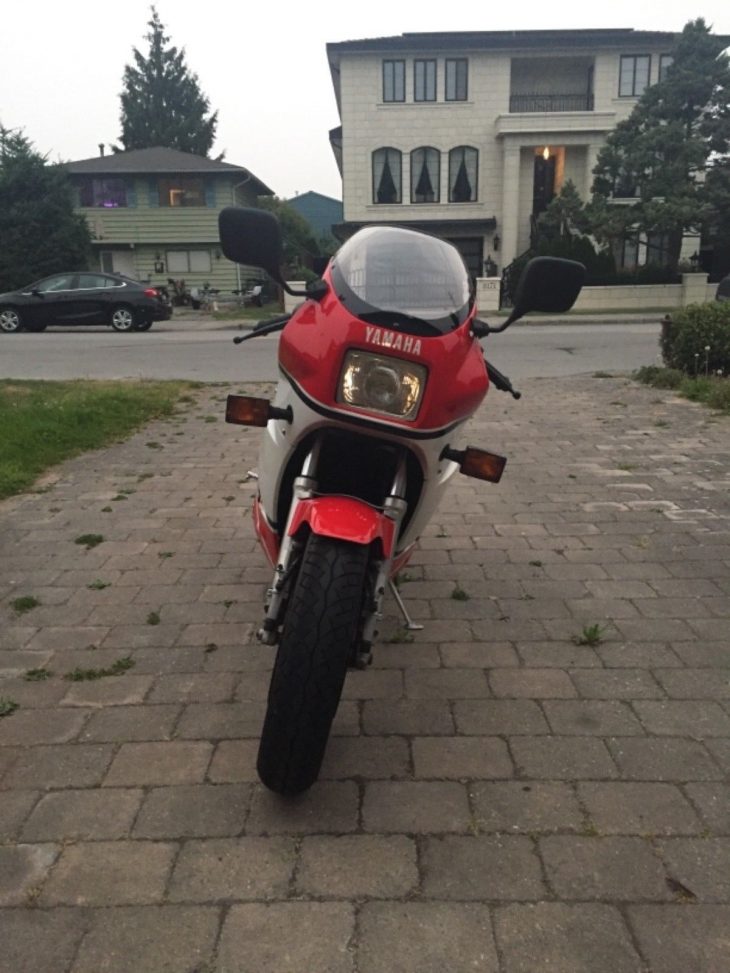 From the eBay listing:
Here it is, the one you may have been waiting for.

This is not a dried out crusty "time capsule". Although it was back in 2016 when it was pulled from a private collection. Of course it ran then, but everything was dried out and failing.

The bike under went a full refresh at 7200 klms in 2016 from a well established accredited Yamaha dealer engine was completely torn down to replace every seal and anything else that was needed. The 2 stroke specialist insisted that the bike was to be done correct and kept 100% factory original. Every part used is genuine Yamaha OEM.

Upon closer inspection there was some parts to be found worn including a crank due to a crusty old oil injection pump. So all of that was replaced, also along with all the obvious stuff like seals, gaskets, pistons, etc. Basically, everything was replaced with new YAMAHA OEM parts. Receipt for $10,000 included.

The engine is not modified in anyway it is in "as new" condition, as it left the factory in 1985. Needless to say the carbs are also completely ultrasonically rebuilt. Everything is new on this bike like tires hoses filters fasteners heat shields etc.

The body work is completely mint not a crack or blemish all gauges and indicators work flawlessly. There is no stories or excuses with this bike. Turn key first kick ride reliably across the country today.

Some things to note would be a blemish on an exhaust pipe and the rear seat cowl has yet to be found. As of now it won't be included with the sale

This is not a backyard restoration this is the real deal. Study the pictures carefully what you see is what you will receive, and it's beautiful.

A definite museum/collector quality bike that is 100% reliable, issue and leak free to ride and enjoy.

Included with sale is all documentation with the bike. Also a clean title, owners manual, the receipt in excess of $10,000 for the recent "refresh" and a recent appraisal letter from Yamaha stating its value.

Iam happy to assist in anyway I can with shipping and crating.

** DISCLAIMER **
* Although the bike is in pristine condition I will not be offering any kind of guarantee, warranties or returns of any sort.
* I will assist in export in every way possible but Iam not responsible for any unforeseen fees or complications
* The bike is currently insured and I take it out for short rides to keep the juices flowing to ensure it's always in top condition so the klms may slightly raise.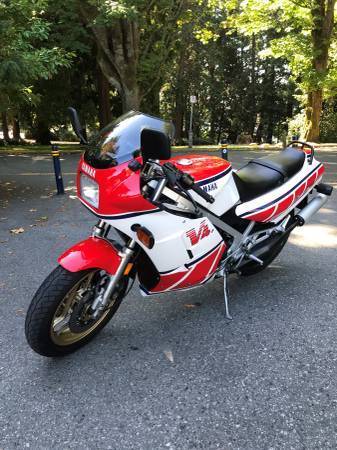 Overall, this is a really clean, ready-to-ride example of a throw-back repliracer. As long as you can get it over the border from Canada and secure above-board paperwork, it will make a great bike night conversation piece and interesting canyon carver.