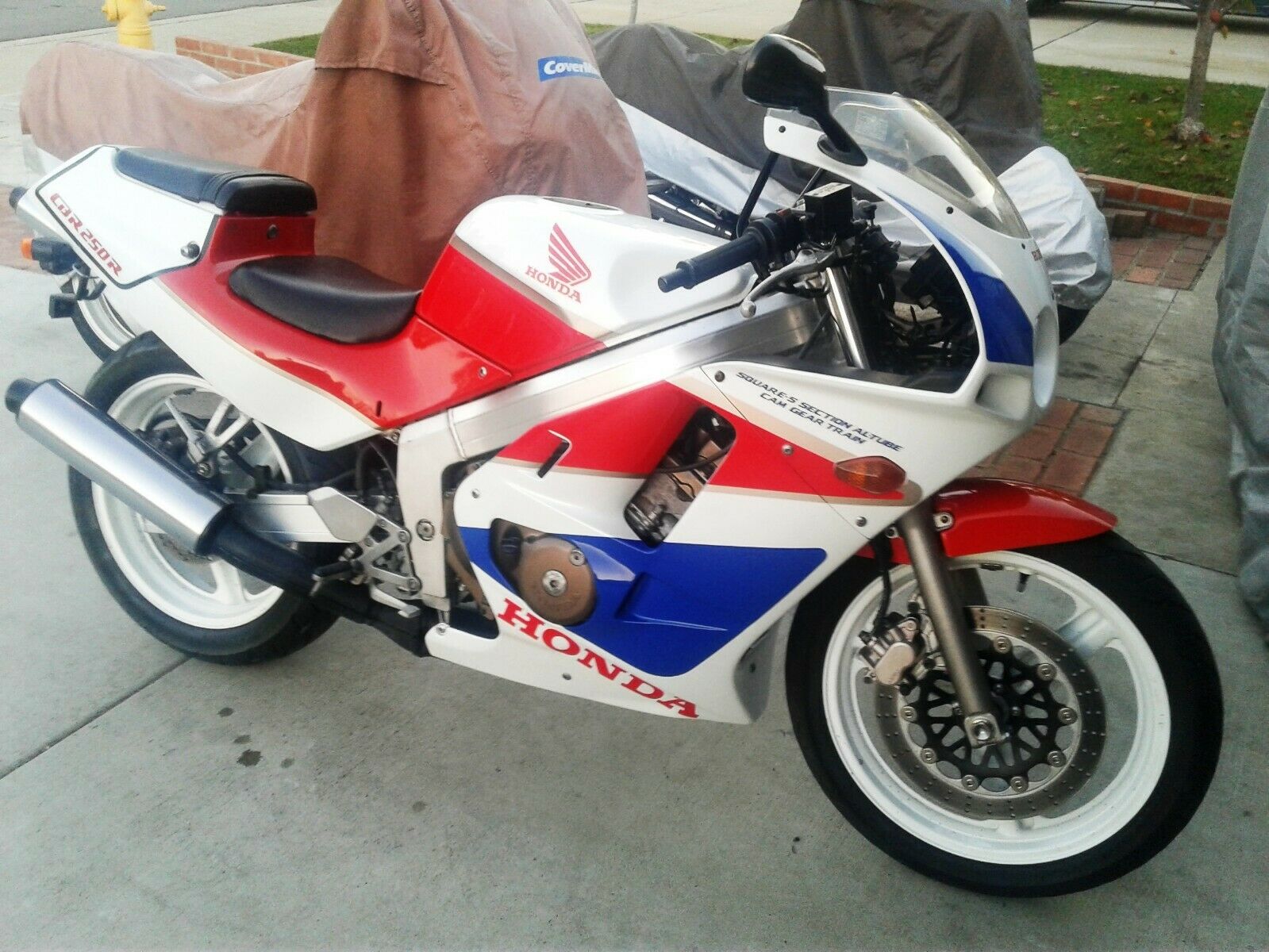 Deep in the vaults of exotic hardware purposely kept from the shores of America include examples such as this magnificent 1988 Honda CBR250R. There were extremely rare in the US during the late 1980s and 1990s – which is amusing since the venerable 250 Ninja was imported during the same period of time. But the CBR250R was the far sharper of the two, and was destined for the small-cube crazy home market of Japan where quarter liter racers dominate. The US had to make due with a relatively tame parallel twin that practically shrieked "entry-level-economy." But in the collector market today, the CBR250R has become easier to find, as evidenced by the number listed on these pages over the years. Still, they should be considered to be quite rare and finding one in good condition is the same thrill as with any other unique bike.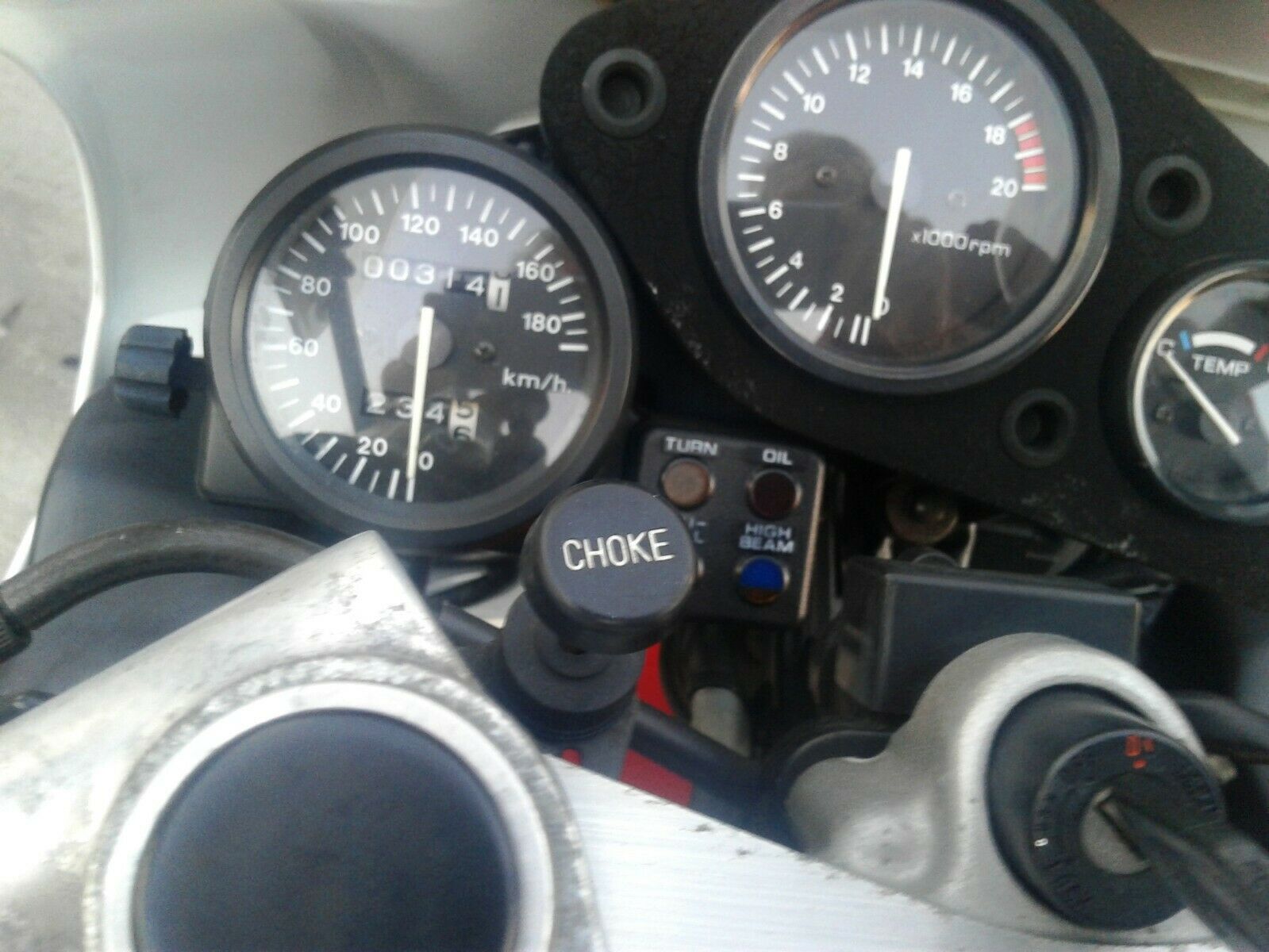 The CBR250R does some shrieking of its own, but that is largely due to the sheer number of revs this bike requires in order to produce forward movement. A liquid cooled inline four cylinder with four valves per pot and a 11.5:1 compression ratio, the CBR250R relies on a 18,000(!) redline to achieve a respectable 40 – 45 horsepower. With full sport bodywork, twin headlamps and a single, beefy front disk (certainly enough to stop this 330 pounds dry machine), the CBR250R was marketed as part of the Hurricane lineup in some European markets. Given that the Hurricane model range scaled up to the mighty 1000F, you might think of this as more of a squall.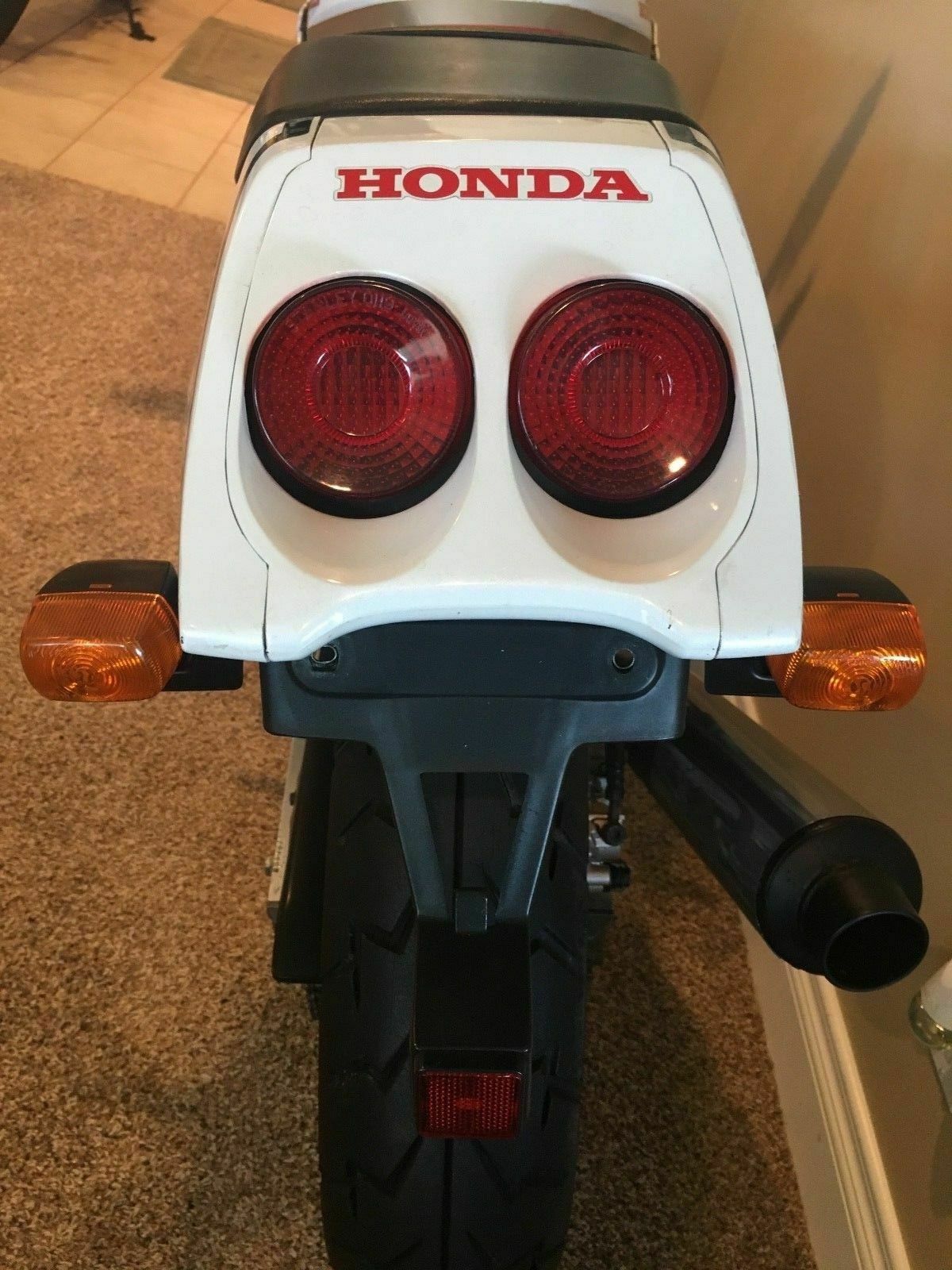 From the seller:
This very rare MC19 CBR250R is the 963rd bike produced for the 1988 production run. It was purchased about a year ago with 318km on the speedometer (about 190 original miles). It was imported by a dealer in UT and purchased in running condition. It still had the original 1987 date code tires on it, which were badly cracked, so a new set of Avon tires were installed. The carburetors were removed, re-jetted and installed on new OEM intake manifolds. The rear sprocket was changed from 54 to 52 and finally to 50 teeth, in order to reduce highway cruising rpms by about 1,000.

These bikes weigh 350lbs wet and are rated at 45 horsepower at 14,500rpms. The redline is at 18k rpms and the engine will run up to redline quite willingly. With stock gearing the bikes were rated at 110 mph top speeds.

This bike sat in Japan for 30 years, perhaps at a dealership or in a personal collection. It has a fair amount of patina on alloy parts and in little nooks and crannies in the engine bay area. If you love to polish aluminum, you can make this bike really shine again. The frame is aluminum.

These bikes were never imported/sold in the US and only after they are 25 years old can they be brought into the country and legally registered in CA and elsewhere. Yes, the bike IS registered with its 11 digit serial number!

I do have PDF files of the service manual in English and there are a few spare parts, including the rear sprockets. The oil filter is a common Honda part. The thermostat was replaced with a 180 degree unit, which keeps the little engine cooler than when they have the stock 190 degree unit installed.

A new choke cable was installed. These bikes have electric fuel pumps and inline filters.

A few paint scratches are evident here and there. The original OEM factory windscreen is checked but not cracked. One of the forward fairing tabs is broken, but held in place with the original modified nut-plate.

Riding these bikes is an unreal experience, especially when you rev it up past 14k rpms. You can easily imagine yourself as being Mike Hailwood at the IOM races, with the little four screaming out unimaginable rpms through the gears.

Due to recent ankle surgery, I am no longer able to ride the bike as before, so sadly must let it go to an appreciative new owner. Current miles are about 2,995 km, which is about 1,800 miles. This is one of my favorite bikes of all times… and I have owned hundreds of Hondas of all types and sizes. I will miss it dearly and will enjoy the memories that it gave me over the past year.
This particular CBR250R has an interesting history and shows how rare these bikes are… and how small our collecting community really is. This bike was sold on the pages of RSBFS a few years back, as highlighted in this post by Tad. And while the VIN number remains the same, the mileage has grown from 192 up to 1,800. What has not grown is the price – the Buy It Now figure is right at the $6k mark, just like the earlier sale. I've grabbed one of the photos from that post (above), as the current seller has not included very many. There are a few more sharp, high-res photos available via the older post – although please note they do not necessarily represent the bike as it sits today. Check out the current advert here, and then imagine what 18,000 RPM sounds like as you strafe the apexes of your favorite canyon. Good Luck!!
MI