Revived by entrepreneur John Bloor after their final bankruptcy in 1983, Triumph Motorcycles engineered a family of engines using a 76mm diameter piston and established a manufacturing facility in Thailand.  The venerable brand celebrated it centenary in 2002 and has continued manufacture and now completes almost 50,000 motorcycles per year.  This particular bike is a nice example of one of their best machines.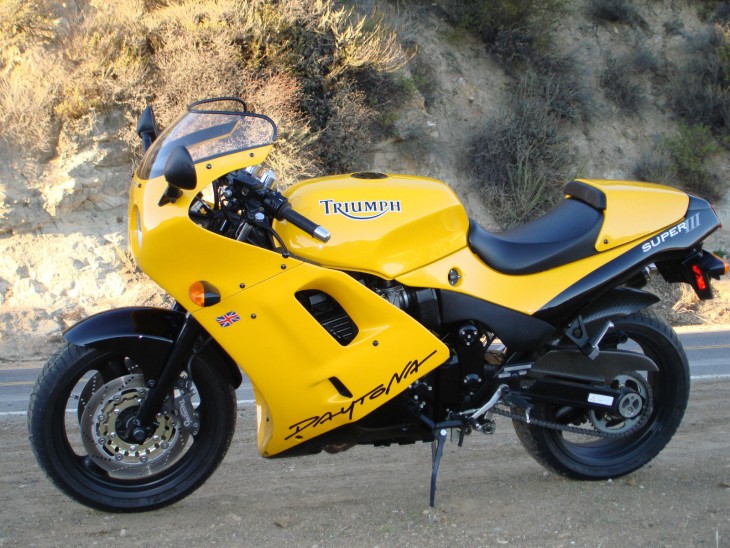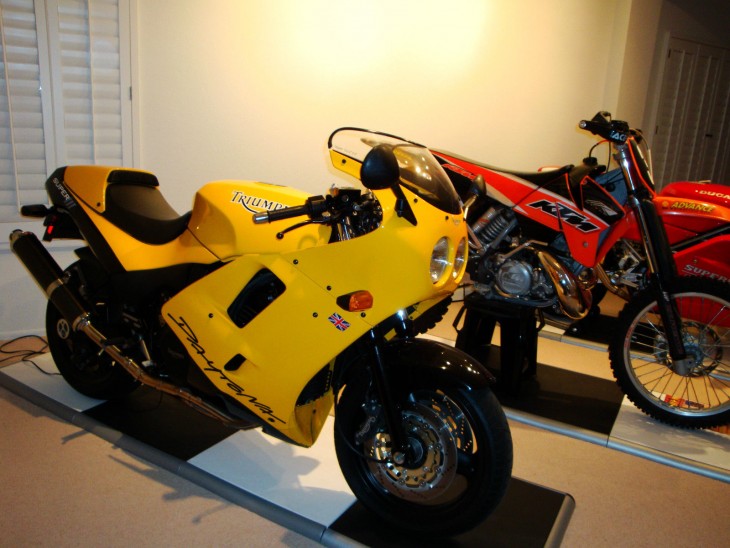 Initially designed in 1989, the smooth-running 885cc triple underwent a major review in 1993 and with Cosworth's help emerged with 115hp, and somewhat lighter thanks to pressure casting the engine cases.  Too busy trying to stay alive to enter into racing, modern Triumph cycles never experienced the weight loss racing requires, and the Super III carries 465 lbs wet.  But with the aluminum frame, 43mm forks, 310mm front disks, the entire package tests lighter than it should, a well-balanced handler.
The speed yellow fairing on this example appears better than excellent, the lower reaches of the classic shape protected from chips by automotive film.   The black monoposto seat looks cushy and in nice shape, the pillion seat under a fairing.  Very polished and very pretty 3-into-1 header with carbon muffler appears to be the only modification, and belies the 8900 miles the odometer shows.  Have to like it when someone's been detailing the engine !
Proudly kept and displayed indoors with only 8900 original miles. (That's less than 450 miles/year)100% Original everything*. Perfect condition; no scratches, dents, or nicks of any kind. Carbon fiber everywhere. Aluminum 6.6 gallon tank.

As second owner, I've meticulously maintained the bike in every way. All questions will be answered immediately.
Though a revised 675cc engine has led to recent racing successes by a contingent of privateers, the Daytona Super III was developed before the racing program and is a smooth, powerful road bike, the 1995 being a nice update from the original design.  This auction looks to be for one of the very best of this model.