For Sale: 2009 Aprilia RS 125 – Brand New!
Up for grabs today is a brand new Aprilia RS 125. This is listed as a track bike as it is not capable of being registered in several US states (i.e. California). There are many examples of these bikes being registered for the street, however, so all might not be lost if you are dead-set on a new 125cc street bike.
For those states with tighter EPA standards and more restrictive DMV policies, this is a track day only bike. How much fun could that be? Well, let's take a look – light weight, decent horsepower, good brakes and adjustable suspension all add up to a lithe and nimble track day weapon. If your local venue has more corners than straights, you could well embarrass your friends on much larger machinery.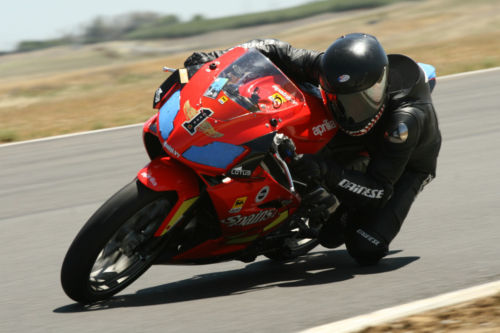 Yup – that sure looks like fun. Given that this is a new bike, the seller has gone all out in sharing the specs on this little 125cc two stroke GP replia.
From the seller:
Aprilia has always been the undisputed leader in 125 cc supersports, a market segment in which Aprilia has pioneered new concepts and advanced solutions, and developed technology that others have struggled to follow. Like all Aprilia motorcycles, the RS 125 has benefited from the sophisticated technology that has been developed over years of success in GP racing, and quickly transferred into production. Over the years, the RS 125 has forged a reputation as the standard setter for sports 125's. Sales success has come naturally too, with the RS 125 topping the sales tables on major European markets. The RS 125 is the inevitable choice of riders entering Sport Production racing. And rightly so, because when the competition gets tough, there is simply no other bike like the Aprilia RS 125. The Aprilia RS 125 offers young riders the best in components and equipment, and a concentration of technical refinements worthy of a flagship supersport.
The following are just some of the main features of the Aprilia RS 125:
• tried and tested yet extremely sophisticated Rotax two stroke engine;
• super-rigid aluminium frame and swingarm derived from Aprilia's vast GP experience;
• upside down fork;
• front brake with radial caliper and four opposed pistons;
• RSV 1000 R style fairing, windshield and tail;
• RSV Factory style, crossed spoke wheels;
• analog/digital instrument panel with multi-functional computer;
• RSV Factory style, forged steering yoke;
• oval section racing silencer with riveted end plates;

STYLE
The mean, cutting edge look of the new RS 125 tells you that this is a professional racing machine. The styling of the RS, like that of all Aprilia sports bikes, is the result of painstaking aerodynamic research.
The fairing, for example, was perfected by extensive wind tunnel testing, to guarantee great wind protection and minimum drag for maximum racetrack efficiency. The fairing, windshield and tail not only look mean and aggressive, but allow the RS 125 to reach a blistering top speed, eliminating all turbulence around the rider and allowing man and machine to become one.
The latest generation twin halogen headlight also adds to the mean look of the new RS 125, and delivers a high power light beam for enhanced visibility and safety at night. The sleek tail looks exactly like the tail of a GP racer. Thanks to the effort put into the design of the RS 125's tail, not even the passenger seat disturbs the bike's impeccable lines.
The crossed spoke wheels are not only lighter and more stylish, but safer and more reliable too.

ENGINE
The powerful but reliable, single cylinder, two stroke, Rotax-Aprilia engine needs no introduction. Over the years it has won a reputation for being unbeatable on the track and dependable on the road.
Still today, this engine boasts technical solutions that are state-of-the-art for two strokes, including a crankcase reed valve intake, liquid cooling, an anti-vibration balancer shaft, and an automatic mixing system. The RS 125's engine has been constantly updated over the years to keep in line with the latest emission control legislation without penalising performance. A catalytic converter and precision carburation has won Aprilia's single cylinder two stroke homologation to Euro 3 standards. And the amazing thing is that this has been achieved without losing out on performance: the Aprilia RS 125 engine remains the reference point for all 125 cc powerplants.

CHASSIS
Without a doubt, the most advanced single component on the RS 125 is its frame. Developed from Aprilia's vast experience in GP 125 racing, the RS 125 frame is made from cast aluminium alloy with cross-ribbing reinforcement. Despite its extremely light weight, this advanced structure achieves amazing torsional rigidity, setting the standards for Aprilia's competitors.
The box section, aluminium alloy swingarm has the highest torsional rigidity of all production 125 cc swingarms. Differential side members enable the exhaust to follow a path that maximises engine performance and enables more acute angles of lean to be achieved on bends without risking dangerous contact with the asphalt.
The suspension too plays a fundamental role in ensuring not only the RS 125's performance, but its safety and comfort too. The RS 125 can rely on an upside-down fork that has been optimised for maximum performance on the racetrack while also delivering a more satisfying ride on public roads.
The rear suspension features rising rate linkages based on Aprilia's 125 GP racing technology, for excellent traction and superb comfort even over uneven road surfaces. The hydraulic monoshock that provides the damping for the swingarm is also adjustable in spring preload.

BRAKES
Like any self-respecting supersport motorcycle, the RS 125 has to have the best when it comes to components. The braking system is the best available, and designed for maximum efficiency under competitive riding conditions. The front brake is a genuine state-of-the-art, high performance system with a radial caliper and four opposed pistons. In addition to the 320 mm front disc, the system also incorporates a radial master cylinder and aeronautical hoses for maximum precision and unrivalled braking power. The rear disc is 220 mm in diameter and is also equipped with metal braided hoses for perfectly balanced, high performance braking.

EQUIPMENT
The Aprilia RS 125 is packed with prestige components. Compact and impressively light in weight, the instruments include an analog rev counter and a multifunctional digital display with an on-board computer that can be operated from the handlebars. The speedometer, rev counter, coolant temperature gauge and exclusive racing chronometer put you in total control. The on-board computer even has provision for interfacing with the optical finishing systems used on racetracks.
These bikes listed around $5500 new. This auction opens the door for a lower priced RS 125, as the auction opens with a $3,500 ask. There is a reserve in place and the BIN is set at an even $5k. Assuming that the reserve is slightly lower than the BIN, this bike could be a real bargain in the making. And in case you need some reminding that a 125 two stroke is effective in the right setting, check out the video below.
Your chance to pick up this bike and become a mini track day GP hero is here – just click the link and jump over to the auction. At the current rate, this bike could turn out to be a real bargain, which is just what we all need: an economical track day toy! Good luck!
MI