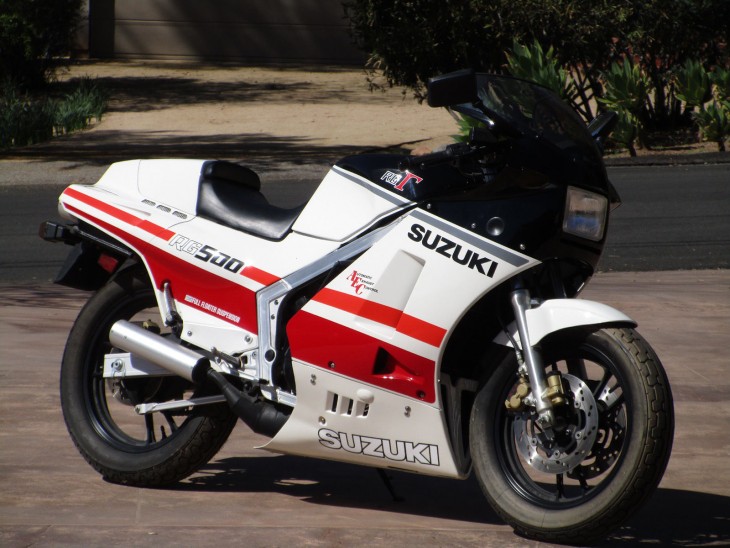 Fans of bikes like today's RG500 Γ "Gamma" may fantasize that they are every bit as fast as a modern sportbike. But they're probably viewing things through rose-tinted glasses: 95hp and 350lbs dry aren't exceptional numbers today. Matched with the flexible frame and shockingly skinny tires, you're looking at something would probably have a hard time shaking a modern 600 on road or track. But that's hardly the point: like many vintage machines, it's the sense of occasion that these bikes bring to the table and the experience of taming such a famously wild motorcycle.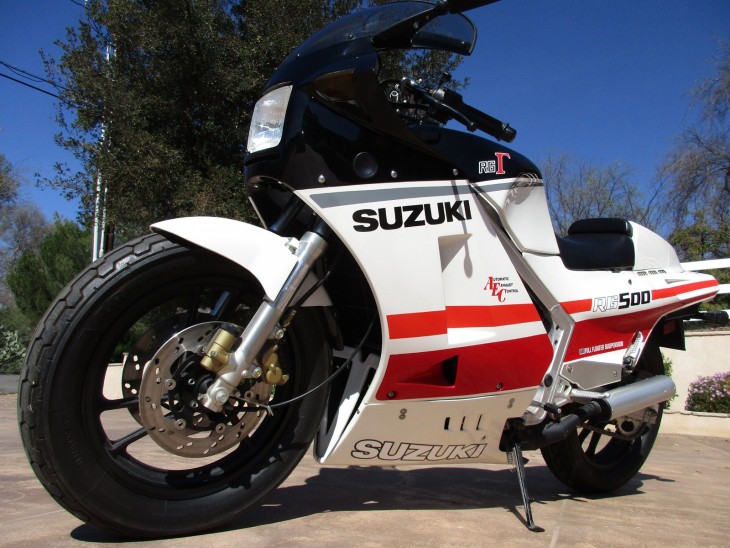 The RG's tach doesn't even read below 3,000rpm and that should give you a hint of what to expect. With 500cc's, the bike has enough displacement to work at lower rpm but it's pretty unimpressive until you pass 6,000rpm. Between that point and 8,500 however, the power literally doubles and the bike lurches forward with a ferocity that belies the dyno sheet. And although the RG's power is relatively modest by today's standards, the overall package is still impressively light.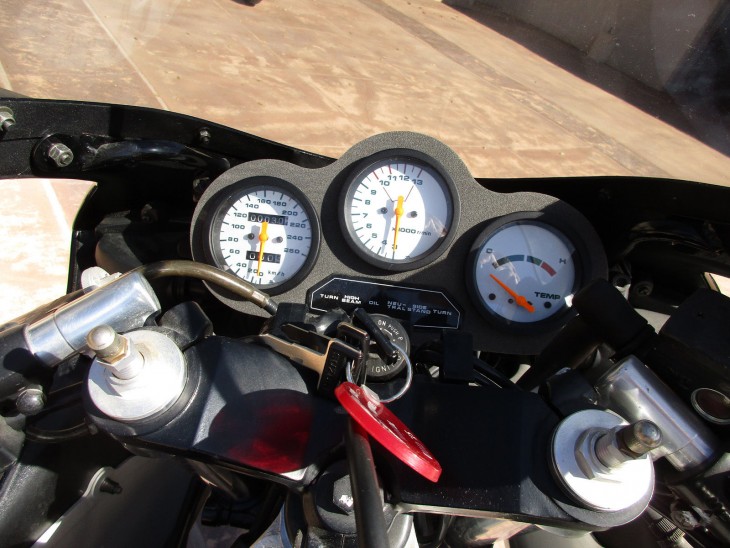 And it isn't just the twin-crank, liquid-cooled two-stroke square-four engine that shouts its racy intentions: the bike featured a cassette gearbox that was a joy to use and a very high-spec suspension that included Suzuki's Full Floater rear suspension, a clever system of linkages that applies equal pressure to both the top and bottom of the rear shock.
The slab-sided styling and upright riding position suggest more of a sport-touring mission and trick you into thinking these are much bulkier machines. I've never seen this particular paint scheme before and it is very flattering: these 80s two-stroke race-replicas are very compact and light, but they sure don't look it in photos.
From the original eBay listing: 1986 Suzuki RG500Γ for Sale

All original with only 30 kilometers!

The Suzuki RG500 "Gamma" was produced between 1985 and 1987. The Gamma sports a liquid cooled two stroke, rotary valve, twin crank, square four engine displacing 498 cubic centimeters with 93.7 brake horsepower, aluminum boxsection frame with castings for the headstock and swingarm. The front suspension has pre-load adjust and an anti-dive system. At the rear the full-floater suspension design uses dual-swingarms. The motorcycle weighed 154 kg (340 lb) dry. The Gamma is an up and coming collector motorcycle and this example with only 30 kilometers on the clock is possibly the lowest mileage and best example to exist! Selling with a clear Minnesota title!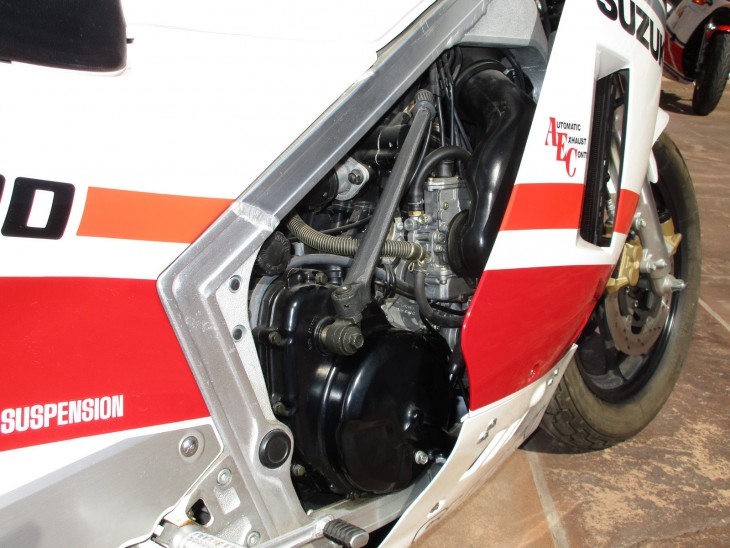 The seller also includes a nice video of the bike here.
People sometimes misunderstand the "racing machine for the road" description. There's the assumption that a race car or bike has ungodly amounts of power and massive amounts of grip, but that's really not the point. Weight is the enemy of performance and, no matter how much power you're throwing out, lighter weight to achieve the same power-to-weight ratio is better. More weight means more stress on components, more fuel and tires consumed for the same result, and so on. Race bikes are often more powerful than their roadgoing counterparts, but it's really the lightness, the precision of a racebike, all the jewel-like engineering details, and the way it all works together when handled by a skilled rider. It's the experience that people are really looking for, a connection between themselves and the road that simple power can't create, and that is something the RG500 delivers in spades, regardless of the ultimate performance available.
The question in this case is: just how much are you willing to pay for one of the purest sportbikes of all time? It's probably one of the lowest-mileage examples to be found anywhere and is in pristine condition, but the Buy It Now price is an eye-watering $36,950!
-tad