Location: Altamont, New York
Mileage: 16,200
Price: Auction, $3,750 BIN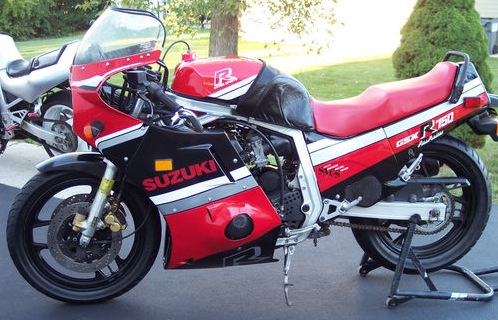 Everyone who reads RSBFS regularly and probably even the newbies know the importance of the GSX-R 750. Every sportbike since the introduction of the GSX-R owes something to it. Like it or not. The truest repli-racer of its time, the GSX-R 750 was a genuine game changer. All of this has been said, but it bears repeating if for no other reason than I like saying it. I love the GSX-R.
The bike up for auction here is not perfect, by any stretch. And the seller is right up front about that. But what you do have here is an opportunity to own of piece of history. I think that's pretty cool, so here it is on RSBFS.
Here's the seller's description-
1986 GSX-R 750 in Beautiful condition. 16k original miles. bike was gently down twice once on each side. Still has original levers, grips, pegs, pipe and mirrors (not shown). I left these on because they aren't bad and to show the bike was never totaled. just low speed wipeouts. I am the second owner of the bike. first owner took great care of it.

Underside is awesome. Clean and in great condition, bike runs great, engine is strong, no leaks, no oil burn, clutch is firm, lots of power for a 750. Shifts and drive as it should. Tires have lots of tread but showing signs of drying. Mechanically rides nice. Its a little cold blooded and idles lower when started up and faster when warm. haven't figured out why but think it may be the K&N air filter. (its all stock so maybe a stock air filter would help?)  Or carbs need to be cleaned. Has never been done and really doesn't pose as an issue cause it goes away when bike is warm. Truth be told I haven't pursued it as of yet. Oil has 500 miles on it, new plugs, and brakes are as new. Chain and sprocket are in excellent shape as well. I think it may be the original chain because there is no link. Not sure. 

I don't ride it much cause she should be retired. When I do, its just amazing. This bike started it all. Fun, comfortable, light, fast. The engine is very smooth with a real nice power transition. She has a tiny bit of hesitation at 6500 RPM and clears up. Hardly noticeable but i can feel it. 

Plastic is in great shape. I had all the hairline cracks plastic welded on the underside so not to mess up the paint. They were only hairline cracks. wing tips on the nose cowl are perfect. Again still has the original, grips ,pipe,windshield, mirrors and levers so it didn't go down hard. Consider it motorcycle patina! The Hairlinecracks are hard to see from 5 feet. Bubbles on the lowers took some abuse and the guy liked left turns cause he wore a hole in the bubble. That's why he said he cut out the hole when fixing the plastic. Wait till you see the foot peg. Original owner was a peg scraper. I was planning on getting the plastic resprayed but cant get myself to do it. Original paint kind of shows the history, which I like. Whenever people come to see it they think its a new bike and more experienced cant believe what they are looking at. This bike is NOT mint. But its really good and with a good painter could be. I actually cant bring myself to do the body work because the paint is original and would never be the same. Now, it tells a story, and I'm a fan. There are touch ups and mid left has been resprayed. see pics and focus on decals. Its a nice job and looks the part.

I installed a bar end mirror on the left side. been doing it for years and like the look. Also it keeps the wing tips from getting snapped. The mirror gets bumped into or pulled on, or even adjusted by someone who doesn't understand the age of the plastic and there goes perfection. I do have the original mirrors if you want to put them on. 

Bottom line. (See Pics) they will explain everything.

I have picture and video of the bike running. I can email link if so desired. 

Email any questions. 
And the pics-
The bike is not 100% stock, although not far off. It's not perfectly mint, either. The cosmetic issues and history of how those issues came about is provided by the seller. The mileage ain't too bad and it looks pretty good overall in the photos. You'll want to get all the detail you can from the seller, as with any purchase like this.
So you have a chance to own one of the coolest and most important, if not the most important, sportbikes ever. For $3,800 bucks. Choice is yours. To take a look, make the jump!
-RN