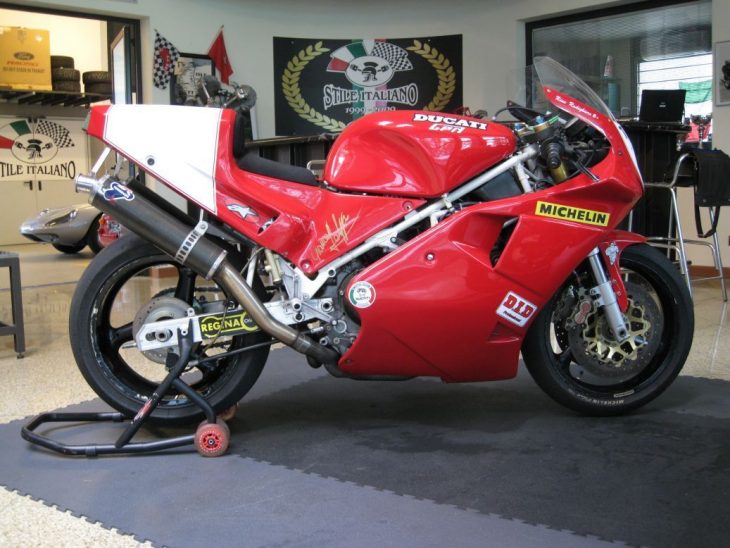 The term "race replica" can mean different things: a stock bike with a graphics design that mimics a famous competition machine, or an homologation machine that will be used in part or nearly whole in some form of production racing. But all that goes out the window here: this is a genuine World Superbike Ducati 851, as raced by Davide Tardozzi in 1990 and 1991.
Tardozzi was a rider and later team manager. He raced in the very first World Superbike event on a Bimota YB4 in 1988 and then had some success in both 1990 and 1991 riding for Ducati, with enough points to earn him a 10th place finish overall in 1991. Tardozzi won the European Superbike championship in 1991 as well. While he had some success as a rider, he was a far better team manager: under his leadership, Ducati flourished in the early days of WSBK and Fogarty, Corser, Toseland, and Bayless all rode for for him. Later, he worked for Ducati's MotoGP team.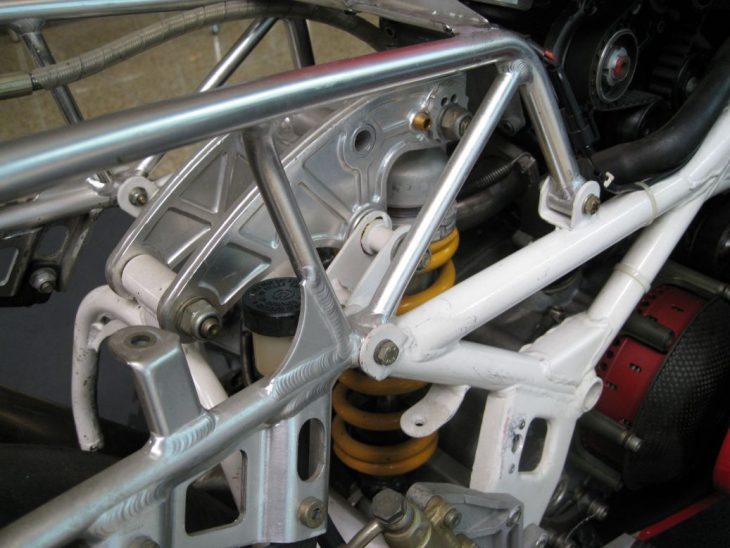 Often overshadowed by the later 916, the 851 was a hugely significant bike for Ducati. Participation in the fledgling World Superbike series signaled their return to top-level production racing and brought them into the modern era. It was the first Ducati to feature their new Desmoquattro four-valve, liquid-cooled engine and showed that the company was ready to compete against the Japanese sportbikes on equal footing with no excuses, other than the displacement bump available to twins competing against 750cc four-cylinder machines.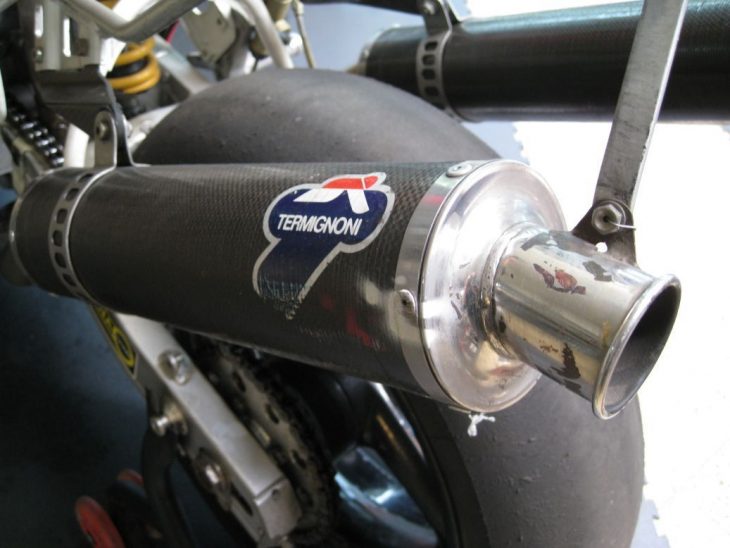 It's a truly historic racing motorcycle, bathed in the glow of success at the top levels of the sport.
From the original eBay listing: 1990 Ducati 851 Corsa Superbike for Sale
Ducati 851 Corsa WSBK


Model year 1990 VIN ZDM888S*000155*


AMAZING OPPORTUNITY TO OWN A PIECE OF DUCATI HISTORY!


This bike was raced in the 1990 World SBK Championship and later in 1991 used by Tardozzi (works rider and then Ducati Corse director) to WIN the European SBK Championship.

Amazing bike, preserved conditions, full known history, part of my private collection for 10 years then sold to UK collector.

It comes with original GPM certification document.

Race, parade and collect! Bulletproof investment.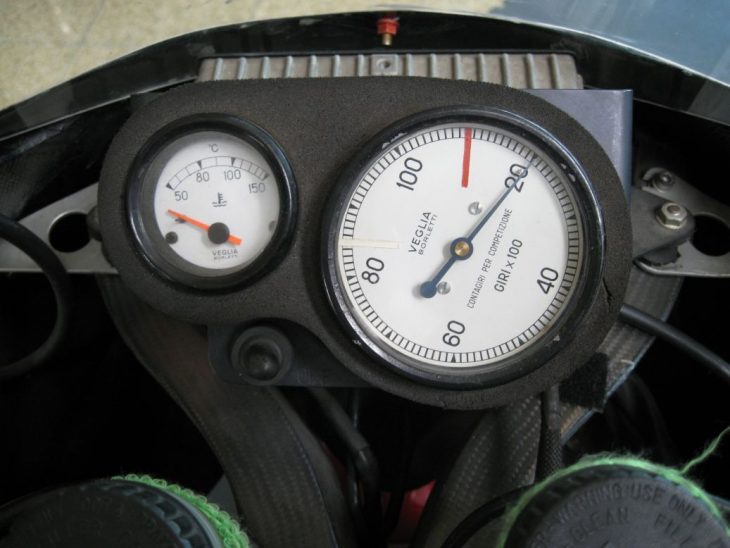 This is another bike from our favorite poster Gianluca, who appears to have access to the coolest bikes ever. There's plenty of time left on the auction and bidding is just getting started. This bike is obviously not cosmetically perfect and probably never was: it's a racing machine, designed to go very fast and look good from the grandstands as it flashes by at 180mph. It's scuffed and dented and used, in the best possible way, with legitimate racing success woven into its DNA. And, as a bonus, it has a slightly anachronistic vintage white Veglia tachometer, with a literal red line painted on somewhere near 11,000rpm…
-tad