Warning!
This post is in our archives. Links in this post have been updated to point to similar bikes available to bid on eBay.
Every post will be sent right to your inbox every morning when new posts are made. We will never sell our list or spam you. Plus you can click links to bid or buy right from the email and skip the site entirely. Subscribe to Rare SportBikes For Sale today!
The Opposite Of Stock:  Ducati 1036CS Built By Alex Ortner  (1999 Ducati 996)
I hate to admit it but I didn't even know what I was looking at for a few minutes when I first saw this bike.  If you like bikes box stock then look away quickly.  If you like bikes modified to the hilt then sit back and enjoy.  I can sum the bike up in a few words:  carbon fiber, titanium and magnesium.
The list of goodies is long and impressive:
Carbo Tec CF frame: $17,000.00
Carbo Tec CF sub frame: $1,500.00
Carco Tec CF breather box- $650.00
Alex Ortner CF chain guard- $250.00
Alex Ortner CF dash- $300.00
Alex Ortner CF airbox- $750.00
Alex Ortner billet radiator reservior- $375.00
Alex Ortner CF battery box- $525.00
Alex Ortner front brake rotor carrier- $500.00
Alex Ortner cut flywheel- $175.00
Alex Ortner Ti shift pivot- $25.00
BST wheels: $ 3,800.00
Showa WSBK/Moto GP forks (Matt Mladin's): $20,000.00
Penske 8987 rear shock with Ti spring- $1,550.00
Martin Brickwood Ported heads- $3,500.00
WSB Mag Swing arm +25mm- $5,500.00
Corsa Rear Axle & brake rotor: $1,000.00
Mag Head covers- $500.00
MagnaDyne Welded Rockers- $1,280.00
Eti Fuel Cel "RS" Corse- $1,715.00
Marvic Mag Triples- $1,595.00
Lyndall Metal Matrix rotors- $1,200.00
Brembo T-Drive rotors- $775.00
Brembo GP brkae & clutch masters- $750.00
Brembo Narrowband GP calipers- $3,332.00
Brembo Billet GP rear race caliper- $1,300.00
Yoyodyne Ti bolt engine kit- $469.00
Yoyodyne Ti bolt kit chassis kit- $369.00.
Yoyodyne light weight clutch kit- $425.00
M&S CF seat- $250.00
Zero-Gravity wind screen- $89.00
Carbon handel bars- $475.00
CycleCat clipons- $325.00
Corsa Crbon rear sets- $1,650.00
MotoWheels Ti cush bushings- $279.00
STM aluminum rear sprocket- $$175.00
D.I.D. ERV3 Chain- $205.00
DP 14t light weight sprocket- $54.00
Alex Ortner CF kickstand & billet bracket- $625.00
Moto Corse full Ti exhaust- $5,750.00
Yoyodyne Ti suspension pivots- $150.00
Alex Ortner Ti motor mounts- $200.00
Hard anodizing- $125.00
Color anodizing- $100.00
Paint- $1,000.00
Ti insepction case screws-$12.00
GP oil lines- $150.00
Ferber Oil cooler & CF surround- $1,200.00
John Hackett Per. silicone hose kit- $250.00
John Hackett Per. Digital Stack Dash- $2,200.00
STM sprockets- $217.00
RIGA air filter- $219.00
Mag Clutch case cover- $575.00
Fast Company CF clutch cover- $175.00
CycleCat pressure plate- $235.00
Hedgeman clutch slave cyl.- $369.00
FrenTubo kevlar brake lines- $375.00
BCM Pistal 1036 Race pistons- $500.00
Millennium Boring and plating- $350.00
MotoCorse Ti Dzus fasteners- $450.00
MotoWheels slipper clutch- $989.00
MotoWheels Carbon Fairing- $1,798.00
MotoWheels Ti shift pivot- $32.00
MotoWheels Ti brake clevis- $44.00
MotoWheels Ti swingarm pivot- $280.00
M&S CF Headlight bucket- $569.00
MotoWheels CF mirrow stays- $239.00
MotoWheels aluminum bolts- $269.00
If you lost track while adding on your abacus, that adds up to over $94,000 in parts.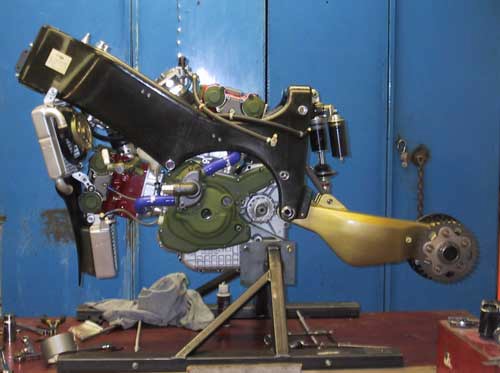 Obviously, the carbon frame smacks you in the face.  Anyone who even has the slightest interest in anything high tech has to appreciate  the time and labor that went into the frame.  It was built by Carbo Tech Composites which is known for its' work in F1.  The photo above is from Alex Ortner's own site  which documents the build.
I won't pretend to know the technical details but here is a bit of info from DucCutters.com which did an article on the bike.
First to go was the steel frame, replaced by a carbon-fiber Carbo Tech frame from Karl Wagner Carbo Tech Composites in Salzburg, Austria. Made from T700, T800 and M40J carbon-fiber, the same material Carbo Tech uses for the Williams F1 cars. The twin spar frame weighs 6.5 kilograms, including the sub-frame, compared to the stock 11.5 kilograms. Longitudinal stiffness is claimed to be 100% improved the steel frame and torsional stiffness 50% over the steel frame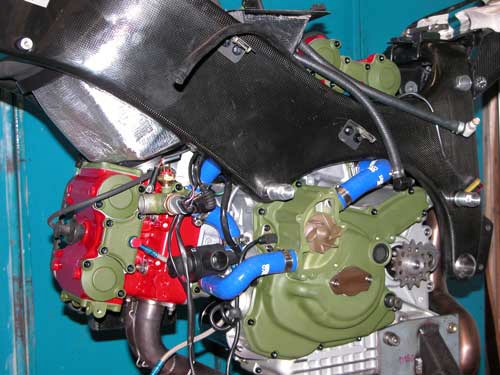 That is some serious tech porn; again from Alex Ortner's website.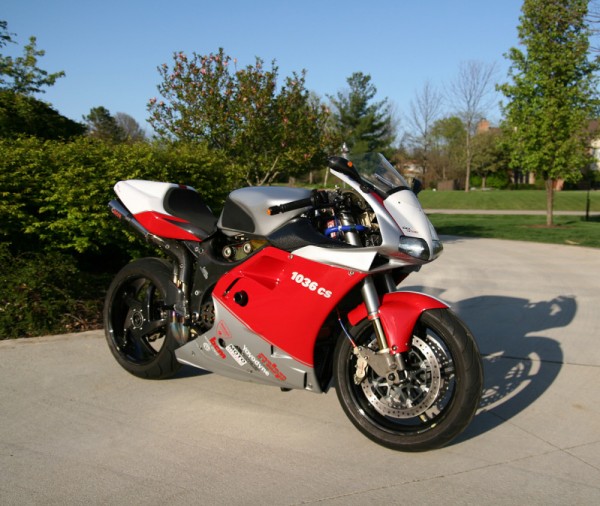 Too bad the engine is stock huh?  Of course I'm lying through my teeth.  The engine has been seriously massaged and pumped up from Alex's original build.  The bike is now pumping out 155HP thanks to the tuning of Doug Lofgren at CommonWealth Motorcycles.  By the way, over $12,000 was spent on the rebuild.
Custom carbon airbox is twice the size of a Corsa box.  Photo is again from Alex Ortner.
Did you catch the fact that the forks were off Mat Mladins 1999 GSXR?  Someone took advantage of the claiming rule so they could eventually find their way to this Duc.  If this is the same set I'm thinking about, I remember there was quite a story when this took place.  Of course they were totally rebuilt and set up for this particular bike.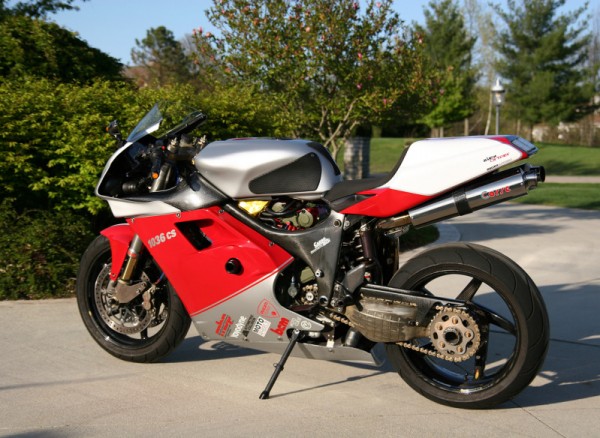 In all honesty you need an entire webpage to go over everything that has been done to this motorcycle.  I've simply supplied you with a teaser.  If the tech specs haven't fried your brain you can contact the seller directly to see about fulfilling your carbon dreams.
Asking price: $85,000 OBO
References:
http://www.duccutters.com/AlexOrtner-1036CS.tpl
http://www.carbon.at/index.php
http://www.ducati-superbikes.com/index.php/topic/22941-alex-ortner-1036cs-you-wish/
http://home.comcast.net/~aortner264789mi/FirstPage/1036cs.htm