Lime Green Meanie:  1998 Super Bike Spec Kawasaki ZX7RR
Sit back an enjoy some Kawasaki race spec porn circa 1998:
Drool worthy for sure but I'm not quite sure about what spec it actually is.
From the seller:
For sale is a factory race Kawasaki ZXR750RR from the 1998/1999 season.
This is a ZXR750RR with all the factory options that are to be found on such
a rare machine. It has been in the same owners hands for over a decade.
It is not put together from parts, like so many of these 750 RR were in the
years after their racing days were over, but has always been in the condition
Please do not mistake this ZXR750RR for one of the dozens of privateer specials and production-racers that
were put together from used spare-parts or build up using left over NOS parts.
This is a real World Super Bike series race bike.
I have no issues with the bike and would gladly make room in my living room for it.  My only problem is I don't believe it is WSB spec.  Two things stick out to me.  Cosmetically it doesn't seem to match up with any ZX7RR that was raced in WSB.  Mechanically, while exotic, it doesn't appear to be WSB spec.  The lack of a beautiful Suter dry clutch seems glaring.  I'm pretty sure the top spec Kawasakis used Brembo brake components as well.  Weren't the factory bikes using Ohlins suspension in 1998?
Help me out guys what do we have here?  Am I correct that the frame  and swing arm look factory spec?  My amateur hunch is this might have been a bike raced in the German Super bike Series (the bike is located in Germany).  Even at that level though wouldn't the bike have a dry clutch?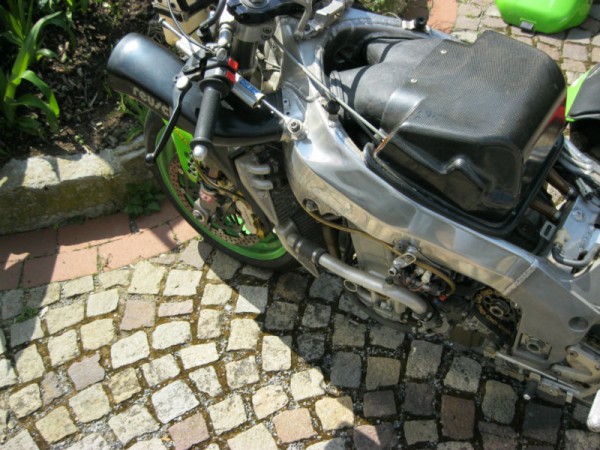 I bet a few of you would like to get your hands on  that engine with the gear driven cam shafts.
What is red line on a production ZX7RR?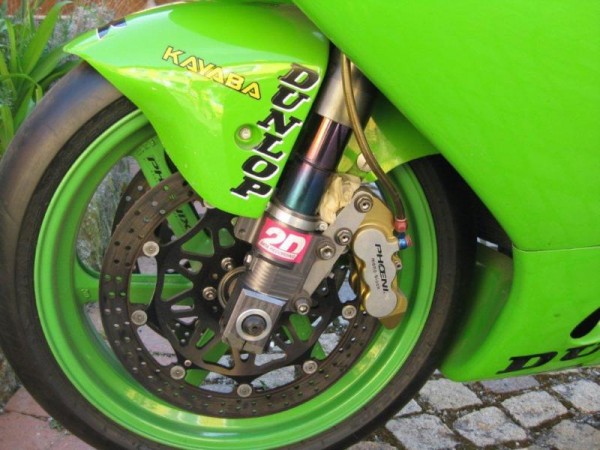 Exotica doesn't come cheap, the seller is asking $44,500.  He is open to offers though.  What do you think, is it exotic enough to command that much money?  It's not like you can go down to the local Kawi dealer and order a 1998 super bike engine with factory internals (although it would be fun to try).
Who can forget Yanagawas'  weenie roast from 1998?
Ian