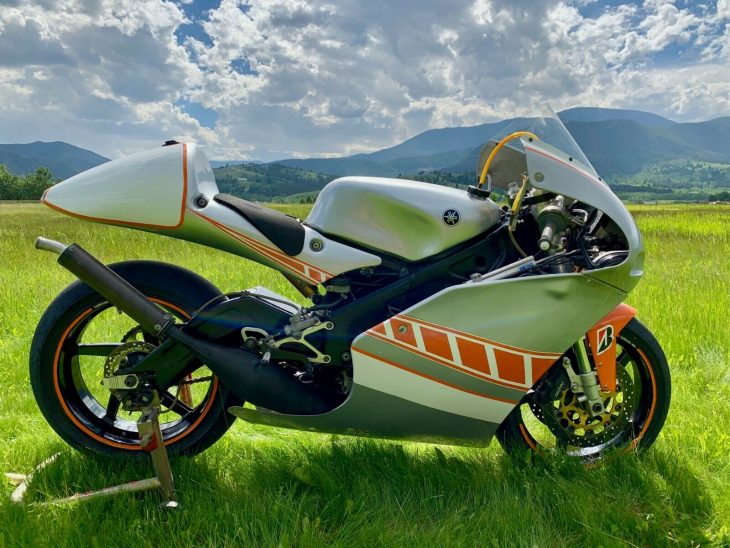 Laypeople often love cars and motorcycles with gratuitous stylistic frippery: air vents leading to nowhere, extraneous "engine beautification" panels to cover up the oily bits and wiring, unnecessary surface details to break up large panels. They don't really understand the function of all those parts, or aerodynamic styling, so if it looks right, it is right. Purists also appreciate design, but often feel that good looks are a direct result of function, that that beauty is the natural result of effective engineering. Failing that, at least functional design has an aesthetic appeal all its own. Simplicity and lightness are especially important for racers, and sometimes the shapes that result look odd until you understand why they developed the way they did. In other cases, a pursuit of purity of purpose results in shape that just looks so right, like this Yamaha TZ250.
The TZ250 wasn't simply a TZR250 with race plastics and the lights removed. It was  a pure racing machine, something privateers could buy directly from Yamaha and use to compete in Grand Prix racing. Everything on the bike is designed to help the bike make power, cheat the wind, or simplify servicing. Every component is as light as possible, and these featherweight machines are the model of elegant simplicity. Early versions were powered by a parallel-twin engine, but Yamaha switched to a v-twin in 1991, a liquid-cooled unit was basically one-half of the YZR500's V4 and included a counterbalancer that made the engine much smoother, backed by a cassette gearbox for fast gearing changes trackside to maximize the bike's narrow powerband.
The package was updated significantly in 1992, with subsequent changes amounting to a gradual evolution, refining and tweaking the package. The engine was updated in 1997 to allow the bike to run on unleaded fuel, as required by FIM regulations, while the 1998 version seen here introduced a sealed airbox with ram-air and oval-slide carburetors, along with revised bodywork that included the famous tapered tail.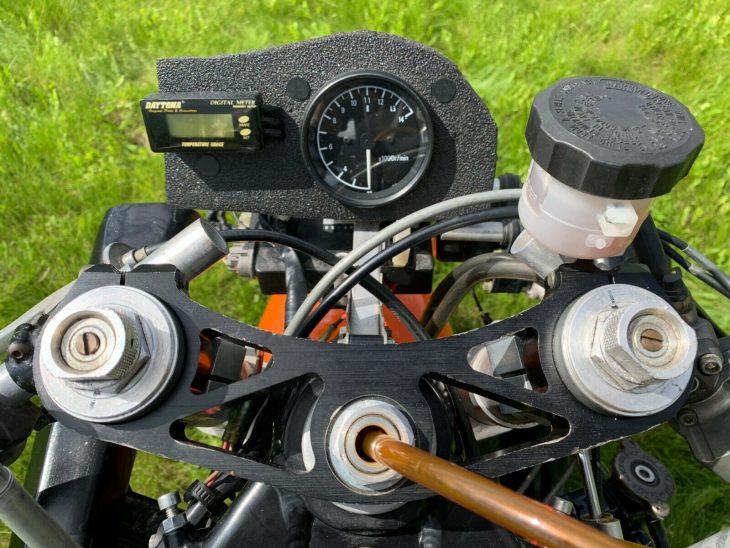 From the original eBay listing: 1998 Yamaha TZ250 for Sale
I have a very, very nice 1998 Yamaha TZ250 4TW available. I purchased this bike in 2015 from a Southern California racer. It had been raced recently. I have done absolutely nothing to the bike, so it is still in as-raced condition. Overall its in excellent shape. The tank is flawless save for a very small dimple (about 1/8″ across). The bodywork is very good, but has a few imperfections here and there such as chips and scuffs. Normal racetrack wear. It has been stored in a heated storage facility with very low humidity here in Montana.

It has 190 miles on the top end and MCE racing crank. 2003 bodywork and airbox conversion. Includes PitBull rear stand, but no spares.

You can send your shipper here to my home in Red Lodge, Montana or I can deliver to one of several freight forwarders in Billings, Montana for attachment to a pallet.
The $14,500 Buy It Now the seller is asking for this TZ250 is a pretty good price, from what I've seen. It unfortunately doesn't include any spares, which presents a headache if you'd like to use it regularly for race or trackday riding. You'll obviously want to go through it thoroughly before using it, as it has been sitting for a couple years, but these are designed to be easily torn down and rebuilt, with crankshaft removal possible with the engine still in the frame and gearing changes to the cassette box taking only a half hour or so. Many TZs are being actively raced in AHRMA and other series, so I believe obtaining parts to keep them running isn't prohibitively expensive, but these are a dying breed and represent the end of an era.
-tad