God only knows how many hours have been spent by RZ500 owners around the world trying to turn their rides into an all conquering YZR500.  Looks wise, some have come pretty close.  Mechanically, well YZR unobtanium isn't usually found on Ebay.  Apparently this time it is.  A mere 75,000 GBP can make you the owner of a 1992 Harris/Yamaha YZR500.  It is about as close to works YZR500 you can get without breaking into Wayne Raineys living room.  If you are scratching your head, these were the grid fillers of the early 90's.  Harris and ROC were provided YZR500 engines to stick in frames of their own designs.  Harris 500's were produced in much smaller numbers than the ROC versions.
Tell me the story:
 1992  HARRIS  YAMAHA YZR500  V4 SCREAMER  EX MBM TEAM  RIDER  KEVIN MITCHELL , RESTORED IN 2008 BY NIGEL EVERITT , OWC1 ALLOY CRANK-CASE SCREAMER ENGINE ,  MANY NEW PARTS FITTED PACE RADIATOR, NEW MARCHENSINI  5 SPOKE MAGNESIUM WHEELS , NEW 320 MM AP STEEL DISC,S NEW ZO1 PADS , AP TWIN CHAMBER FRONT MASTER CYLINDER , NEW AP THUMB BRAKE , NEW AP TWIN CHAMBER REAR CALIPER , CARBON HANDLE-BARS , SIX POT AP GP FRONT CALIPERS ,OHLINS FORKS = OHLINS REAR SHOCK ALL FULLY REFURBED FOR 14 STONE RIDER , WORKS MAGNESIUM OHLINS STEERING DAMPER , NEW FAIRING / SEAT UNIT PROFESSIONALLY PAINTED  IN PEARL WHITE   COMES WITH FULL SPROCKET SETS  AND   + NEW SPARE PADS, 3X SETS OF RACE R105 SPARK PLUGS   THATS IT !!!!!!! NO OTHER SPARES    TOO NICE TO RACE !!!!!! BEEN IN COLLECTION FOR 5 YEARS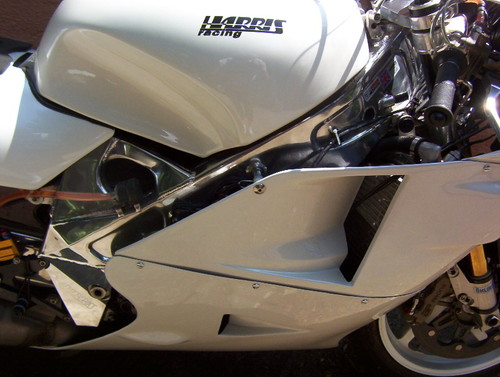 Where is my naked YZR500 porn?  I hate having to use my imagination. 
 No smoother big bang engine here my friends.  It should be more than enough to wad yourself up by the third turn.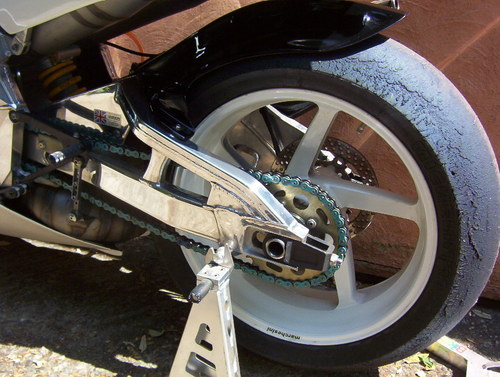 More the work Harris did.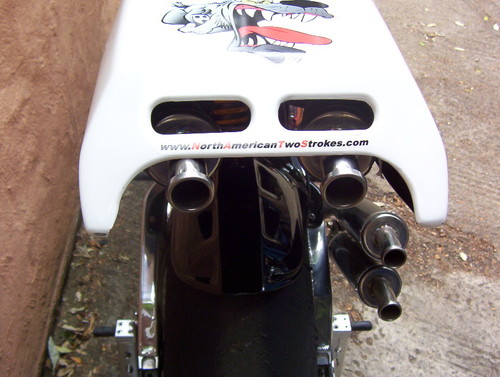 The audio is provided by Yamaha.  I'm sure the customer engines didn't get 100% of the factory tricks.  It sure would be interesting to pull apart though.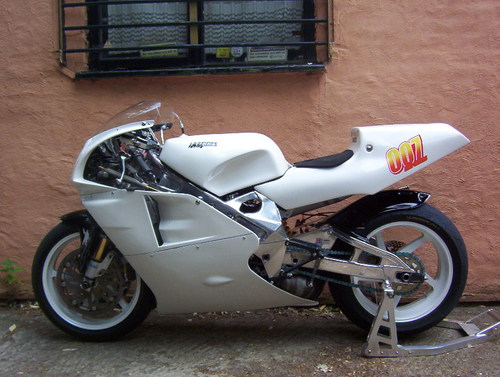 Ian