The Japanese home market for sport motorcycles is the stuff of dreams for those of us based in the US. Some of the best and most extreme examples of high-tech performance sadly never makes it out of the country of origin when it comes to the Big Four. Take the V4 two-stroke RZ500 from Yamaha. While the rest of the world made due with a steel framed version of this "GP bike for the street," the home market RZV came in 20 lbs underweight thanks to a new aluminum perimeter chassis. Because of the limited run (1600 units), RZV frames were all welded by hand. The RZV also featured adjustable front forks (preload available via the top of the trees), a fuel gauge (doubled as the temp gauge) and cleaner bodywork thanks to the deleted grab handles.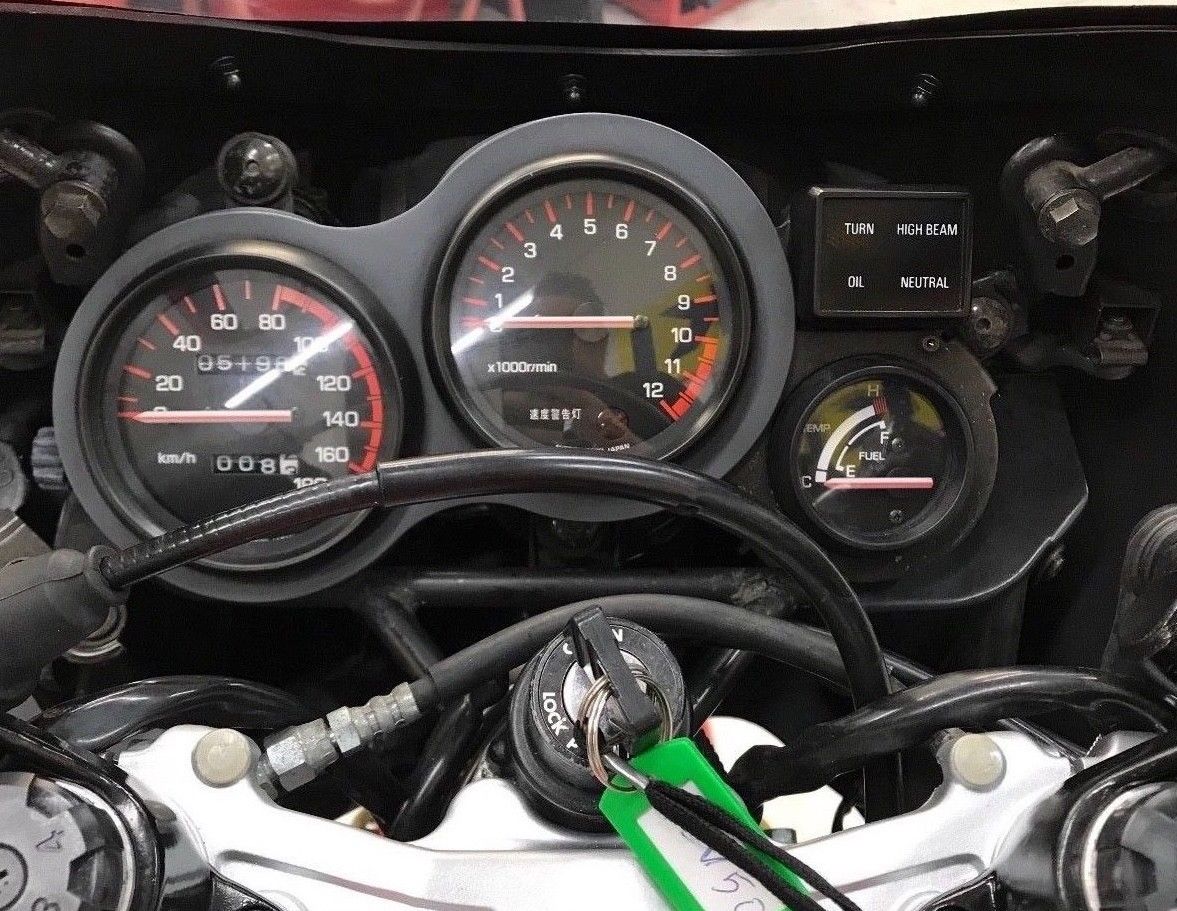 While the chassis and components of the RZV are all upsides, the fact that these bikes were made exclusively for the home market in Japan means that they are also restricted in power compared to made-for-export RZs. With some 64 horsepower on tap this is not exactly a tiddler, but a far cry from the 85-88 HP output of the exported model. Thankfully the restrictions are relatively simple to reverse: this engine is starved via inlet (carb jetting) and exhaust restrictor plates. From there, the sky is the limit as there are volumes of knowledge concerning performance improvements from the big, double-crank V-4.
From the seller:
THIS VERY RARE, U.S. TITLED, 1 OF ONLY 1600 BUILT, VERY LOW MILAGE, JAPANESE MODEL 1984 YAMAHA RZ 500R WITH THE ALUMINUM FRAME. IT HAS BEEN IN PRIVATE COLLECTIONS FOR MANY YEARS. ORIGINALLY IMPORTED FROM JAPAN BY A PRIVATE COLLECTOR IN 2008.

AVAILABLE ONLY IN JAPAN WITH A LIMITED PRODUCTION OF JUST 1600 UNITS FOR THE JAPANESE RZV's, ALL OF WHICH SOLD IN WEEK OR SO. THE RZV IS 20 POUNDS LIGHTER THEN THE RZ THANKS TO THE HAND BUILT ALUMINUM FRAME AND THE LOSS OF THE HAND RAIL ON THE TAIL.

YAMAHA WOULD ONLY PRODUCE THE RZV's IN THERE #1 FACTORY IN JAPAN TO ENSURE THESE 1600 BIKES WERE BETTER THEN ANY RD/RZ THAT WENT TO NORTH AMERICA, ECT.

SO NOW HERE IS YOUR CHANCE TO OWN AN AMAZING 1984 YAMAHA RZV 500R WITH ONLY 3200 ORIGINAL DOCUMENTED MILES (5198 KM IT IS A JAPANESE MODEL) ALL ORIGINAL! NEVER ABUSED! NEVER MOLESTED! NEVER PAINTED! ONLY MAINTENANCE TYPE WORK PERFORMED, TIRES BRAKES BRAKE FRONT CALIPERS APEAR TO BE NOS ALONG WITH A FEW OTHER PARTS THAT HAVE BEEN PUT ON OVER THE PAST FEW YEARS.

DURING THE VERY HARD AND LONG PROCESS TO OBTAIN A FLORIDA TITLE, I HAD THE IMPORT DOCUMENTS TRANSLATED AND CERTIFIED IN ORDER TO GET THE FLORIDA DMV AND A FEDERAL DOT CERTIFICATION ON THE ORIGINALITY OF THE BIKE, VIN, AND MILAGE. THEY DID THE CONVERSION FROM KM TO MILES FOR THE TITLE TO BE ISSUED.

THE BIKE IS IN OUTSTANDING CONDITION STILL HAVING THE ORIGINAL STICKER ON THE WIND SCREEN AND ONLY SHOWING A FEW SMALL BLEMISHES/PATINA ON THE ORIGINAL PAINT/FINISH. SHE STARTS ON THE FIRST KICK, IDLES AND REVS OUT BETTER THEN MY OTHER RZ's/RZV's.
ALL THE LIGHTS AND GUAGES WORK AS THEY SHOULD THE TIRES ARE NOT DRY ROTTED (BUT I WOULD'NT GO DRAG A KNEE WITH THEM). SHE IS READY FOR YOUR COLLECTION, MAN CAVE, OR PARK HER IN YOUR OFFICE OR LIVING ROOM.

AVAILABLE FROM MY PRIVATE COLLECTION ONLY BECAUSE I HAVE 2 AND I AM WILLING TO SHARE.

DONT MISS OUT TELL YOUR WIFE THE ABSOLUTE TRUTH THE RARE LIMITED HARD TO FIND CASSIC VINTAGE BIKES WILL ONLY GO UP IN VALUE EVERY YEAR!!!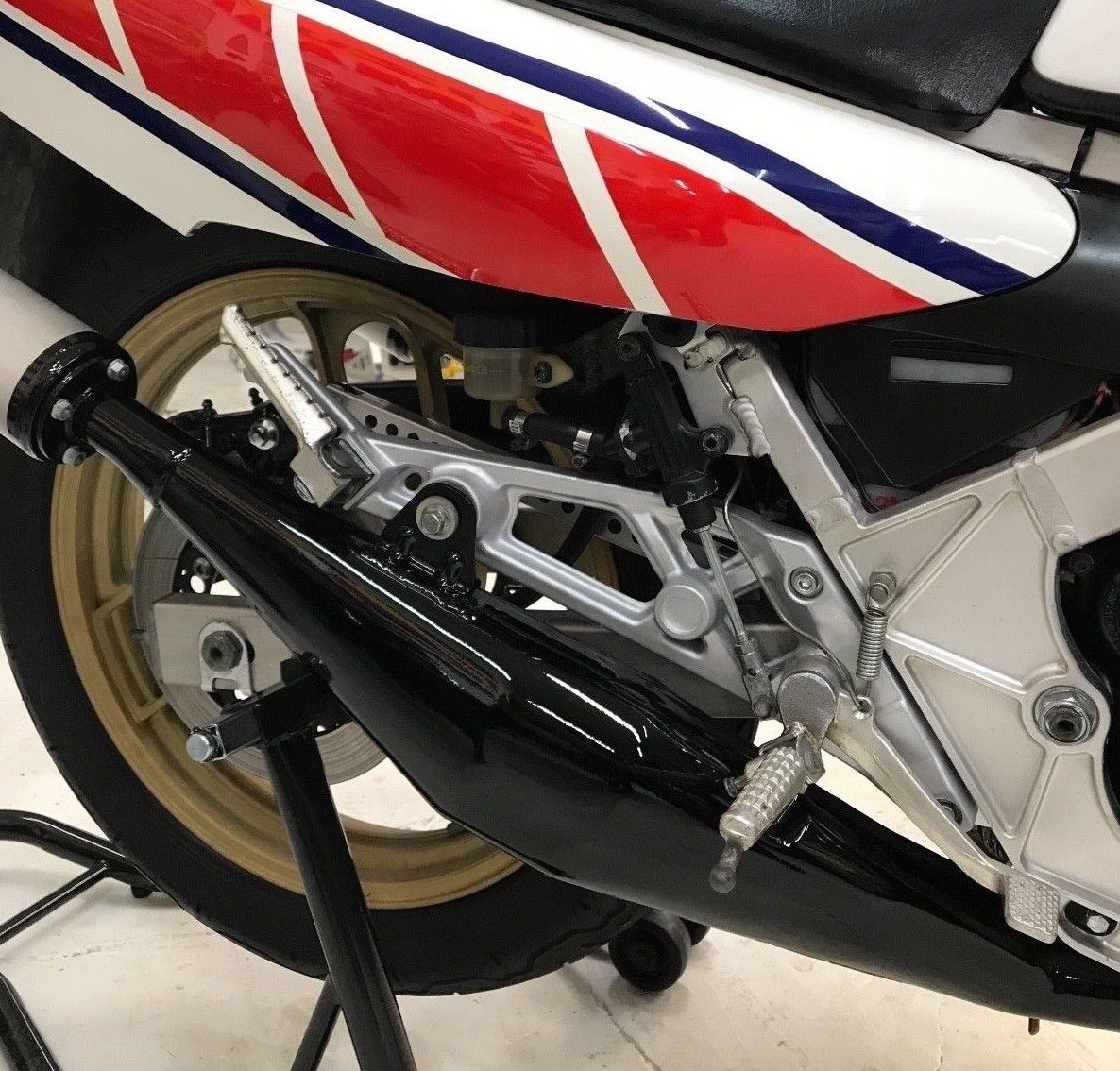 The seller here has done some work for US-based buyers. The bike has apparently been titled in the US. The KM clocks have been retained, making riding a bit of a mathematical exercise for those of you who stick to speed limits (1 mph = 1.6 kph), but that is certainly not insurmountable. Of some concern are the originality and age of items like tires, fluids and engine seals. If this bike has not been ridden regularly (and the low mileage indicates it probably hasn't been), there is a very good chance that the crank seals have become cracked and brittle after some 33 years. This is not a deal killer – just a warning not to spend too much time at redline until a proper pressure test can be conducted. Otherwise, what you are looking at is a a very clean and pretty solid RZV, which is indeed a rare collectable. Pipes look a bit too glossy for my eye, but perhaps I am simply jaded and nitpicky….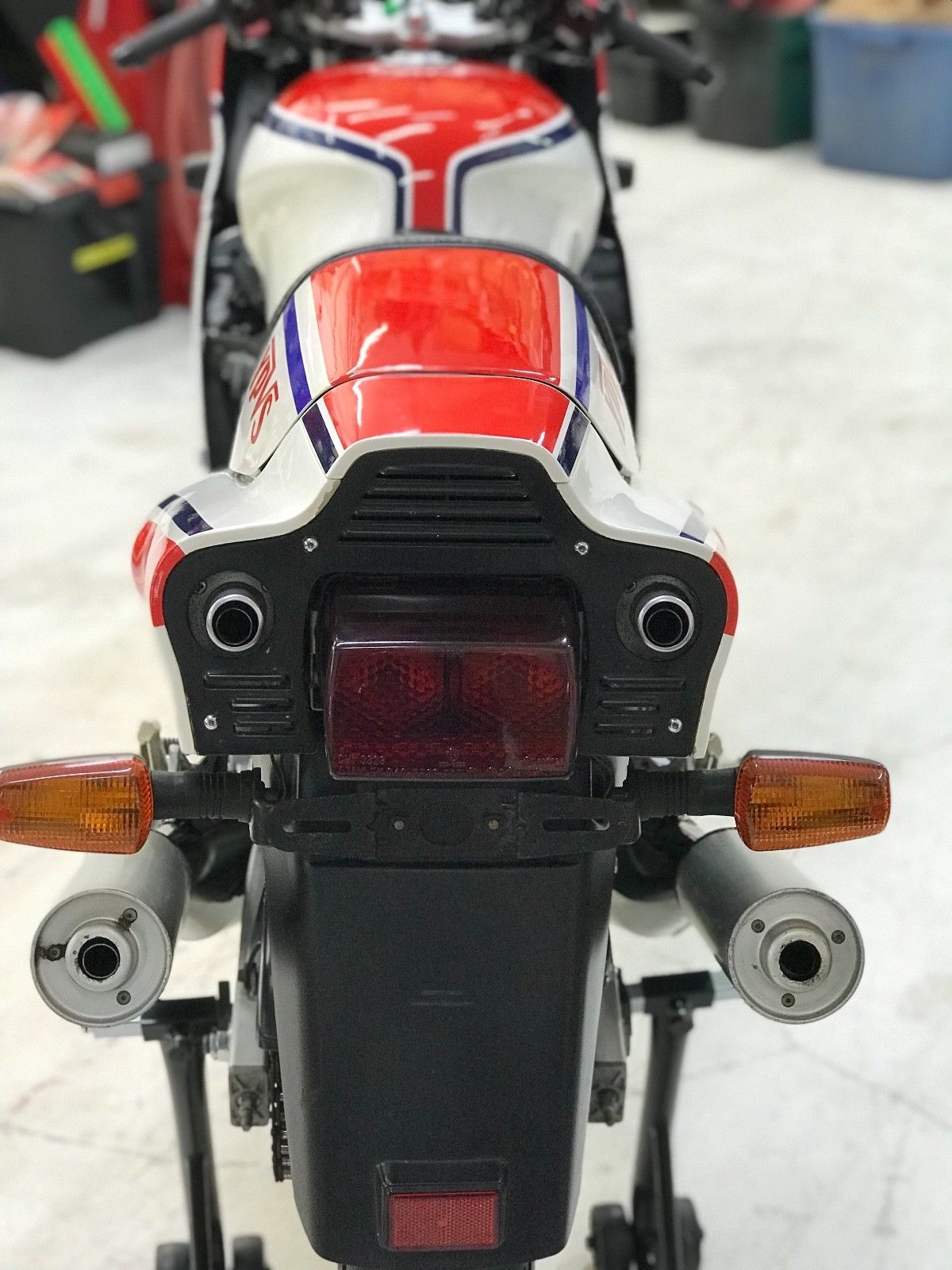 This offering is both an eBay auction with an opening ask of $16,000 USD, and a Buy It Now for $19,000. Thus far there have been no bids on the auction side although there are about a dozen potential buyers watching this one. Check it out here if you lust after a clean RZ500 – and remember that this is the more rare aluminum frame RZV-R model – this one might be a good one to check out. Stock up on your castor oil supplies and let freedom ring-a-ding-ding. Good Luck!!
MI