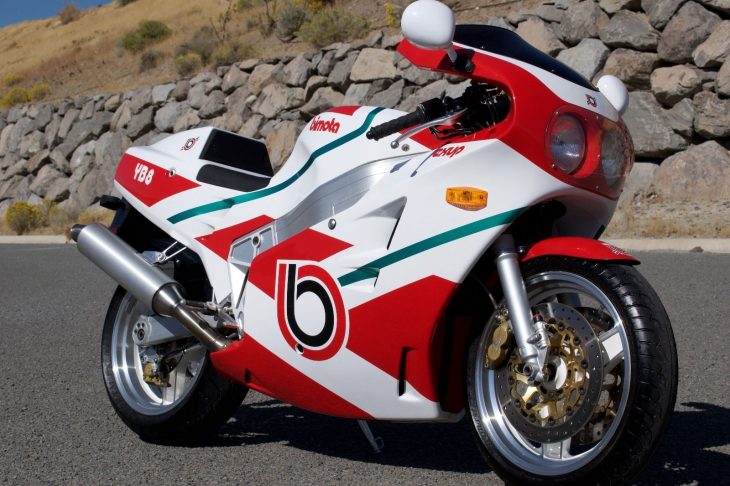 By the end of the 1990s, it could be argued that Bimota was basically irrelevant. After all, the whole point of a Bimota was simple: take a powerful, reliable engine from a bike from an established manufacturer, then slip it into a stiff, lightweight frame with the best suspension money could buy at both ends, and wrap it all in simple, lightweight bodywork. The resulting bikes were free from practical considerations, expensive, and very fast. Sure, they often weren't quite finished as delivered, but a bit of time setting one up to your personal preferences meant you had the ultimate exotic racebike for the road. Unfortunately, the relentless pace of the Japanese manufacturers meant that their powerful, reliable engines were soon housed in bikes that were lighter than past efforts and handled much better than ever before, erasing any real advantage the Rimini machines had over their stock counterparts. But before that happened, bikes like this Bimota YB8 showed just how spectacular the results could be.
The YB8 was an evolutionary design, and used same basic frame as the YB4 and YB6, but used the larger, more powerful FZR1000 engine, complete with the famed EXUP system. 149 claimed horses doesn't sound like much in this era of superbikes making more than 200hp at the rear wheel, but keep in mind that Yamaha felt that the FZR only needed five gears for its literbike instead of the six found on 600s and 750s, and the 1002cc engine has a spread of torque that would make a modern machine jealous. Bimota claimed their alloy-framed confection was a claimed 64lbs lighter than a donor bike that no one would call slow even today. In the YB8, it meant a tested top speed of 173mph to match the race-bred handling.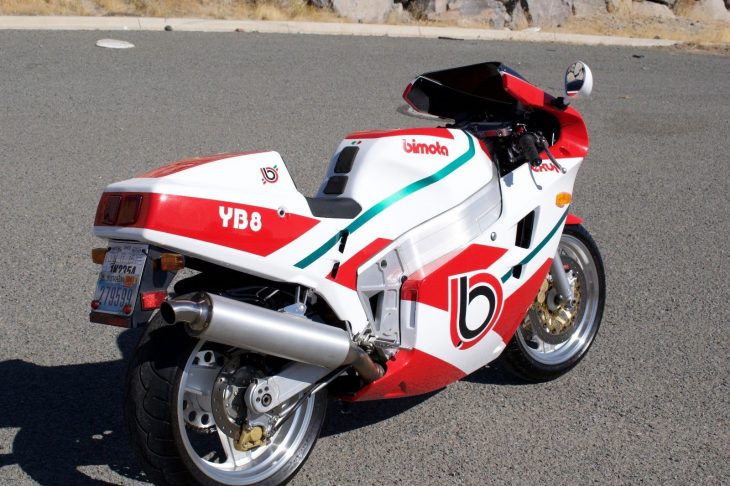 One of the things that stands out on the YB8 and Bimotas in general is something that's missing: bodywork fasteners. If you've ever serviced your own sportbike, you know that, in most cases, removing the bodywork is a nightmare of tiny, sometimes inaccessible fasteners, screws, and plastic clips, that require all manner of wiggling and cursing to remove. Not here. Just a few bolts attach the bodywork, helped by the fact that the panels themselves are made up of just a few pieces. Great for simplicity, but possibly very expensive if your pride and joy tips over in the garage...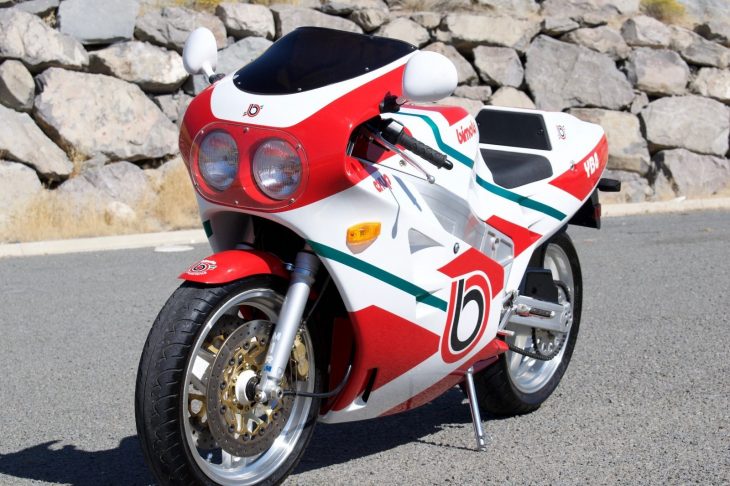 From the original eBay listing: 1992 Bimota YB8 for Sale
1992 Bimota YB8
1,900 original miles (3,200 kilometers)
Original / Unrestored
A+ condition
Clean title in hand
VIN: ZESS8YA23NRANS003

Here is a quick video with walk around etc... Sorry for my terrible mic on my camera. Also may seem like I'm winding it out a little at the end of the video, was just trying to show that it runs good on power, was no where near red line. Also switched to open source music so my apologies if it is annoying.

Bought the bike from a guy who had it sitting in his living room for several years. I love the early 90s carbed full fairing sport bikes so I had to have this when I saw it. The only reason I am selling is to fund another purchase that I have been given exclusive opportunity for. I was given a folder full of paperwork, with full service history, manuals, brochures etc... from what I see in there this bike stickered for $23,000 in 1992. I am also under the impression that this was one of only a handful of these imported into the U.S. for sale.

A bike like this is really only going to go up in value as the full fairing bikes of the early 90s are just getting rarer by the day, this one was rare in the first place with only 252 being manufactured there is probably only a handful left, and maybe none in this condition with this low of miles... please only bid if you are serious about owning and IF YOU HAVE 0 FEEDBACK YOU MUST CONTACT ME PRIOR TO BIDDING

THE ODO IS AT 3200... I AM OF THE UNDERSTANDING THAT THIS IS IN KILOMETERS... which would translate to ~1,900 miles...PLEASE UNDERSTAND I AM NOT 100% CERTAIN OF THAT, IF YOU KNOW HOW I CAN FIND OUT FOR SURE LET ME KNOW, WORST CASE SCENARIO IT HAS 3200 MILES.

Bike is for sale locally for $18,500 obo although I did not know exactly what to ask as the bike very well could be one of a kind in this condition, with this low of miles. I am definitely negotiable. If bike does not sell prior to auction end it will sell to highest bidder. Local buyers encouraged to come see the bike in person, all others I can send pictures or video of whatever you would like to see.

SHIPPING: I am happy to assist your shipper in any way I can, I can also provide a shipped to your door price where I arrange all of the shipping. Shipping motorcycles these days is very reasonable usually costing 200-600$ depending on how far you are from Reno, NV.

If you have ANY questions please feel free to contact me call or text at 775 742 8807 or message through eBay.
In case you missed it in the excerpt above, the seller does include a video of the bike, including a walk-around, start-up, rev, and even a ride. I recommend you turn the volume way down, or skip forward to the 2:20 mark to avoid the really horrible music that's even worse than the seller suggests. It's not the greatest video but it does give you a pretty good idea of what to expect. The seller is very honest about the fact that he wasn't sure how to price this, which is refreshing. Unfortunately, that $18,500 asking price seems optimistic, considering what 90s Bimotas have been selling, or not selling for recently. These Bimotas have a bit of a kit-bike feel to them, but with a bit of patience and, in some cases, even a bit of re-engineering, they can be made into very fast machines, since the fundamentals are all there: the trademark frame, powerful engine, high quality, if slightly dated suspension, and lightweight bodywork. This does look like a very nice example, a sharp, low-mileage bike that should need nothing, whether you plan to display it or to use it on the road.
-tad