I know we've been on a real Bimota tear recently and here's another! Hope you're enjoying the selection of these newly available exotics!
1997 Bimota YB11 – $5800 on Craigslist: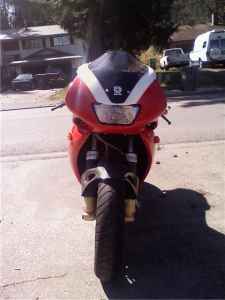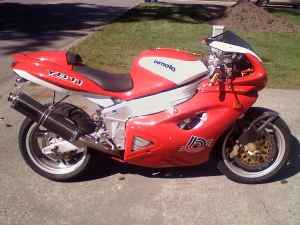 quote from seller's listing:
This 1997 YB11 Superleggera has a Clean Title in hand and has never been wrecked or dropped. It has a few small scratches and is 7 or 8 out of 10. This bike is Rare, Red, (Superlight) and in great runing shape. It has 11,050 original Miles. It has a new Battery (purchased 2 months ago and is on a tender), just changed oil (2nd time with only putting 150 miles since purchased two years ago) This Bike has a 1000cc Yamaha YZF1000R engine from the factory with over 150hp and has a dry weight of 403.4 pounds. When it was purchased it came with many upgrades and has a box of stock parts. I owned two other bikes (which I've sold) that I rode more often and didnt ride this one for that reason.
I have to sell it because I need to keep my house!
Phil knows far more about these bikes than I do, so hopefully he'll give us some background on this model. From my limited perspective, $5800 sounds like a great deal on an exotic you can actually ride and enjoy. Not to mention I have a strange weakness for the Thunderace and with it's motor in this chassis, I'm especially intrigued.
Someone help this guy stay in his house and take the Bimota off his hands!
dc