If you bought a mid-size two-stroke Yamaha streetbike in 1975, you got the very, very good RD350. You also got shortchanged, because buyers who waited just a year got the 1976 Yamaha RD400C, which Cycle World lauded as the perfect motorcycle, and which carried way more improvements than a simple displacement bump.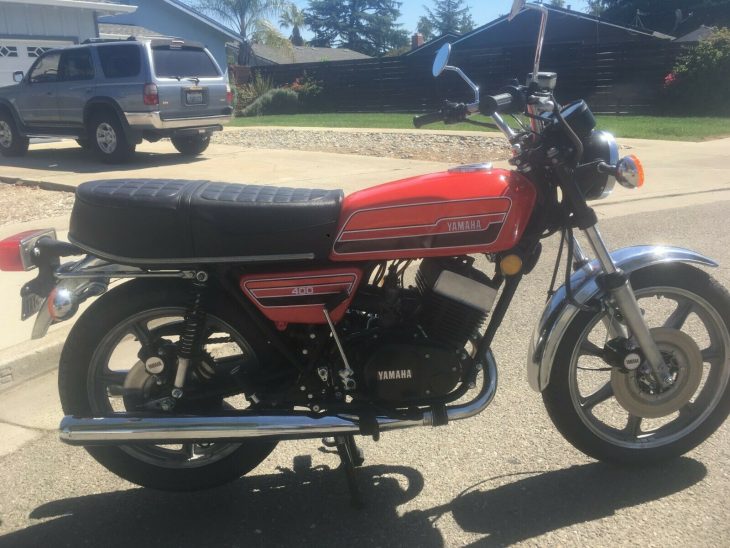 The engine had been gone over with a fine-tooth comb, which resulted in the expected power increase, noise reduction and improved refinement at low rpm. Yamaha worked hard to keep the naturally antisocial two stroke as quiet and easy to ride as tech allowed at the time. The result was 35-ish rear wheel horsepower and a top end north of 100 mph, still impressive figures for a 400. 
The chassis got a good going-over, too, with new geometry that aped Yamaha's all-conquering grand prix bikes of the 1960s and disc brakes front and rear. All that lined up to create the 1970s answer to the RGV250s and CBR400RRs of the late 1980s and early 1990s. The sublime reviews showed Yamaha's efforts were well spent. 
This 1976 Yamaha RD400C is in fantastic restored shape, with a raft of powdercoated parts, a functioning oil injection pump and functional self-cancelling turn signals. It has been kept original with the obvious exception of modern rubber, so the experience aboard this thing will be damn close to what the guys at Cycle World felt 43 years ago.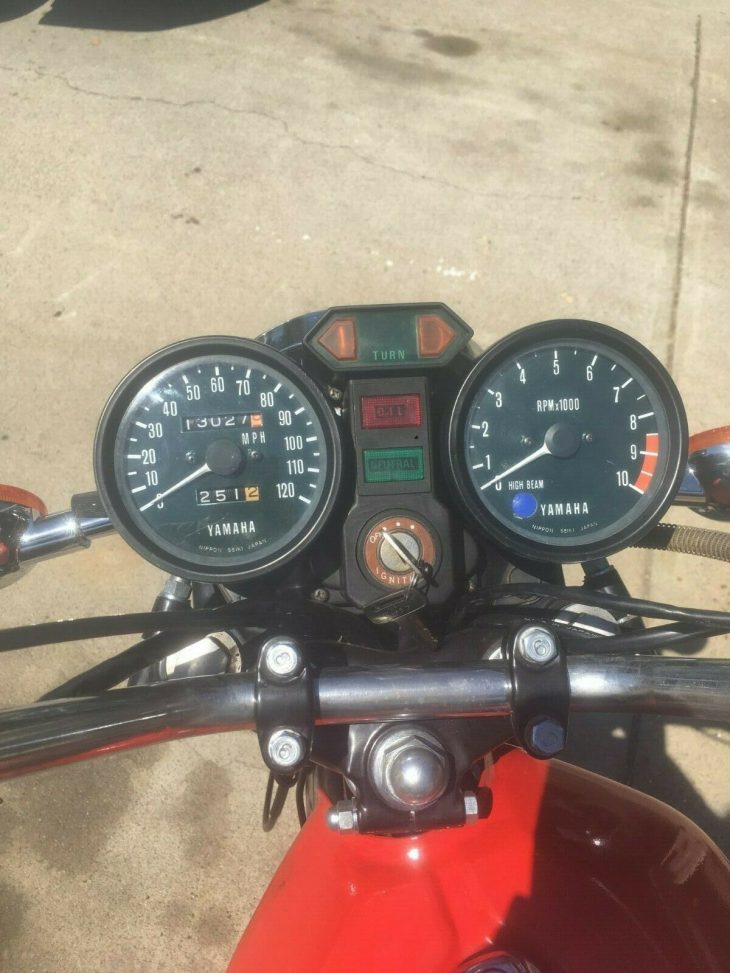 From the seller: 
For sale is a clean RD 400C for sale with a frame up restoration. Bike starts up first or second kick and very reliably. Bike is original to the finest details with original shocks and exhaust. Electronics gone through and checked. Original mileage is approximately 13027 miles. Titled and registered with California clean title in my name. Matching vin and engine numbers.

 Numerous work includes: 

 Motor has been gone through with new seals on the crank 

Powder coated frame 

re-coated nuts and bolts after complete strip down 

Powder coated numerous parts after strip down including swingarm 

New or refurbished parts include rubber parts, seals, gaskets and replacement worn parts 

New Bridgestone Bt45 tires with new bearings front and back 

All electronics work even the self canceling turn signal unit 

Tank is free of dents and has been resealed. 

Front and rear brakes rebuilt with new master cylinders and Caliper seals brakes work flawlessly suspension is supple in working order for original equipment 

new chain 

Oil pump intact with rebuild and adjusted 

Carbs synced and gone through with new rubber tip float needles no leaks here 

This RD was painstakingly gone through to keep to original condition. Although not absolute perfect would be a perfect addition to a collector. Starts and rides brilliantly for age and is great blast from the past with that unforgettable two stroke smell. Too good looking for me to keep and ride this bike is need of a new home with someone who will appreciate its heritage.