This is a real Honda NR available in Japan with limited time left!
Bike:  1992 Honda NR
Miles:  2,500km (1,553mi)
Price:  ¥3,880,000.00JPY ($47,505.37USD) Opening bid
Location:  Hyōgo Prefecture, Japan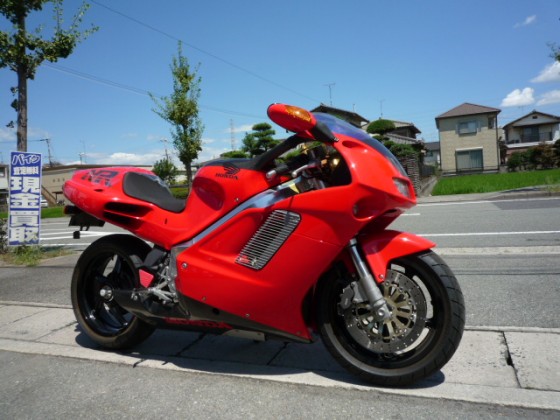 This is a pipe dream to most of our readers, for reasons of price and location, but it's still fun to look at!  The seller states that this NR has a two centimeter (0.79in) crack in the windscreen and some corrosion on the forks.  As a 2500km example, I would assume the seller is being completely honest and, hopefully, listing all of the defects regardless of how small–As anyone should expect with a $50k motorcycle.  With only two days left on the auction, it's going to be a rush to get things together to purchase this bike, but if you're willing to put $50k into a motorcycle you probably can work quickly.  Now, from what we've seen from European NR's, this one is considerably, considerably, cheaper than the others which can be see here.  If you've been looking for an NR, I'd suggest you look to see if this is a legitimate bike and go for it, if you were to import it under the assumption of show & display or track only, it'd still be a great garage piece–I don't have to tell you this!  See this great Honda on Yahoo Auction Japan here…Make sure to use Google Translate, or similar, if you're not up on your Hiragana, Katakana, or Kanji...
AG