Sugar Water:  1989 Suzuki RGV250 VJ21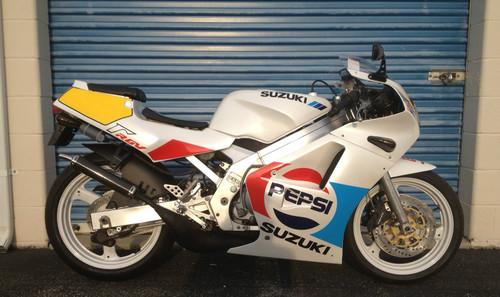 Have a bit of a sweet tooth?  This little VJ21 might be of interest if you are looking for a rider or a bit of a winter project.  No, it isn't an original Pepsi Edition and it is missing a lot of original bits and pieces.  Hey, they can't all be diamonds.  If you are a fan of the older RGV's though, you have to look at everything that comes up for sale because there simply aren't a lot of VJ21's out there.  On the plus side is does have some new paint and set of Jolly Moto chambers.
If you are interested in a project type bike, take your time and study the photos.  The go ahead and compare them to stock Suzuki photos.  Don't be shy, get on a forum and ask questions about the model you are interested in.  Lastly, always be prepared to spend more than you thought you would on parts because you always will.
The info from the seller:
   This is the  first and super rare RGV SP (sports production), featuring a dry clutch as the most distinguishable difference. Along with front forks with rebound and dampening adjustments.  This models was made for the Japanese market with a unrestricted CDI unlike the UK models.   These early RGV's have a 17″ front, 18″ Rear, combination.   This one has Jolly Moto Expansion Chambers which are valued over $1,500 new.  The natural finish does not last long on these race exhausts and have since been repainted black and silencers replaced. The body and tank have been painted and fitted with new decals. The inside of the tank is clean and rust free.  The clock reads just over 13,600 kilometers.

 

    New Tires. New Brakes. Ohlins front fork springs.  Upgraded front GSXR calipers with stainless steel brake line. Please note there are minor scratches on front wheel from loading onto a trailer.  Also scratches on the left side of the swing arm from a minor low a side previous to rebuild. The left swing arm spool mount was damaged as well. Will need to be drilled and tapped.  Everything else was repaired or replaced. Small crack/hole on right side throttle control box. Does not affect function. Last thing to note it is missing the passenger pegs. Rear taillight has hairline crack.  The motorcycle is over 20 years old, so imperfections and minor blemishes will be apparent.   Overall a great looking motorcycle that needs a little to tidy up.     It was a long term project and sat idle for 2 years during the rebuild.  It ran well at that time.  Even with proper storage prep, the carbs will need to be cleaned as the engine won't come off idle.  Typical clogged idle jet characteristic. The only other recommendation would be clean and adjust power valves.  We will also include a CD repair manual and original Suzuki parts fiche diagram book.  OEM replacement and performance parts can be still purchased in Europe and Japan.  There is many online stores,  forums and technical sites we can send links to the new owner for future reference.
Looks like you'll have to come up with a way for the Jolly Motos to attach securely and properly.
You will notice some difference's in the stickers you see on Pepsi Editions.  The bikes came with a sticker kit of sponsor stickers and some owners installed them; others didn't.  She's missing the distinctive 21 mirrors.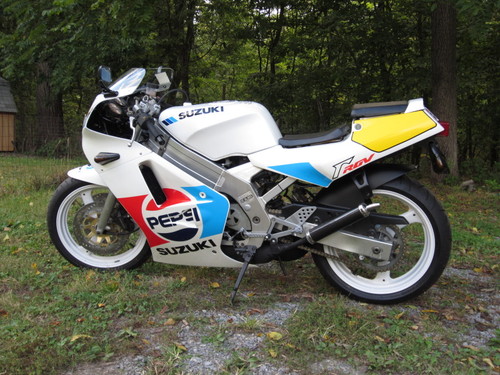 The fact is, this one is going home with someone as the reserve has been met.  Take a look and see if it something you'd like to park in the garage and keep you busy over the winter.
Ian