Location: Staten Island, New York
Mileage: 1,076
Price: Auction, starting bid $6,000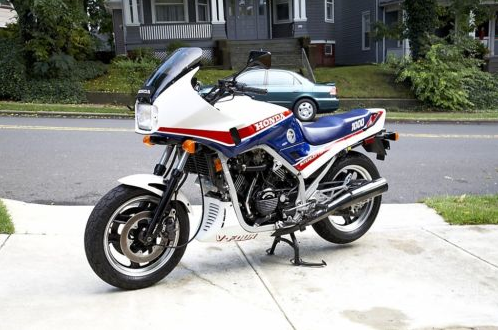 Okay, so maybe technically not the cleanest ever, but it's got to be in the ballpark. The Honda VF1000F took the popular Interceptor line to the next level by making it a liter bike. And with the larger displacement came more power, 113 bhp to be more exact, 27 more than the VF750F. The VF1000F also employed a 41mm front fork with TRAC anti-dive technology, along with a 17 inch rear wheel.
Here's the information from the seller-
This machine is like brand new even though it's 27 years old. Seeing is believing!!!!! I am the second owner and this bike has been with me since July of 1985. It has been maticulously cared for and was kept in a heated garage at my home.With only 1076 miles on the odometer it is probably the least used 1984 1000 interceptor available anywhere.This bike is completely original including the tires. THe fuel tank is in perfect condition and there is no rust anywhere. The carburetors have no issues and a new battery was recently installed. This bike is ready to roll.
And some more photos with many more at the auction-
Judging by the photos, this is one of the cleaner bikes from 1984 you will ever see. It's also very low mileage, undoubtedly contributing to the overall condition. A very fine example of a bike from this era and a bike that's line lives on to this day. So, then the only thing left is the price. Six grand. That's right. Opening bid is $6000 US dollars. Steep price, especially because it's in the range of a clean VF1000R (introduced in '85), an arguably cooler ride. But finding these this clean is not going to be easy.
So we have a very clean '84 VF1000F that is asking a price reflective of its condition. For a collector, this could be a great fit. Decide for yourself and take a look at this auction.
-RN