Update 4.23.2012: Listed last month originally, this example is back along with 3 other examples (here, here, and here). Links updated. -dc
Location: Ottowa, Canada
Mileage: 24,861
Price: Auction, currently $3,500 with reserve
The VF1000R is a great bike in the development of the Honda sportbike. Born out of the Interceptor line, the VF1000R was a much more track like bike from Honda and included the famous V-4 Honda motor that continued on in various forms through the RC30 and on into the current VFR800. The bike was only available in '85 and '86, so finding them in clean condition is not an easy task.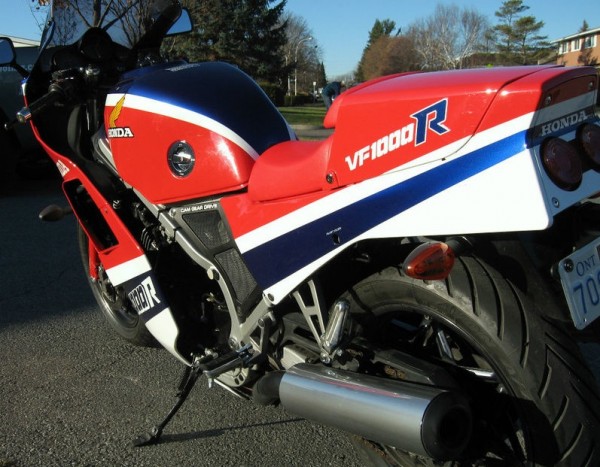 This bike is described as a restored machine with some modifications that should help the bike perform better. The frame has been powder coated and new paint applied where needed. The fairing is listed as original and appears in great shape.
Here's the info from the seller-
An incredibly nice bike – Overall condition is an honest 8 out of 10, as restored by previous owner (originally from Texas), having been carefully dismantled with frame powder-coated and all other parts otherwise cleaned/painted. Hand laid factory fiberglass (not plastic) all in near perfect condition.

Only made for 2 years…incredibly smooth Honda V-4 power with gear-driven cams (over 120 h.p.) and better looking, very bright 1986 dual-headlight conversion.

This bike garners attention like no other and everything is in fantastic condition, complete with original tool-kit.

Factory clip-ons, OHLINS rear shock, replaced stator, stainless brake lines (black PVC coated to look original but with superior feedback/performance), new super powerful DEKA battery and Avon with only about 150 miles on them since installed last spring – A very pleasing machine to ride with an extremely linear power-band.

Now quite rare, this VF1000R will maintain/gain value in years to come. Recent professional appraisal done for insurance purposes if it was ever to be stolen or otherwise lost will be provided with sale. Additional photos/video available for serious inquiries.

Selling as damaged Meniscus in both knees means I'm not a good match for the factory peg location and I'll eventually be finding something a little "roomier" (3 bikes in the garage is too much).
And the photos-
This looks to be a very clean bike but it has also some some modifications, like the headlight conversion and brake lines. Those are good upgrades but also take away some, not a lot, but some from the originality. That may be important to hard core collectors. Otherwise, you would be getting a good looking, rare bike that would be fun to ride.
These are cool bikes. This one looks to be restored well and ready to ride. If you are looking for a VF1000R, this one deserves your attention. So go ahead and place a bid!
-RN