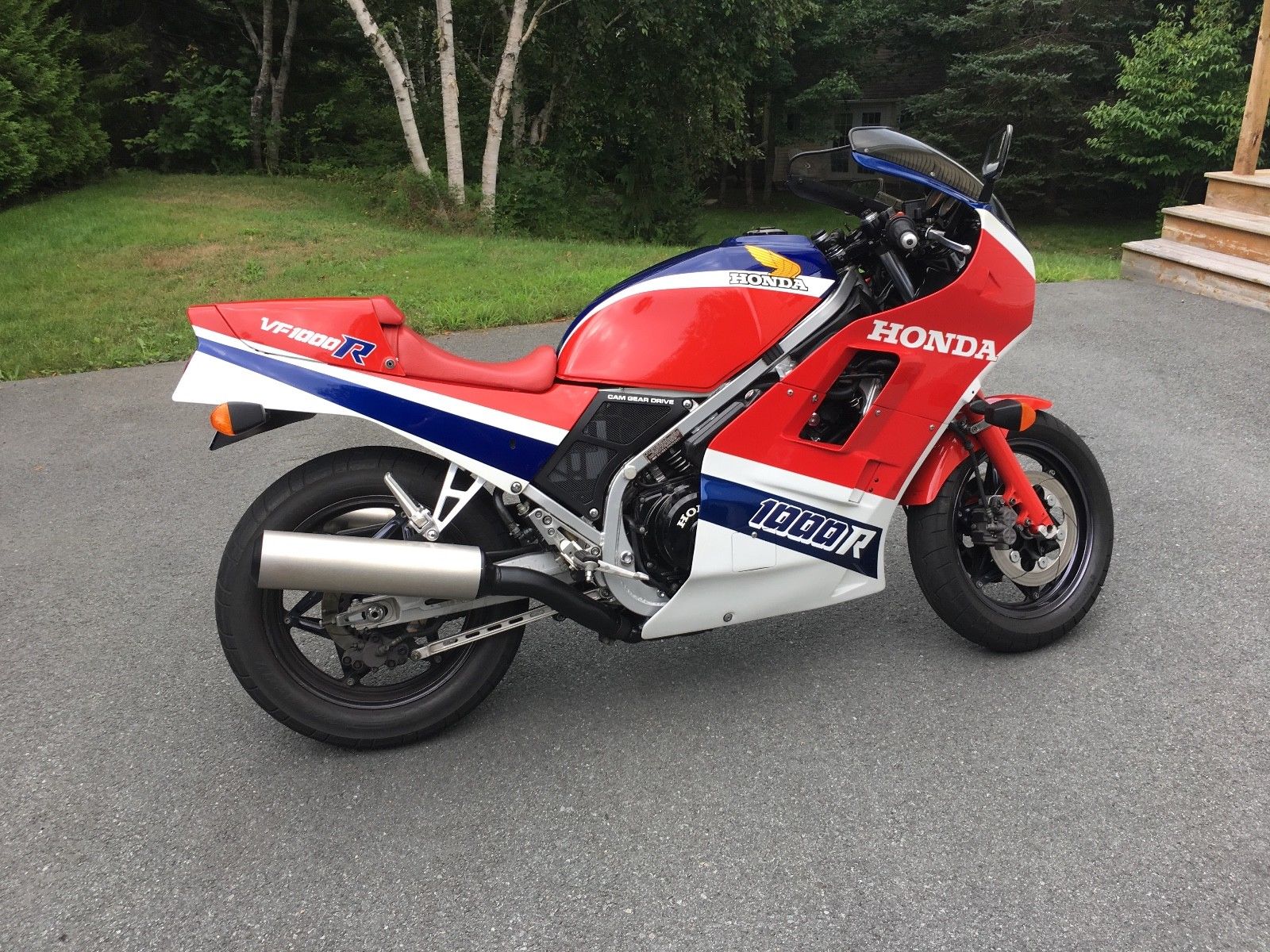 Honda has always been like, well, Honda. Never content unless there was a more complicated engineering solution to an already solved problem, Honda obliterated norms and reached for new frontiers throughout the 1980s. This was clearly evident in today's bike, a beautiful VR1000R. You see, Honda already had the successful VF lineup in place, including the one liter VF1000F (alongside the 750 and 500 variants). But the "F" model was born and bred to be a streetbike (even though the 750 was transformed into a decent Superbike racer over time). Honda, being a racing company, wanted more than a mere streetbike and needed a platform to express ideas and homologate. Thus, the VF1000R was born.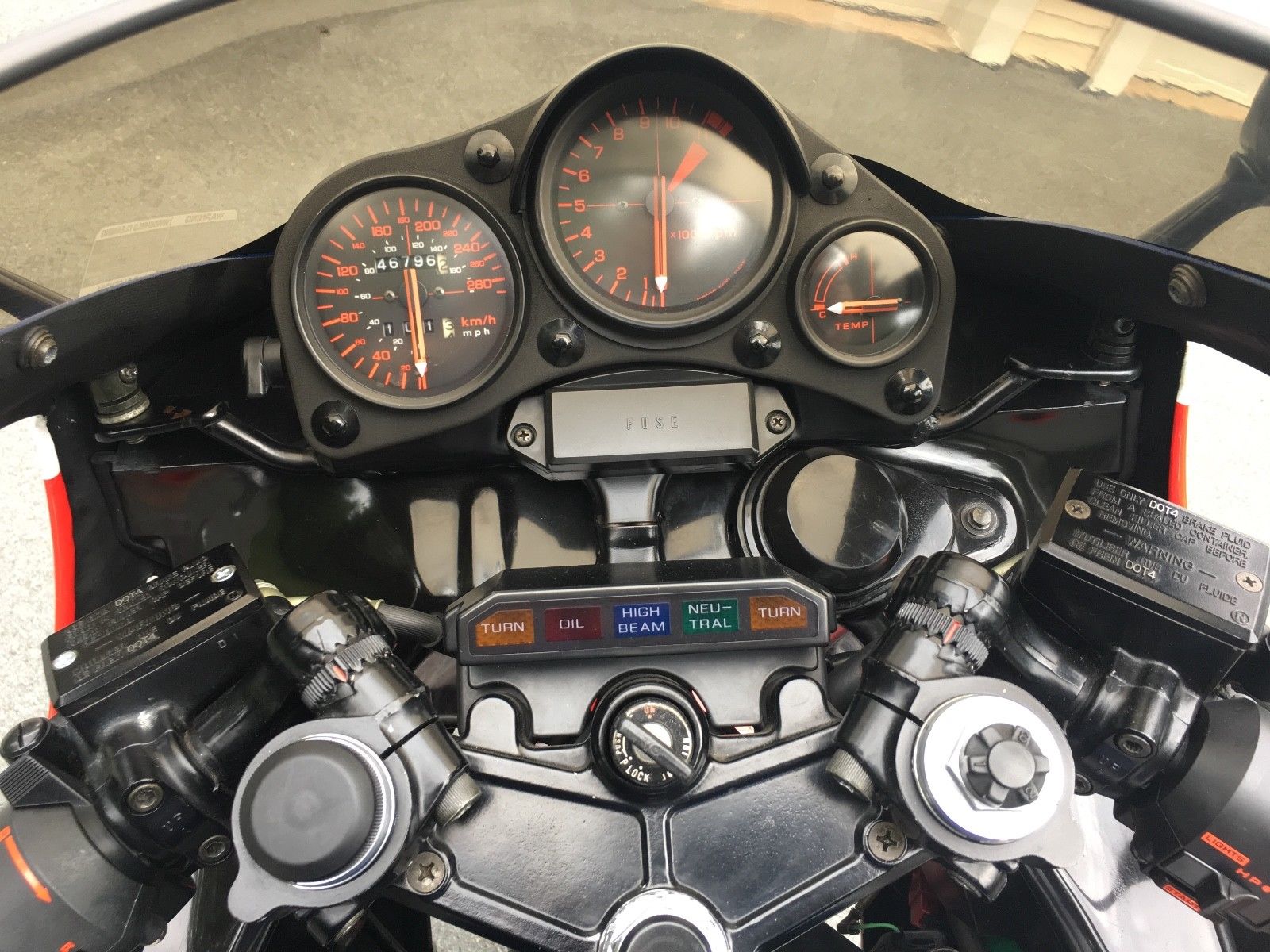 Straight off, the R model is far more striking, more racy, than the rather pedestrian F. The swooping bodywork gives it the look of a European endurance racer, which was strictly intentional. The bike retained the same block as the VF1000F, but valve actuation was converted to gear-drive instead of the F model's chain setup. Straight cut gears off the crank provide the trademark whine that these – and other Honda gear-driven valve train models – are so famous for. Hotter cams were fitted in re-worked heads that provided a higher compression ratio. In all, the completed the head work resulted in a slight bump in HP at the top end. It is true that gear-driven cams have an edge in precision and reliability for a race motor, but the weight, noise and complexity often outweigh the benefits. For the 9 extra ponies created, Honda added some 7 additional pounds to the engine alone.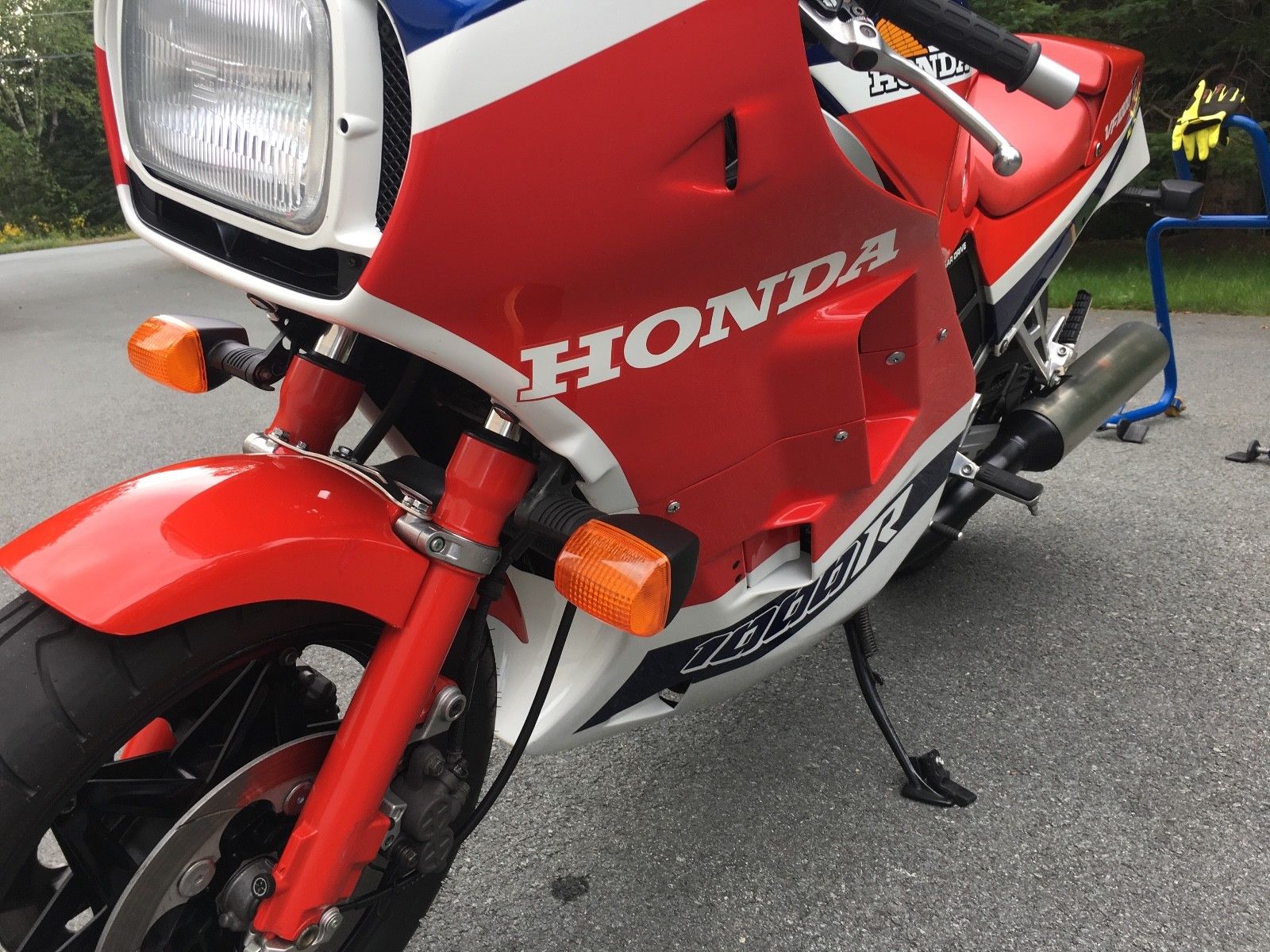 Speaking of weight, Honda seemingly created the R bike by replacing adequate F model items with heavier pieces. Better front forks added stability – and weight. The cooling system needed to be altered to cope with the new fully-enclosed bodywork. Honda added a second radiator and two additional fans to cope with the heat – which also added weight. The exhaust system was modified to add a collector box and build up ground clearance; the additional pipes / ducting also added mass. While no single component was to blame for the 600+ lbs (wet) weight, you can see how all this added up. The net result was a striking motorcycle that stirred the visual senses. And while it was still a formidable weapon in the canyons, all of that weight (and much of it relatively high up) dulled the senses a bit. It wasn't all negative – thanks to that slippery bodywork the VF1000R briefly held the top speed title of fastest motorcycle in the world.
From the seller:
Pairing down my collection:

This is another of my collection lovingly restored. Many practically unobtainable pieces were installed on this bike to bring it back to like new condition. The fuel tank is brand new NOS! ( I have had amazing luck finding NOS tanks!). I also have a 1982 RM250 NOS tank if anyone is interested and 1984 VF750F NOS tank. The front panels were repainted to like new condition! The bike also has NOS side vents, (unobtainable!!), grips, right switch pod, all turn indicators and tank rubbers. Plus… NOS front forks, yes that is correct, new NOS forks. New petcock and new clutch. Hundreds of dollars worth of cooling system refurbishment. It has a brand new hagon rear shock. New brake and clutch levers plus the master cylinders were rebuilt. The bike is all original and runs perfectly. Again, the cost to restore this bike to its current condition is no where near the purchase price. This is a relative bargain at the opening bid. It can be stored as a museum piece or ridden reliably for fun. Your choice.

No warranty implied or given, (its is a 33 year old bike after all)
The bike is for sale locally so the auction could end at any time. It is a no reserve auction. The price is fair compared to what was spent on it. Good luck….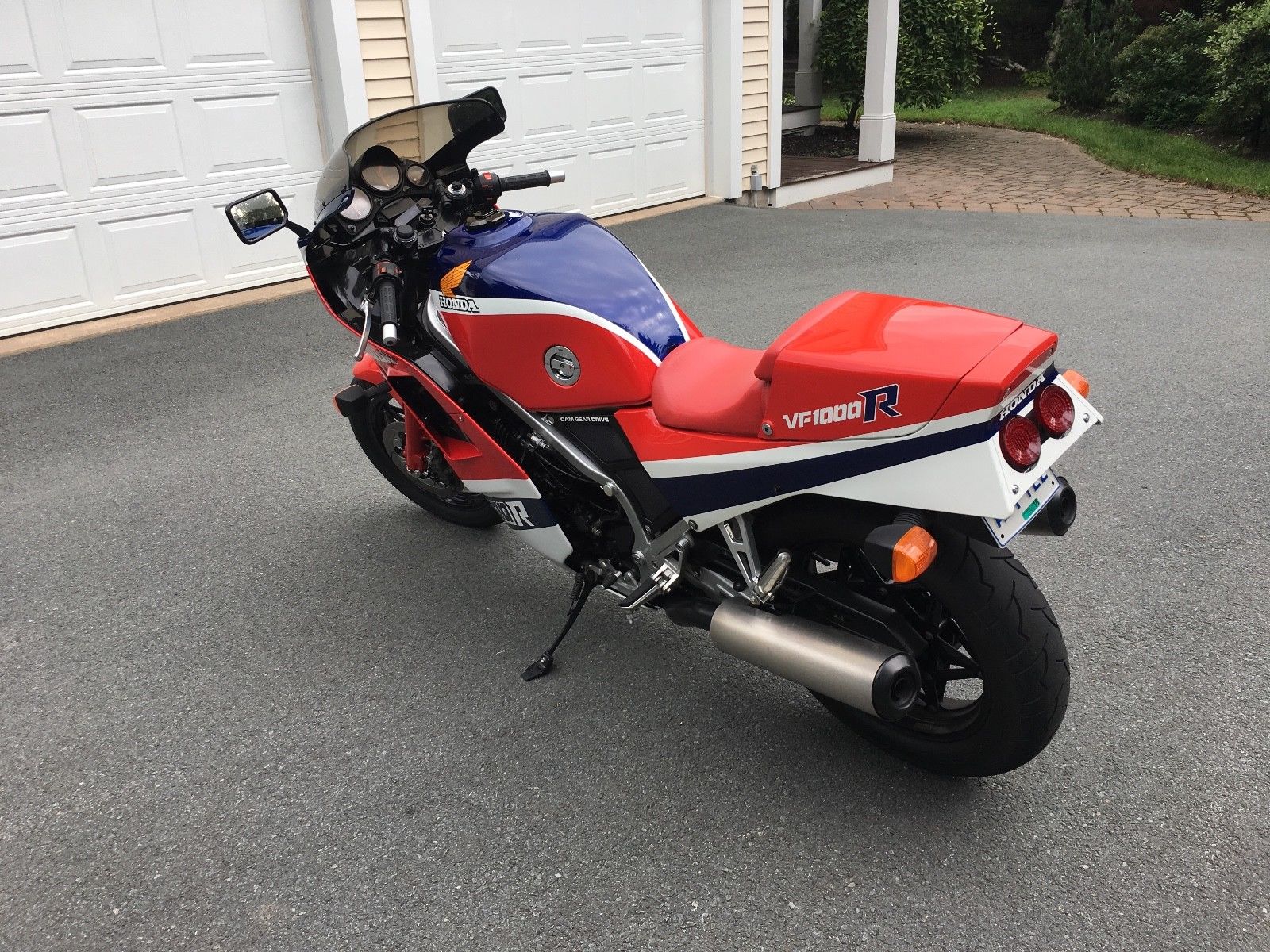 The VF1000R went through a few iterations, including the headlight configuration. Many will find the dual-headlight R model to be more desirable as it more properly mimics the euro-endurance look. Single headlamp bikes are US only models; managing a full technical program, numerous racing programs and rules AND satisfying the DOT regs were made simpler by this easy move. Dual lamps appeared in the 1986 model year, as US regulations relaxed slightly on this front. Hence, the 1985 model is only a one-eyed wonder. Still this is an awesome piece of kit, and yet another example of Honda flexing their engineering might. These bikes still make a statement today: they look fantastic, are reasonably comfortable, and are more reliable than most would expect. They are also a relative bargain. This particular bike has some nice restoration touches, and has an opening bid of $6500. No takers as of yet, but there is still time left on the auction. Check it out here, and good luck; not many bikes look this good well into their thirties. This is one that will continue to age well….and ride well.
MI