An order of magnitude rarer than any road-going Ducati, bona fide Corsa machines appear just every few years, while merely special 916's check in almost monthly.  Returned to its original as-delivered livery, this is a California privateer's Fast-by-Ferracci 916/955 racer.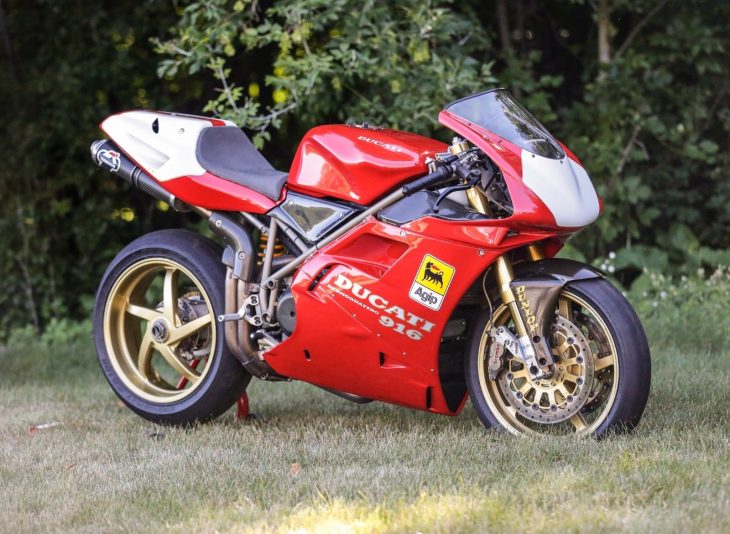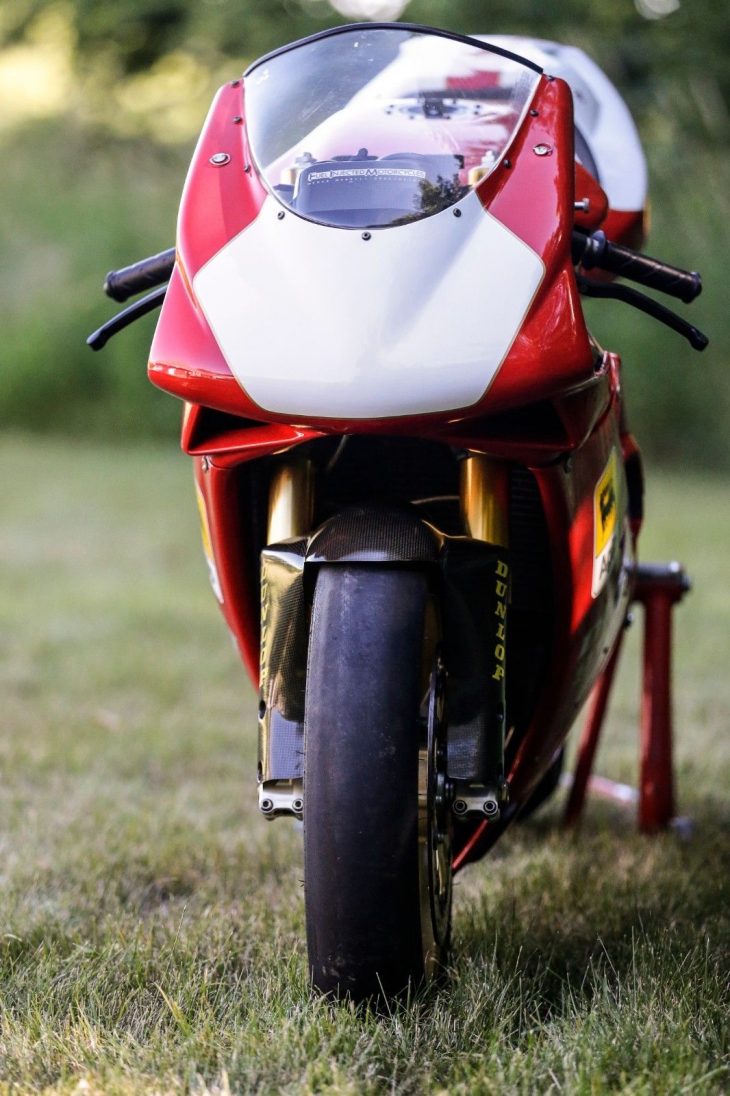 Carl Fogarty had won the 1994 WSBK Championship ( and would repeat in 1995 ) and a basically 1994-spec Corsa was available to purchase for 1995.  The twin was bored to displace 955cc and forged pistons pushed the compression ratio to 12:1 and made 155 hp.  The all Öhlins suspension was also oversized, with 46mm forks and a 10mm longer swingarm than the road bike.  A 5.8 gallon fuel tank went race distance and the rear rim was 6 inches wide.  In a valiant effort to challenge the 320 lbs. minimum weight, fairings and covers were carbon fiber.
My usual yardsticks of mileage and maintenance are no use here.  The owner does offer a short monograph of the very bike by Ian Falloon – here –.  It's a never-titled racer which might turn a lap or two in the future, but more likely will be toward the end of an aisle of other red bikes.  From the eBay auction:
Bike built in February of 1995 and initially sold by Eraldo Ferracci.  This Corsa was retired from competitive racing in 1997.

Retrospeed of Belgium, Wisconsin was previously commissioned to fully repaint bike, install a new fuel pump, prove that the bike was mechanically sound, change fluids and set up for long term storage.

New slicks would need to be fit prior to track use.

The owner, an Italian collector, is thinning his motorcycle collection to make room for a car purchase.

The 955 Corsa is not titled-none were-as they were produced for the sole purpose of racing.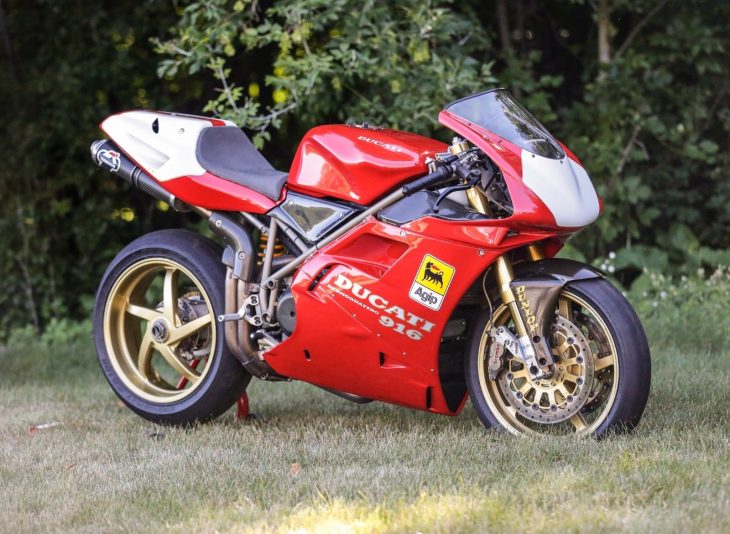 After a late season crash that saw him recovering in 1996, owner-rider Greg Prinze painted the 916 in Pro Italia's tricolore for 1997 and took the California-based American Federation of Motorcyclists 8-race championship that year.  Both retired after that, and the bike was at some point restored for display.  The starting bid set accordingly, the FBF provenance and race history serve this Corsa well.  Discussing the performance is like the occasional "how would you spend the Powerball ?" discussion, it sure would be nice to try…
-donn