Happy New Year RSBFS readers! And being the beginning of a new year, it is time to get serious. What does one resolve to do for 2018? How do you commit to better yourself or those around you? Might I humbly suggest that adding a two stroke to your collection might be the way? I know what you're thinking: In the current age of electric cars, recycling everything, peace on Earth and good will to all cannot possibly involve blue smoke. But I disagree. You see, saving a deserving example of a near-extinct species makes the world feel good. And by adopting a "lightly used" example of a motor vehicle, you are participating in a global recycling program; you are keeping something out of the landfill. That should all weigh in on the positive side. Plus with the smiles you bring by hooning a smoker on the pipe – not to mention how it will make you a better, happier person – the world at large will become a better place. Budgets be damned; you cannot put a price on the betterment of the world. Thus, I propose that one of the RSBFS faithful save this TZR pound puppy and flog it mercilessly for the good of the planet.
Born from the two-stroke racing DNA of the legendary RD series, the Yamaha TZ series began life as a liquid cooled parallel twin. By the time this 3XV6 example rolled out of the factory in 1992, the parallel twin was ditched for two cylinders in a vee formation. This was the defacto engine configuration for all successful 250cc bikes of the era, as the narrow presentation of the vee allowed for greater aerodynamic possibilities (not to mention perfect primary balance). Throw in Yamaha's interpretation of the ideal aluminum frame design, a curved swing arm to allow the right side pipe to tuck up close for optimal cornering clearance, YPVS powered exhaust valve to broaden the power curve of the notoriously peaky two-stroke, and tight, flowing bodywork to optimize streamlining and you have the makings of a streetbike with track day credentials.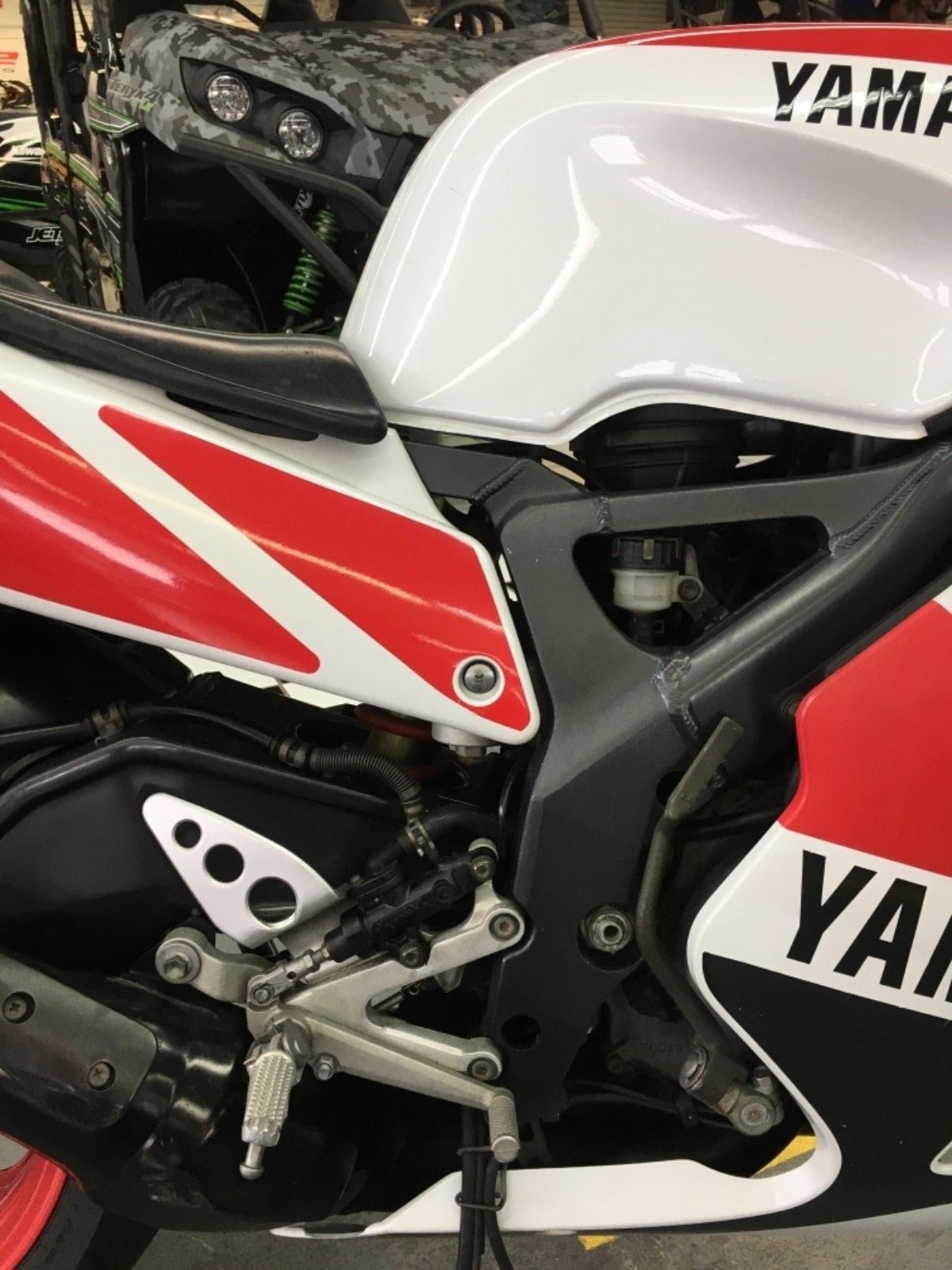 From the seller:
Up for auction to the highest bidder with NO RESERVE is a 1992 Yamaha TZR250R 3XV6 with 17,677 kilometers (10,984 miles). Bike is in original unrestored condition. Bike looks beautiful and has tons of curb appeal but it has scratches, scrapes, a few small cracks, and touch up paint throughout the bodywork, from its original owner. Bike looks well cared for and was stored indoors. Lol, the owner just couldn't keep the rubber side down. All fairings and components are 100% genuine Yamaha OEM. Bike is completely stock. This bike would be a great candidate for restoration since it's all original and low mileage. This TZR is a great rider! Bike runs like the day it was new. Mechanically, this bike is solid. Full service just completed with new battery and new engine fluids. It's ready to ride. Please text 801-358-6537 for more pictures and questions. Bike comes with Utah state title and is titled as a street bike for road use.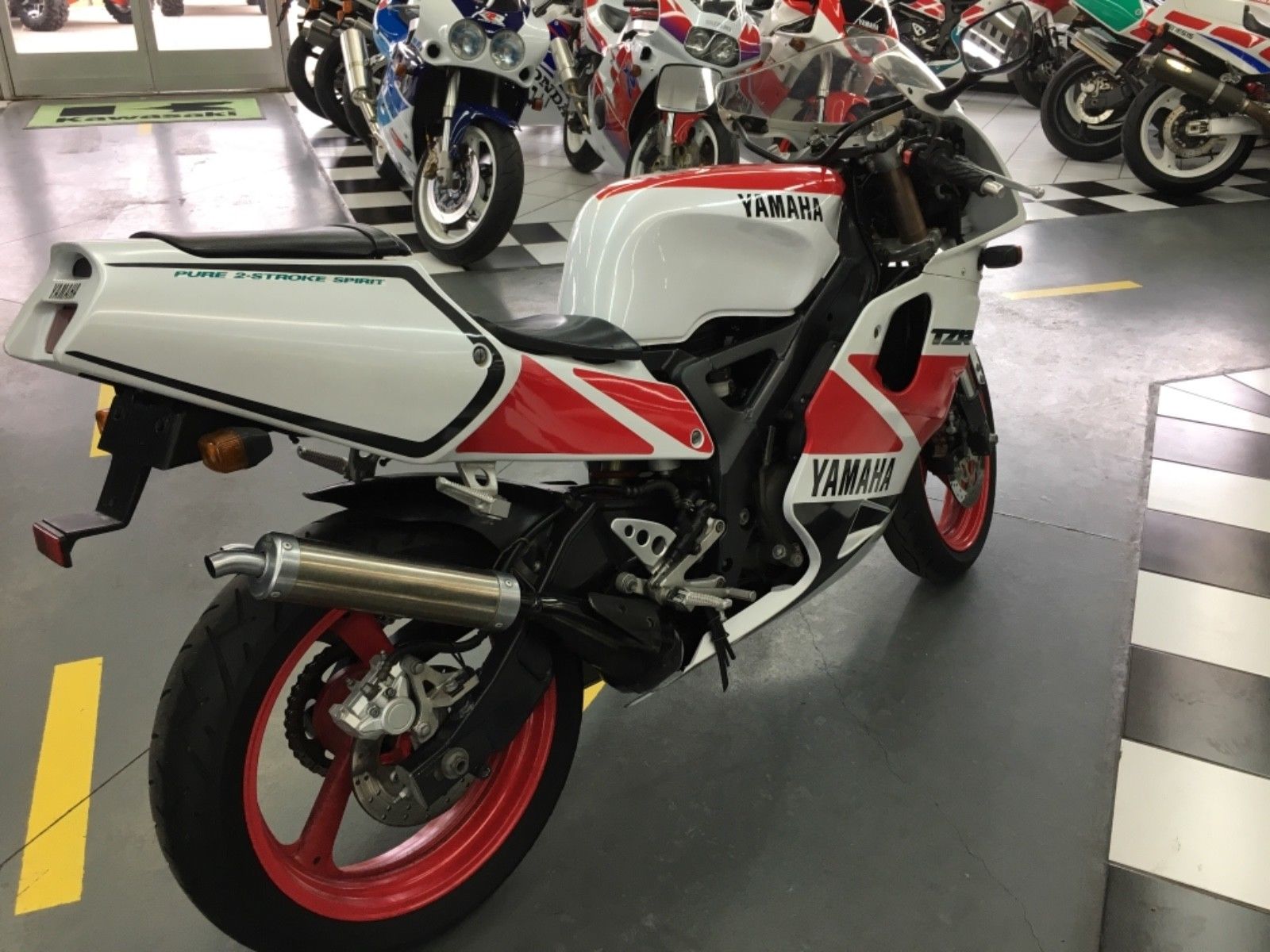 This is a third gen model for the TZR series; the lineup would be discontinued by 1996. The R model would remain one of the lowliest configurations of this time – but that is like pointing out a Bugatti Veyron is a lower spec automobile thanks to the introduction of the Chiron. While it is lacking trick front fork adjusters and makes due with a wet clutch, the TZR250R is no dog and nobody's fool. Japanese home market spec bikes may have appeared to be racier and did indeed have some added features, but given that regional regulations limited power output for all 250s the R model is hardly missing the goods.
This particular TZR250R comes from well-known RSBFS supporter and collector Gary. His Utah collection has slowly been thinned during 2017, but there appear to be a few bikes left. This one did not meet the strict standards for a Featured Listing due to its "slightly-more-than-lightly" used condition, but ticks all the right boxes when it comes to making the grade on New Years resolutions. It still looks good AND comes in many dollars below a more minty example. Somebody please recycle this thing and save the world. You know you want to be a better person in 2018. Check it out here for more details, and then sit back and smile knowing that you are making the world a better place for all of us. Good Luck!!
MI