1993 Yamaha TZ 250 GP track bike
Make: Yamaha
Model: TZ 250
Price: $2,800 starting bid with $5,500 B.I.N. – This won't make it through the day on ebay!
Location: Rocklin, CA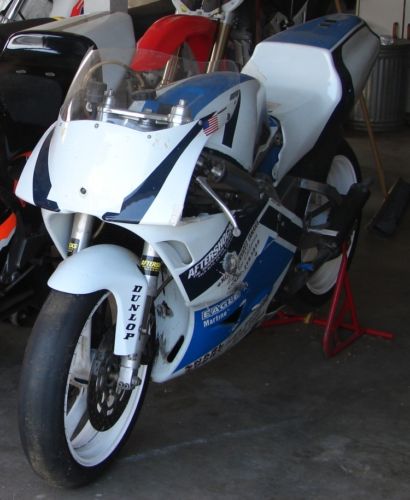 Found this beauty on ebay this morning while key wording for rare bikes- did I hit the jackpot! This one is super clean and has been stored for approximately 10 years on stands and it shows! I suspect this one doesn't have any bids on it because the key words are a little funny. I assure you at a $2,800 starting bid with no reserve, this one will not make it through the day. I've been on a 2 stroke kick lately and I've seen piles of what is said to be a rare 2 stroke bike and it is merely junk. TZ's have a long storied racing history and are probably some of the sickest looking race bikes around- sans a MotoGP machine of course.
Looking for a cheap race or track day bike? Then look no further because you have found it!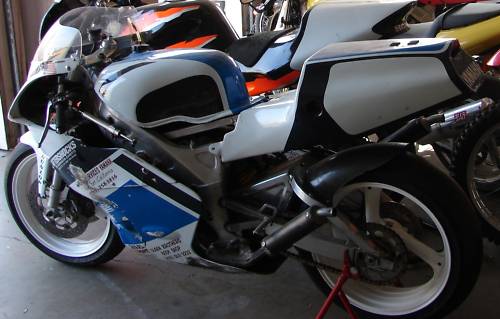 Quote from the ebay listing:
Yamaha TZ250 Former AFM race bike with minimal spares.

Tough economy forces sale of this awesome bike.

* Starts easy & runs great, very fast and collectable

* Very low use on this bike. I have owned it for almost 10 years and only ridden it twice at trackdays. It has older Dunlop tires on it. It has been stored in my shop up on a stand. Needs a little clean up, remove dust and cobwebs.

* This bike sold new for over $20K – factory GP bike
Okay, so it needs to be dusted off and a new pair of sneakers before hitting the track. Not to keep harping on it, but you can't buy a 1997 CBR F3 track bike for $2,800 bucks! This is 250#'s of 2 stroke madness at it's best!
I won't hold you up any longer….
Cheers!
dd