With the other manufacturers building their exotic turbocharged 80s confections around more sophisticated four-cylinder designs, why did Honda base their CX650 Turbo on a bike that was so ugly, the British press dubbed it the "plastic maggot"? Well even though a simple, pushrod v-twin seems to go against the high-tech theme these motorcycles embodied, the reality is that to make big power with a turbo, it needs to be strong enough to handle the incredible pressures involved, especially in an era before electronics allowed high-boost engines to be more than just entertaining hand grenades. There's a reason many turbocharged engines still use iron blocks instead of modern, all-aluminum construction…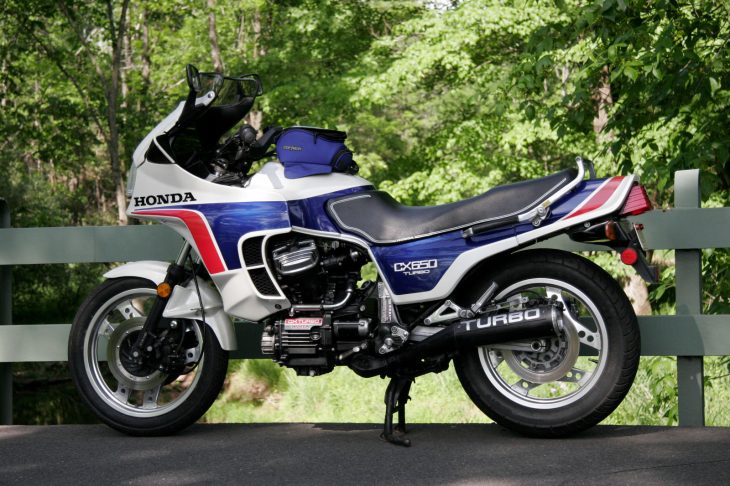 The CX650's engine specification may have seemed low-tech at a glance, but it was actually a very intelligent design, with thoughtful features like a transmission that rotated in the opposite direction compared to the crank to reduce the longitudinally-mounted engine's torque-reaction, along with heads rotated to allow clearance for the rider's knees, something Guzzi lovers would surely have appreciated. But most importantly for the Turbo, the 80° v-twin was built tough and the simple design left plenty of room for the complicated exhaust and intake plumbing required for a turbo, while liquid-cooling helped keep temperatures under control. The result was 19psi and 100hp from the 674cc engine, which was good enough for 140mph as tested, a pretty impressive number for a middleweight bike in the early 1980s.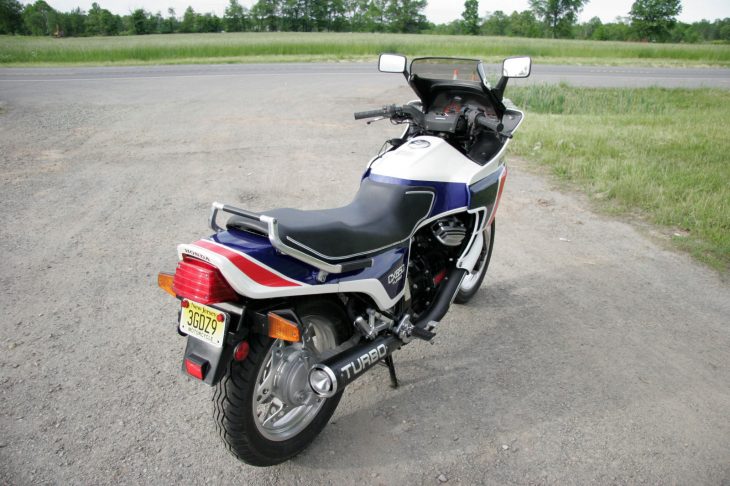 Wrapped in futuristic bodywork that disguised the bike's plebeian origins pretty well. You'd never describe this or any of the other turbocharged motorcycles as "beautiful," but they certainly look the part. Futuristic and sleek, they're every bit the two-wheeled fantasy of young people who watched Battlestar Galactica and Buck Rodgers. The bike even included such forward-thinking elements as modular Comstar wheels and tubeless tires, an unusual thing to find on a street motorcycle at the time.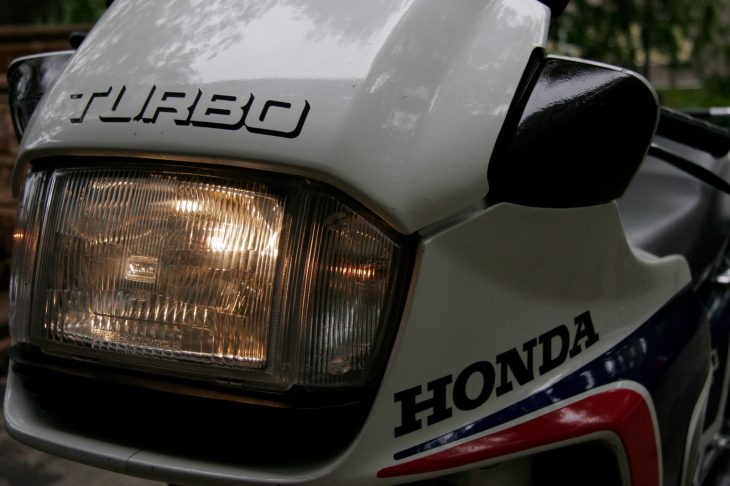 Unfortunately, the dream of a middleweight bike with big-bike power was just that: a dream. The reality was that the turbo bikes added complexity and weight while offering power similar to big four-cylinder machines. And while the laggy boost of the era can be fun under the right circumstances, all of the Japanese turbo bikes make better quirky sport-touring bikes than they do back-road scratchers as a result of their unpredictable power delivery.
From the original eBay listing: 1983 Honda CX650 Turbo for Sale
ULTRA RARE!

…In 1983 only and back then only one thousend fifteen CX 650 TURBO-s found its way into USA… Even less went into private hands as many were designated for technical schools as an indication what future would bring. It was a very futuristic bike at the time.

This particular motorcycle of low, low mileage had only one owner before. It was stored indoors for many years. First titled in 1985 being sold as Honda dealership leftover since they were very expensive, costing more than a Civic hatchback! I have copy of original Title. It required a lot of attention, so after many hours of going thru details, we finally got this excellent engineering marvel back on the road. Having only 4,393 miles now, it is like barely broken in! Cosmetically, certainly not perfect (please see pictures), however for a 33 years old overall – presents itself as very nice and clean. Last thing I would like to point is that this CX650 T takes attention others even when is on the motion, not mention that every stop create people around.

The good: The engine runs smooth with no smoke, absolutely no issues or wrong sounds whatsoever (please see test drive You Tube Video) Clutch engages all 5 gears with no problem. Brakes are good, fuel pump, injectors are all in good working order as well as its electrical system. All plugs have factory white grease (no oxidation at all). Honda build quality back then was unbelievable and this shows three decades later. The turbo is nothing a like on the road today I had chance to ride on or to be able to compare to. Definitely very different experience. Lots of fun! Turbocharger starts whistling strong at approximately 4000 rpm, and will take off your front wheel up into the air if you open the throttle to hard…

The bad: This bike is not 100% complete. It is missing glove box door (we got the bike without it). RH side front turn directional blinker has broken lens (We rebuild it best we could, please see pictures).

Conclusion: A pure fun to drive, unique looks, quite rare now and therefore also likely to be valued as an investment and collectible. Depending on the local laws most likely eligible for low cost historic registration and insurance. It can be yours but for a realistic price only. Sorry I don't have to sell it and low ball offers would not be considered as I rather keep it than give away at ¾ of an asking price!

We have not changed any parts on this motorcycle other than clutch cable and all fluids, filters, trying to keep it as original as possible. I do strongly recommend for the buyer to inspect this bike in person. Besides the bike we will include original Honda toolkit, owner's manual, Honda tire pressure gauge, copy of original title and as the bonus: an official Honda Dealer Shop Manual for any future technical references. Tank bag seen on the picture NOT included.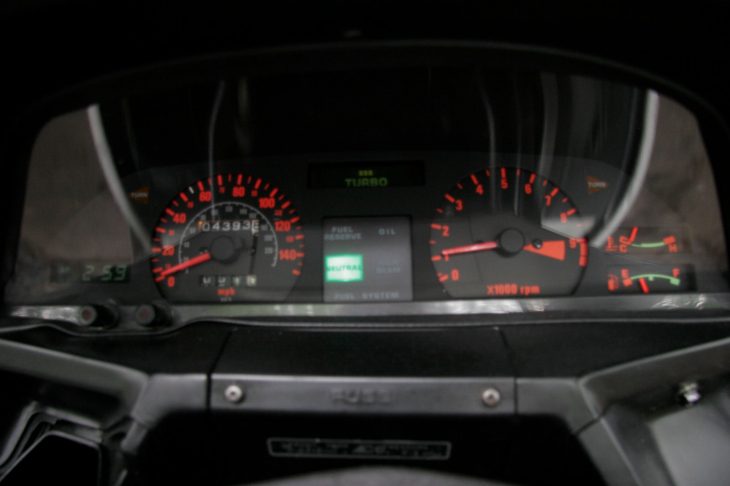 The seller also includes a nice walk-around video of the bike running here. Turbo bikes are more complex and less reliable than their normally-aspirated counterparts, and the CX is no exception: starters and alternators can cause problems, although fixes are easily available and affordable if you can do the labor yourself, as both are engine-out jobs. But increased maintenance costs aside, the Turbo is still a pretty quick motorcycle, and can certainly surprise other riders out on a sweeping road. They're also still pretty affordable considering how rare and exotic they are, although the seller is looking for pretty premium money: the Buy It Now is set at $10,200.00 for this particular bike. That's on the high end for a CX650 Turbo, but the bike appears to be in good cosmetic condition and miles are very low, considering they make such interesting and relatively comfortable mounts.
-tad