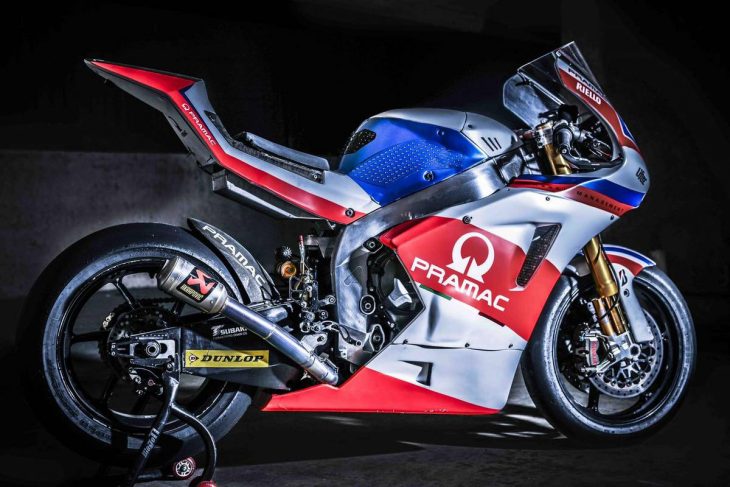 Racing at the highest levels is a game with very high stakes, and teams are willing to spend a fortune to eke out the smallest advantage over their competition. So if you've got a race series designed to showcase up-and-coming riders, how do you limit costs and make sure the playing field is relatively level to make sure it's talent that makes the difference between victory and defeat? Well, rules that require every machine be powered by the exact same engine is a good start, and that's the idea behind the current Moto2 series that replaced the 250cc two-stroke class in 2010. Today's Ariane-framed Moto2 machine is shown in Pramac colors with Andrea Iannone's #29, so I'm assuming it didn't compete looking like this, but the important parts seem to be there.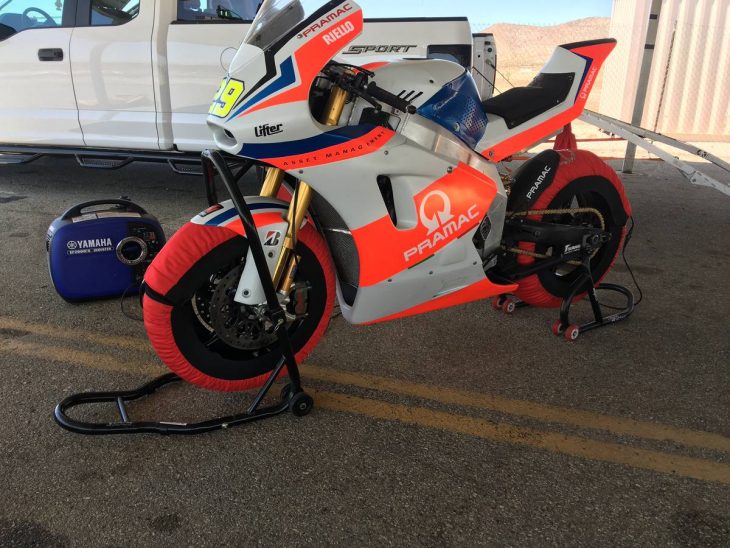 Not long ago, Grand Prix racing was divided into 125cc, 250cc, and 500cc classes, and all used two-stroke engines. But when rules were changed to allow four-strokes to compete against the two-strokes with a significant displacement advantage, the writing was on the wall. The rules should have made the two configurations approximately equal in theory, but in practice the four-strokes were much faster, although more expensive to run, and eventually both Moto2 and Moto3 switched over to four-strokes to match the premier class bikes.
Moto2 machines used the familiar 599cc inline four from the CBR600 up until this year and no internal modifications are allowed, which keeps costs under control and help to keep performance between the different bikes relatively equal. Teams use different frames and suspensions and obviously bodywork, but power at least should be very, very close. In addition to the light, stiff aluminum beam frame, the bike comes with with OZ wheels, Öhlins suspension front and rear, and Brembo brakes. Moto2 is a prototype racing series: aside from the engine, these bikes are pure racing machines, with nothing, other than that Honda engine, in common with any roadgoing bike. So don't go thinking you'll be able to slap on some lights and a plate and take this down to the local bike night.
From the original Craigslist post: 2015 Ariane Moto2 Race Bike for Sale
2015 MotoGP moto2 bike for sale. Racing only.
Extra Faring x1.
Extra engine.
Extra Akrapovic Moto2 exhaust.
Extra OZ wheels.
There's not a ton of detail included, although I'm sure interested parties can probably get more information from the seller. I'm not sure if this bike actually competed in the 2015 Moto2 series, or if it's just built to Moto2 specifications. I've looked through the lists of competitors and I don't seen anyone running an Ariane frame so I'd love a bit more history for this bike. As far as I can tell, Ariane has had some success in European and Spanish Championships, but hasn't competed internationally. The $25,000 asking price would generally be considered a lot of money for a 600cc, Honda-powered machine, but that doesn't sound outrageous for such a purpose-built race bike.
-tad