For many years, Grand Prix motorcycle racing was dominated by two-strokes: 125s, 250s, and the hairy 500s that carried the likes of Schwantz, Rainey, and Doohan to victory. But as the popularity of two-strokes waned on the road, the formula was changed to allow four-strokes to compete, and ultimately all Grand Prix motorcycle racing machines transitioned to four-stroke power. The entry-level class was dubbed "Moto3" once the formula switched from 125cc two-stroke to 250cc four-stroke power, and today's Honda NSF250R was designed to compete in this fiercely-contested category.
They might sound a bit agricultural, but two-strokes are perfect racing motors: light, extremely compact, and relatively simple. Four-strokes are generally larger and heavier for a given displacement or output, since they include things like "cams" and "valves" in the package. Honda had to work hard to approach the standards of lightness and elegant simplicity set by the outgoing RS125R, but the results speak for themselves.
Single-cylinder four-strokes are traditionally the format of dirt bikes and economical commuters, but Honda packed plenty of tech into the relatively tiny package for the NSF250R. The dual overhead cam engine features a reversed cylinder head with the intake at the front, and the unit is rotated backwards in the chassis to fit between the frame rails and maximize space for the airbox. A cassette-style gearbox helps for quick trackside gearing changes, and the bike's dry weight is an impressively svelte 180lbs, so the 48 claimed hp offers serious performance for aspiring GP stars.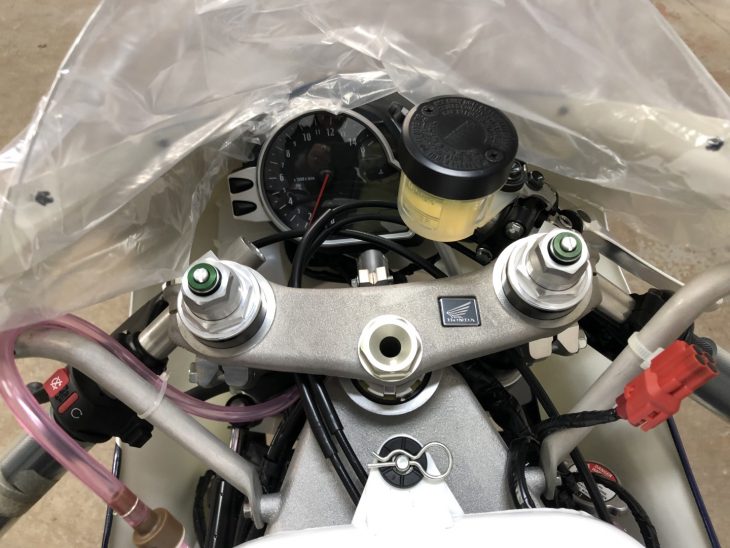 From the Seller: 2018 Honda NSF250R for Sale
Up for your consideration is this Honda NSF250R four-stroke race motorcycle from HRC (Honda Racing Corporation) I personally ordered it from HRC last November. Production was August 2018. Brand New, Never started, No fluids. Imported thru all legal channels. Located Cleveland Ohio. Included is the Option Parts Package (PGM-FI SETTING TOOL, MODE SELECT SWITCH, PIT ROAD SPEED LIMIT SWITCH) Seat pad included (not pictured) $18,000 USD OBO. Suitable trades will be considered. Contact: Greg 440.214.0954 deftonecycles@gmail.com
This one is being offered by our friends over at Deftone Cycles for $18,000. A brand-new NSF250R probably doesn't present too much of an investment opportunity, at least short term. But it does offer an aspiring racer the perfect platform on which to hone their skills, a blank slate on which a rider can write the first chapter of their career.
-tad