Unlike Honda's NSR250R, the RS250R was Honda's over-the-counter race bike intended for privateer teams. Of course, if you were a factory outfit, you could get your hands on something like the NSR250 or RS250RW, which honestly gets a bit confusing. Especially the fact that the NSR250 and NSR250R are completely different bikes, and the one with the extra R is the street version…
I think I got that all correct. Experts can feel free to excoriate me in the comments.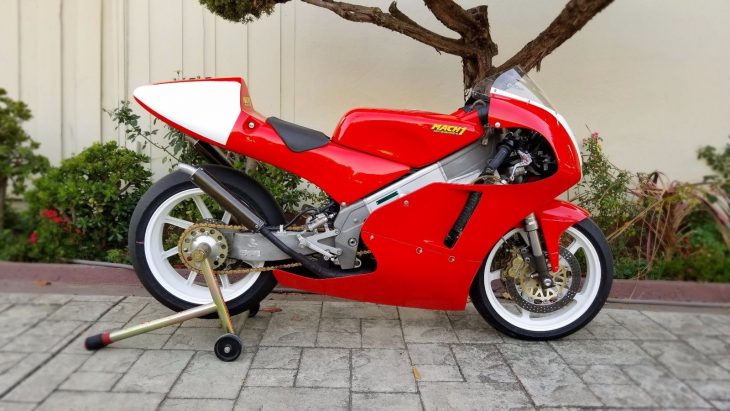 Regardless, the RS250R is most definitely a track-only machine, a singularly-focused Grand Prix device with zero-percent body fat. It was powered by a liquid-cooled, two-stroke v-twin with a bore of 54mm and a slightly longer stroke of 54.5mm. Up until 1993 Honda used a 90° v-angle, although this was changed in 1993 to a more compact 75° configuration.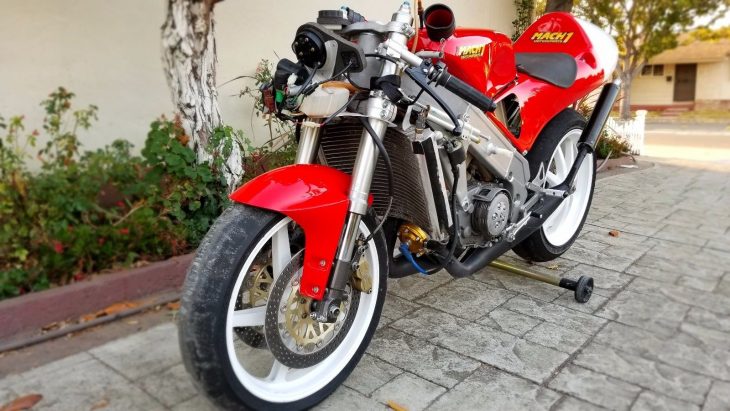 I'd expect that, given the displacement and rev range involved, improved packaging trumped any increase in vibrations that might have resulted from the narrower angle between the cylinders. The later engine should be shorter front to back, which would allow it to be pushed further forward in the frame for better weight distribution and a longer swingarm. These were capable of over 90hp, depending on tuning, and weigh a stunning 223lbs dry.
Honestly, I think I'd much prefer the bike with some sort of race-replica paint job, maybe Rothmans or Repsol. But this solid red color is as "accurate" as any, since the RS250R came from the factory with unpainted bodywork, ready for whichever race team bought them to festoon with sponsor stickers, garish graphics, and team logos.
From the original eBay listing: 1998 Honda RS250R for Sale
1998 RS250R NX5 Completely Restored With 100's of Parts

This bike was a bucket list item (thanks to an old racing buddy) to be crossed off after turning some laps around the U.S., but now has to be cancelled because of injury and new career. It breaks my heart to sell it, but it has been sitting for a year (everything drained and stored indoors). This bike was Jeff Leggits (owner of Mach1 Motorsports) 98 RS250R and was COMPLETELY RESTORED!!! by maybe the best GP 2 stroke tuner/mechanic  in the U.S. Roland Cushway. Engine cylinders and carbs all done by Roland. Every bolt/part was taken off, cleaned, inspected, and either put back or replaced new. The engine is completely rebuilt… new clutch, pistons, seals, bearings, etc. The bike was then fired up and drained for storage. Small scuff on the swing arm (pictured) and small ding in the tank (easily repaired)

IF I HAD MY WISH, THE BIKE WOULD GO TO A COLLECTOR… that's what kind of condition it's in.

The list of new and used parts in so extensive I'm not going to list them all….I will document all the big items. I will ship any where in the world, but you will have to arrange it all. I won't crate the bike, so keep that in mind when searching for shipping.

THERE IS WAY TOO MANY PARTS TO ITEMIZE (hundreds of new and used parts) SO I HAVE TO DO IT BY PICTURES…THERE ARE NO DUPLICATE ITEMS SHOT.

3 sets of pipes 2 of unknown origin 1 new stock set which is on bike (1 set is German and the other English)
2 new cylinders
2 new piston and 2 new pistons installed
Used crank in great condition
Crank in bike has two races on it (Roland said check after entire season)
Full A kit transmission gear set
4 new VHM head inserts
VHM head tool
VHM Power valve tool
Swedetech leak down
Broken in clutches (3)
New chains
New coils
New wiring harness
New battle rear sets
Tons of brake pads and levers
Stock and Penske rear shock (Penske on bike)
Used cylinder and 2 heads
Manual and setup notes (I will make a copy of the setup book because it has to go back to original owner)
2 sets of repairable body work
Spare tank with repairable dent
Bidding is very active on this little two-stroke race machine, but only up to around $8,000 right now. If you plan to do more than just display this bit of high-speed industrial art, that spares list is pretty key, and is actually one of the most appealing thing about this listing. Two-stroke race bikes require constant attention, and spares aren't always easy to come by for a ten-year-old, limited production Honda racebike. The original listing includes plenty of additional photos of what bits are included, and it looks like there's enough to keep this running for a long time to come.
-tad