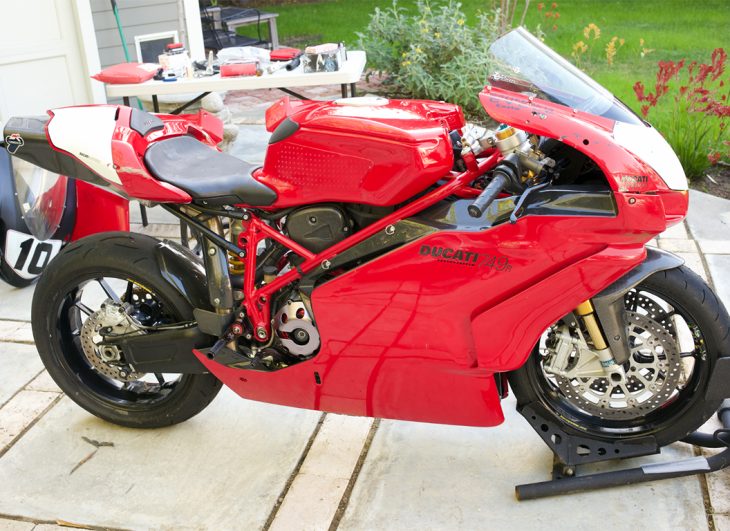 I'm always torn when considering bikes like the Ducati 749R: on one hand, they're rare and increasingly valuable and should be carefully preserved. On the other, there's really no point to them as roadbikes, since they're uncomfortable, high-strung, and obviously more valuable than a more common 749S that offers very similar performance with less of a headache. Meaning that they should be ridden, and hard. And although people have warmed to the looks in recent years, it's still considered a bit controversial and it's hard to argue that it's one of the best-looking Ducati superbikes…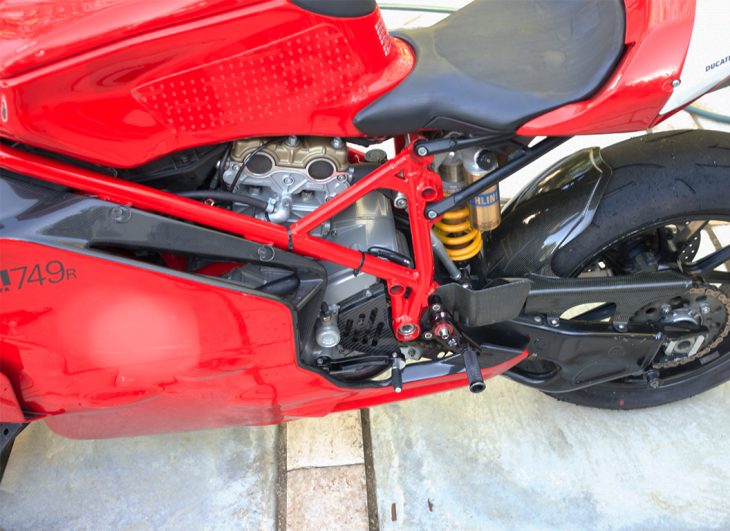 Whatever you think of the styling, the 749R was a very special bike. It was designed to homologate the 999's little brother for Supersport racing, and rules were very tight to keep costs down for the competitors and encourage participation by as many teams as possible. This left little room for the teams to upgrade the stock bikes for competition so, in typical Ducati style, they simply upgraded the hell out of their homologation machines. The 749R is one of the trickest bikes Ducati ever produced for road use, and featured titanium engine internals, including bigger valves, lightweight magnesium components like the cam covers, and a more radically oversquare bore and stroke to increase the v-twin's appetite for revs. Horsepower was up significantly, from 108 to 121, but you pay for that in increased servicing costs if your bike doesn't just sit, collecting dust.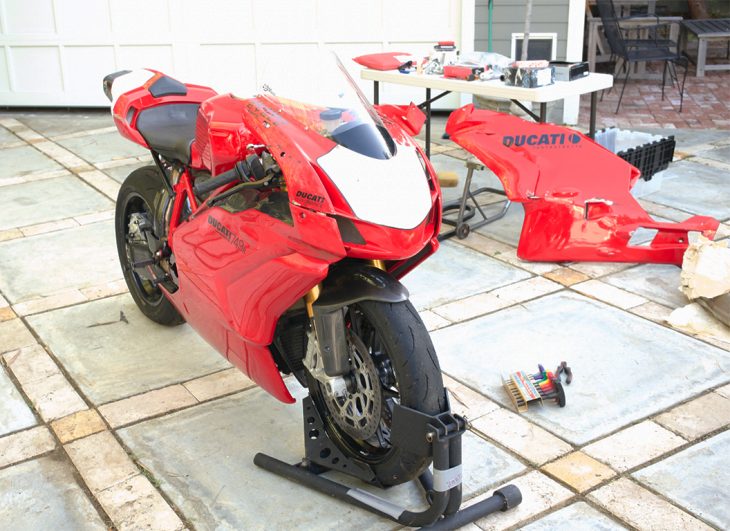 A slipper clutch helped keep the tire in contact with the road during aggressive downshifts, Öhlins suspension at the front and rear made the best of the excellent chassis, radial Brembo brakes were top-of-the-line, and, for the first year anyway, carbon-fiber bodywork kept weight to a minimum. Even the fuel tank was specific to the R model and had increased capacity. Interestingly, ergonomics for all of the monoposto Terblanche superbikes were adjustable, although the 749R was limited by the additional clearance required for the larger-diameter exhaust.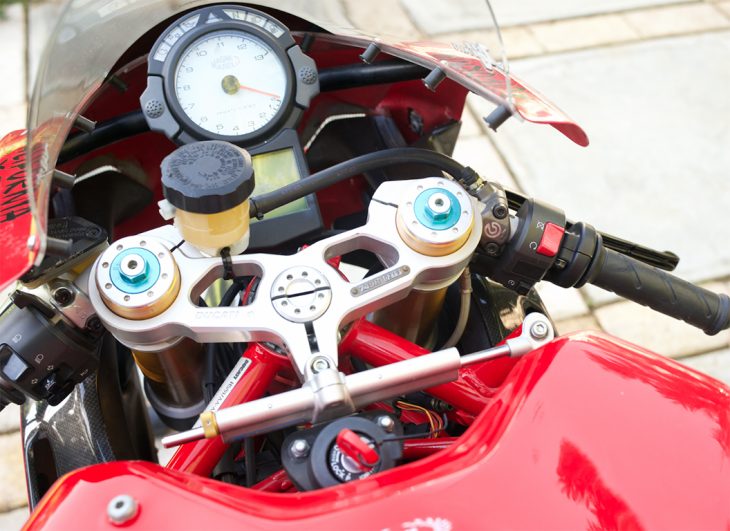 From the original eBay listing: 2004 Ducati 749R for Sale
This is special bike that has a great chance of becoming a collectable bike. This is bike # 219 from the first year (2004) of production and the only year that came standard with carbon fiber fairings. Bike was only made 2004-2006.

I am the original owner of this bike.  It is currently set up for track days*, with fiberglass body work, head light/tail light removed etc. Comes with all the original carbon body work, foot pegs, all original manuals, master cylinder, stock clutch cover etc., and a spare tail section/ carbon fiber exhaust cover (perfect).

Front forks upgraded by Peterson Pro Suspension (PPS), clutch upgraded to STM race clutch, 520 chain conversion, Dyno- power commander mapped, upgradeded Bremo mastercylinder, cycle-cat rear sets, Termingnoni upgraded -lighter exhaust, Carbon fiber hugger & exhaust guard, and Speedy Moto clutch cover, internal frame slider.  GP shift configuration. Also Internal frame slider.

Comes with spare Barnett clutch plates, spare front brake rotor, set of tire warmers, rear stand and the Bike-chuck the Motorcycle is in,in the photo, battery tender and motorcycle cover, tie downs and handle-bar canyon dancer for shipping (see below on terms).

Also will comes with a set of Doug Chandler's Carbon Fiber race body work.  (He raced a 749R (not this one) for Milwaukee Ducati in the AMA – google and it will come right up.)

Note in the main photo- the fairings are the 2004 carbon originals, but the nose is the fiberglass race – so this fit isn't perfect. when its all the fiberglass or all the carbon –  everything fits nicely.  (The original carbon nose needs to have some old tape removed).

* bike was never raced. I was a "street group" track day guy – so never pushed too hard. Just middle age weekend warrior.

A special bike for a collector or vintage track day enthusiast.
As the seller points out, the 2004 model does come with carbon fairings, and the bike has otherwise been purposefully upgraded to function better in the environment for which it was really intended: the race track. That it's been used on track really shouldn't put people off much, since the seller admits he's not pushed the bike too hard, and it was built to withstand the rigors of racing. So this isn't a pristine example for your climate-controlled garage/museum, it's a clean one that's been upgraded to actually perform better, losing originality and gaining function. The 749R is slightly less valuable than the 999R, but it's no less trick, making it the one to buy if you want to sample Ducati's homologation bikes or are looking for one you can ride without the worry of ruining an immensely collectible bike. For now, anyway…
-tad