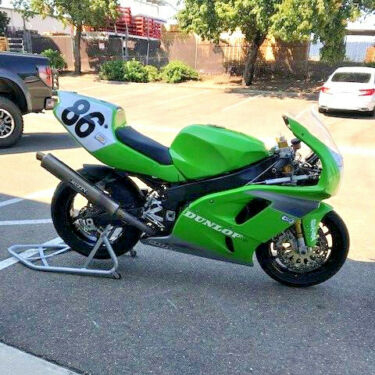 We don't post too many racebikes here on RSBFS. Ex-racebikes are tricky to value. By their very nature, they evolve and change over time to remain competitive and, unless a bike is retired immediately after an historic race win, it's not likely to be in anything like "original" condition. That very word contradicts what racing is about: if something doesn't work, it's discarded, if something better is introduced, it goes on the bike. They get crashed and blown up and rebuilt and raced again. But this particular Kawasaki ZX-7R had too many impressive names attached to it to pass up.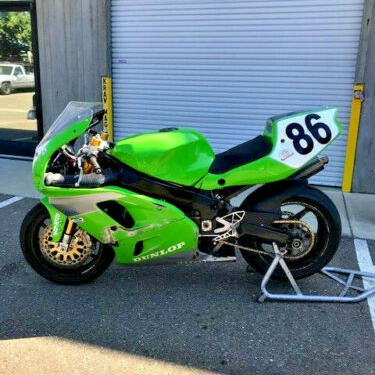 This Kawasaki is a bike from the glory days of World Superbike racing, when 750cc fours were pretty much the go-to configuration for everyone but Ducati. In stock form, the ZX-7R was a bit heavy at 450lbs dry, and the 748cc engine's 105hp is decidedly underwhelming by today's standards. But the bike made an excellent racing platform, and this version was kept in production for 7 years, a near eternity in terms of sportbike development and a testament to its sound design.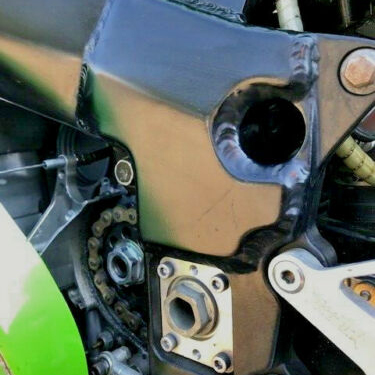 Of course, this isn't anything like a stock motorcycle. The claimed 150+hp is impressive and the WSB-spec Öhlins forks and Brembo brakes that replace the stock Nissin six-pots are all very, very tasty, but it's the frame that makes this particularly interesting: it was supposedly used in World Superbike racing by Anthony Gobert and obtained from famed tuner Rob Muzzy. The seller's description goes into more detail below.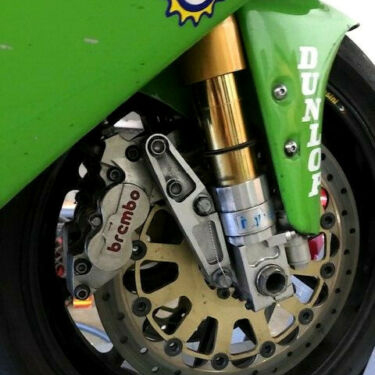 From the original eBay listing: 1995 Kawasaki ZX-7R Racebike for Sale
1995 Kawasaki ZX7R Superbike. Works frame (WSB Gobert frame, Purchased from Muzzy in '99), 2 Superbike motors: 800cc (for '03) and 750cc. Fully kitted, Ohlins WSB forks, brembo brakes, everything. Spare valve springs (2 sets), valves, rods, pistons. 800 has Carrillo rods. Hasn't been run for 15 years. Gets turned over now a couple times a year.

This is probably the finest privateer 1995 Kawasaki ZX7R Superbike ever built. The works frame (purchased from Muzzy in December of '99) was supposedly Gobert's. It was a World Superbike frame; done in Japan by Kawasaki. It was black when we got it. A work of art, they added a oil catch tank in the frame and welded a frame around the frame. It turned the bike from a pile of crap nightmare that would wind up and launch you at any second (with the fully built 150+ hp superbike engine) to a dream that is predictable and smooth. Which is why they won. Unfortunately those weren't available to any of us, and we were lucky to get it for the 2000 season. After we got the frame, that bike won every club race and set track records in 2000 (beating the 1000s) until we had a Brembo rotor explode and put me in the ICU… ending that season. I raced it a few times since and we built a 800cc motor that put out 170hp (on the juice, no ram air) that ran with the 1000s of '03. Unfortunately the KLS shifter broke during that national and we DNF'd. Later, it had a "tip over" in a practice due to a leak in a front tire, and it never got repainted. I got bodywork for it and never fitted it or painted it. Unlike the "works" bike Chandler rode and got claimed in the F-USA in 1996 (was just for sale on bringatrailer.com), these engines do NOT have the "works" gear driven cams. Those are not serviceable for privateers. This bike makes a ton of power with the conventional chain driven cams, works oil pickup, etc. Further, we still have a couple sets of valve springs (and tons of spares) which are now unobtainable. These motors can be serviced and freshened up. This will be an AHRMA killer.
This is obviously a well-developed package and should be a blast to ride. It also includes extra engines and spares to keep them running, although at that $25,000 asking price, you'd hope it would. There are cheaper ways to get into vintage [?!] racing, but none quite as evocative…
-tad