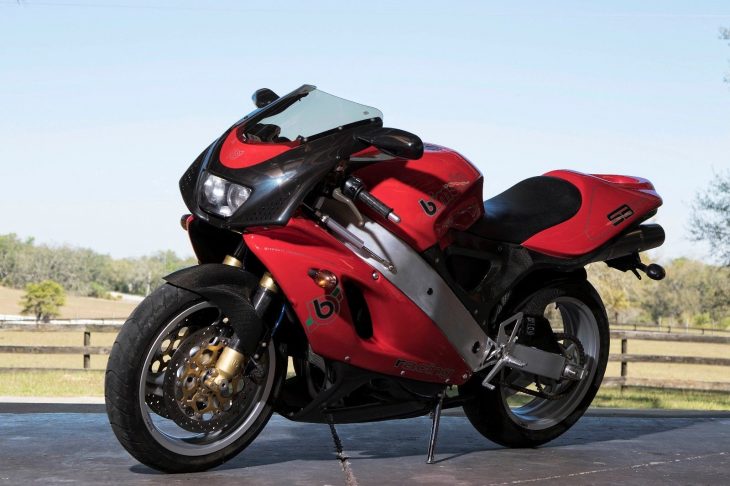 Today's Featured Listing is a bit of a flashback. We posted this very clean Bimota SB6R in April of last year and, although it didn't sell at the time, the owner has been doing what you should do with an Italian exotic: enjoying it, racking up an additional 1,300 miles. That means it's still collector-bike low with just 4,250 miles in total, but the fact that the seller has been riding it should be a big selling point for anyone looking to buy a 90s Bimota. Too many of these bikes sit, admired and displayed instead of being used in anger, slowly succumbing to neglect. Sculptural they may be, but Italian bikes were meant to be ridden.
Bimota made its name building cutting-edge racebikes, but the SB6R is first and foremost a roadbike. Utilizing Suzuki's powerful and bulletproof liquid-cooled GSX-R1100 engine that displaced 1074cc, the SB6R wasn't really eligible for many racing classes. But it was used the very best, competition-worthy components available at the time, with triple Brembo brakes, a Paioli fork up front and an Öhlins shock fitted almost horizontally, and was built with Bimota's usual attention to detail, using  Lotus-founder Colin Chapman's philosophy: "light makes right."
With a claimed 156hp from the eminently tunable Gixxer motor pushing a claimed dry weight of just 419lbs, the SB6R is a massively capable roadbike that can easily keep up with modern machines. Keep in mind that the SB6R weighs nearly 100lbs less than the famously fast GSX-R that was powered by the same engine. The flexible powerplant is backed by Suzuki's five-speed gearbox that takes advantage of the bike's huge midrange and 74 lb-ft of torque.
As always with a Bimota, the frame is the real star of the show, something casual observers might overlook at first, with all the curvy carbon fiber bodywork on display. But once you notice those massive aluminum spars, they become the bike's defining feature. The design utilizes Bimota's "Straight Connection Technology" concept that prioritizes as direct a link as possible between the steering head and the swingarm pivot. It's not the most practical way to design and build a frame, but Bimota's goal was ultimate performance, and the matching, asymmetrical swingarm even has "bimota" embossed in one side for an extra does of craftsmanship.
Make no mistake, this was one of the fastest and most exotic motorcycles of the 1990s. Just 600 were ever made, and the model's life was cut tragically short when Suzuki discontinued the GSX-R1100, then Bimota's first bankruptcy ended any dreams of a GSX-R1000 powered follow up. It's a shame, because the earlier SB6 was one of their best-selling models and I much prefer the looks of the later SB6R. This example has serial number 000023 and includes a lightweight Corse exhaust, a very nice bonus. If you want a different exhaust for your SB6R at this point, pretty much your only other option would be something completely custom.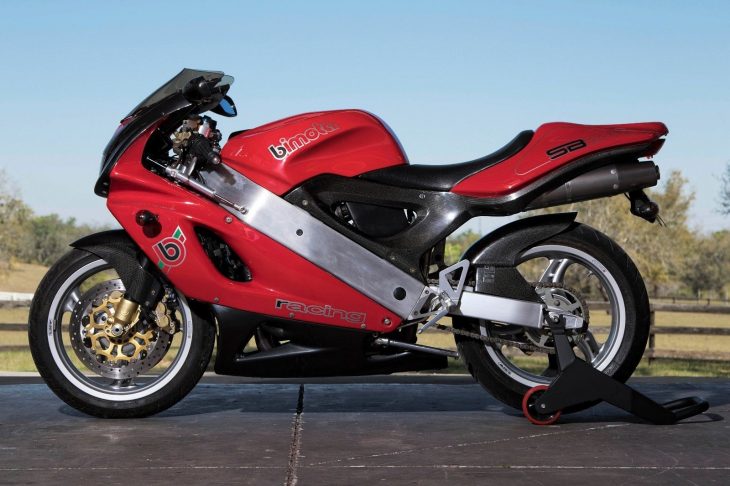 Featured Listing: 1998 Bimota SB6R for Sale
I have come once again to your fine forum to move a jewel. I know you have featured a few of these, so I wont go through the Bimota propaganda and just get to the meat of what I have done. The usual Bimota story, well heeled individual purchased and rode very little, used more as a object d'art, rather than a mode of transportation for the majority of its life. She is now ready for riding. This thing rips, even with my 6'4″, 220 pound, Yeti-like mass aboard.

Equipped  with the Bimota Corse Titanium exhaust
Kevlar brake lines
Michelins
Rebuilt carburetors, new needle valves
New NGK plugs
Oil and filter
New fuel pump from Bimota Classic Parts
New petcock from Bimota Classic Parts
All new Motion Pro fuel lines
New fuel filters
Cleaned fuel tank
The fuel system is now up to original Bimota factory spec.
This bike pulls like a freight train.
2 small cracks in the gauge lens
Ridden and on the road
Every system functional
No issues
All paperwork in order.
2 Original Bimota keys.

Price: $11,500
Contact Chris: gsxronly@aol.com or 407-492-5854
I can't stress enough how this one's recent mileage is critical. Many low-mileage collector bikes have spent a lot of time sitting, and will require hefty sums to get them truly road-worthy again: seals, hoses, gaskets, o-rings, gas tanks, tires… It all adds up. That's fine if you just want to display your exotic, and Bimotas certainly look good standing still. But these really were meant to run, and if you want a collectible you can also take out on weekends to blitz the back roads, this one's $11,500 asking price is a relative bargain, considering that the SB6R cost a whopping $35,000 in 1998!
-tad