After the 916 set the world alight, the two-seater 996 allowed a close friend to sit by the fire with you.  From a collector's almost-empty garage, this biposto has had recent maintenance for the long term.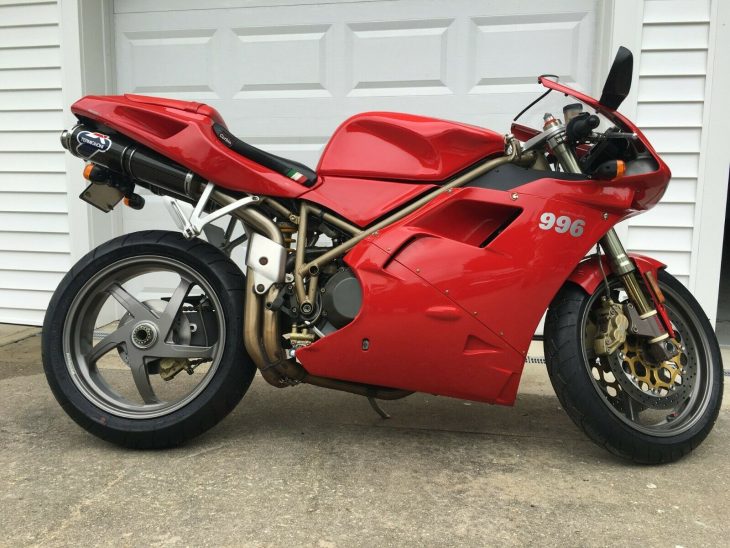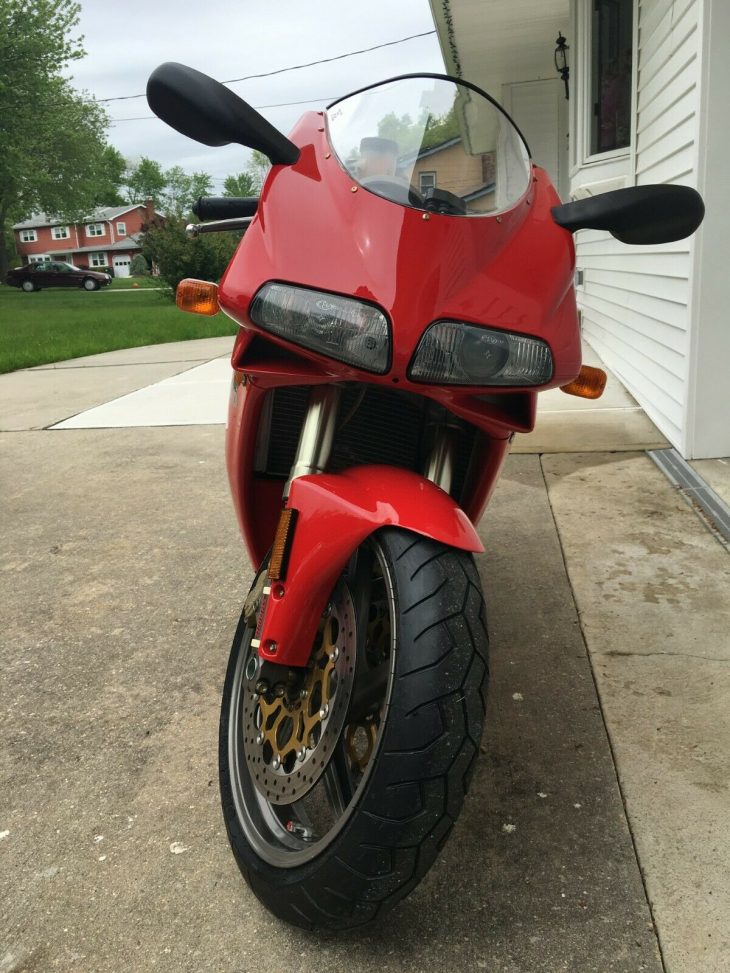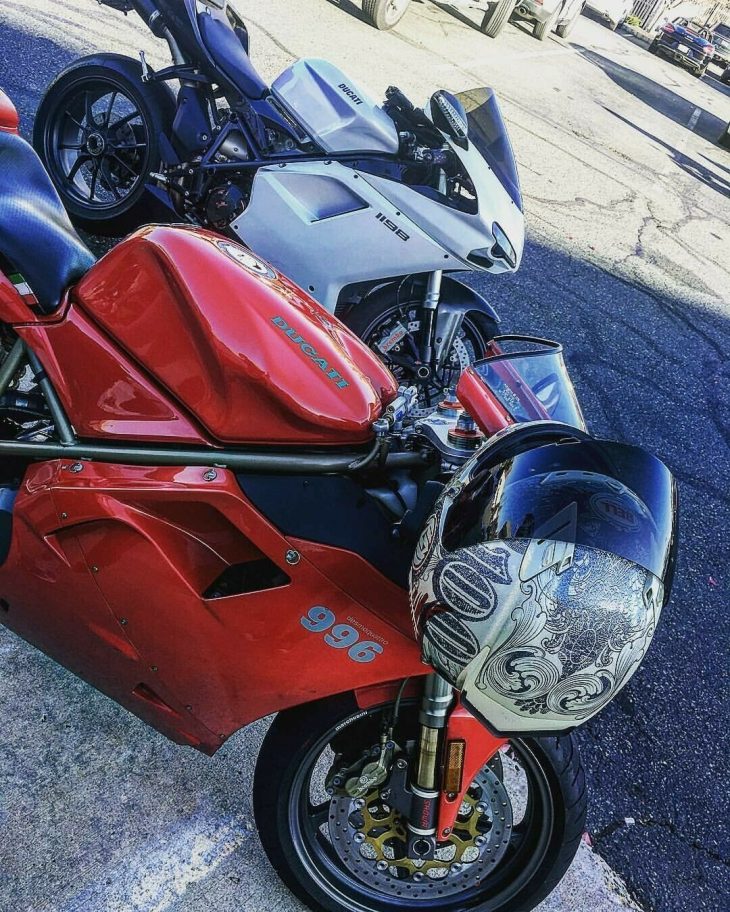 Looking almost as svelte as a 916, the 996 sports 112 hp, sent through its dry clutch and 6-speed.  Dual exhausts join forces behind the right footpeg, unhindered by the single-sided swingarm.  Showa provided the dampers, partially offsetting the cost of the new Marchesini wheels.  Four-piston stoppers from Brembo look as serious as the 160 mph top speed.  2000 brought an updated charging system to the 996, though the cooling system still struggles in traffic.  The body-colored pillion promises way more sport than touring.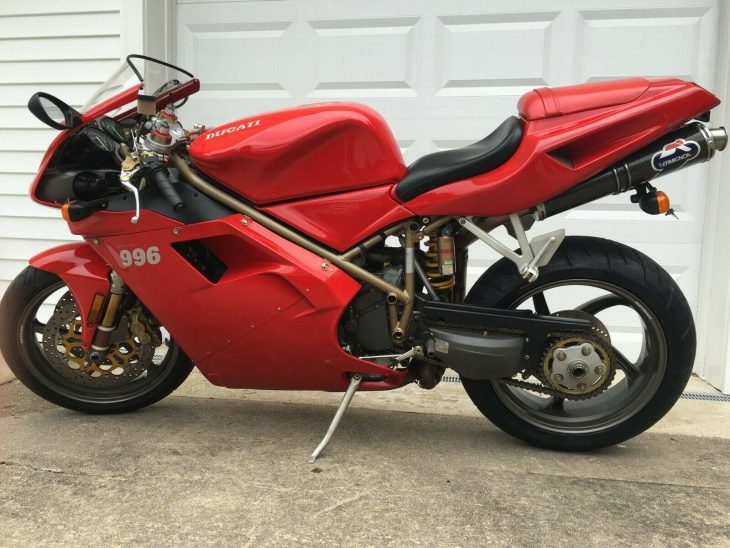 Fairly low miles for a twenty year-old Duc, and the condition looks excellent.  Mods are limited and performance-oriented.  Even better, the owner hasn't scrimped on service, so the new owner should have a fine honeymoon with the new bike.  In between the all caps and exclamation points in the eBay auction :
This bike has been recently serviced by Cross Country Ducati in Metuchen, NJ where over $3,000 was spent on a FULL Desmo service, in addition to other items that needed to be addressed, simply due to the age of the classic superbike.  You can be 100% confident in this extreme machine with what you are getting, it's fun and safe to ride.  I sold all my other Ducs over the last 3 years and this is the last one to go.  I am selling this icon because I simply do not ride her anymore.  She sits on stands in my garage with ONLY 7,4XX original miles.  This 996 is mostly still as she was when she came out of the factory.  The only upgrades are a Full Termi exhaust system, Corbin seat and some minor additions like fully adjustable rear sets, levers etc.
Most collectible superbike auctions focus on the single seat and racier replicas, but it's nice to see more of a rider preserved so well.  The ask is up there and the owner says what he says, but the make offer button is available.  Might be worth a shot for an excellent classic superbike.
-donn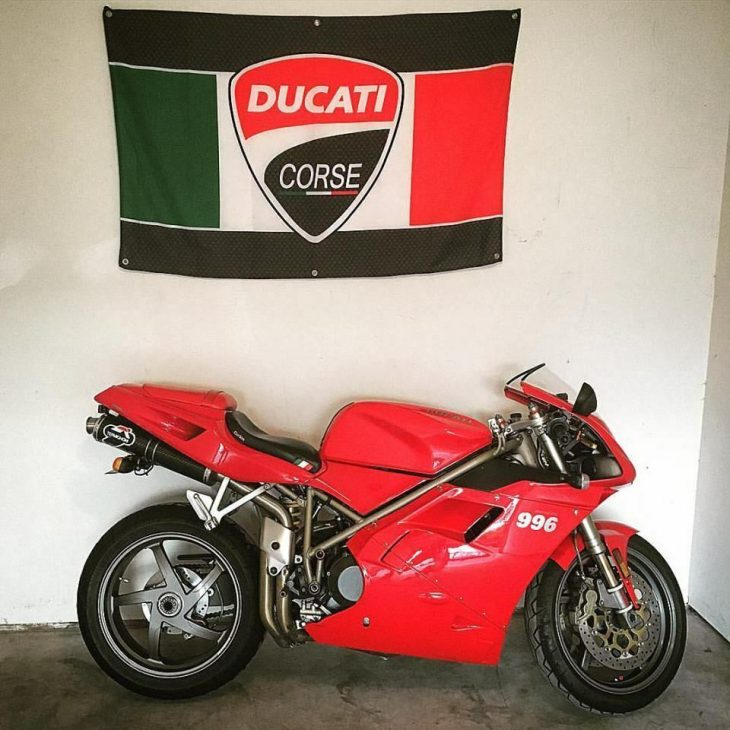 One Response.