The V-Max needed just a hair over ten seconds to muscle its way into North American hearts, and was in the showrooms for a surprising 35 years.  Somewhere between classic and vintage now, this V-Max pushes all the right buttons, provided they are in a straight line.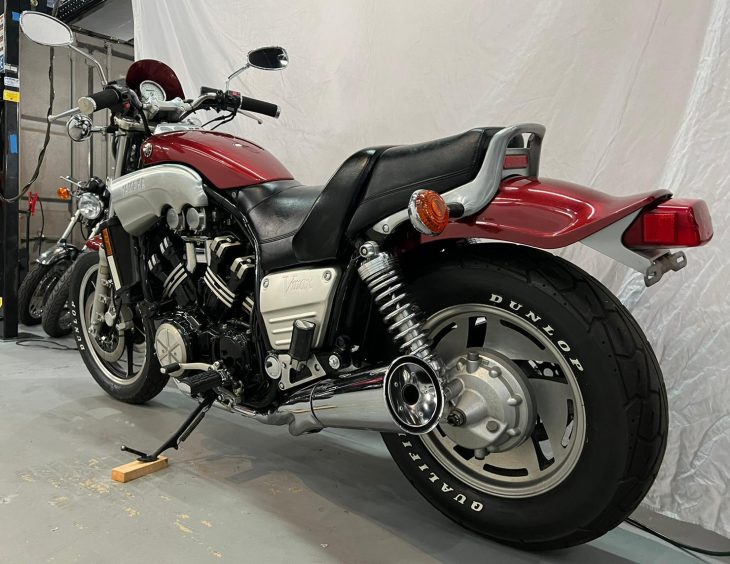 Hamamatsu had a pretty good take on road racers and dirt bikes, but blueprinted the Venture touring bike V-4 for the V-Max.  With revised cams and heads, and a neat intake cross-flow called V-Boost, 145 hp were on call, pretty big stuff in 1985.  An early adopter of the airbox-in-the-tank-cover, four gallons of fuel were under the seat, and the low-fuel light wasn't just a suggestion.  The rear tire width was increased to 150mm to help it last, and the shaft drive was lengthened to tame its on-throttle rise.  Faux air scoops make their intent known almost like a diagram.  Handling was the loser in the compromise, but the marketing team had some of us in the crosshairs.
Presented by a Miami consigner, this V-Max looks to have been cared for and lightly used with 12,722 miles.  Some corrosion is present under the clearcoat on alloy components, but considering the age it's in amazing shape.  Raised white-letter tires will ring a bell with musclecar and bike fans, but might want to check those date codes.  A couple of notes in the eBay auction –
V-Max in fantastic original survivor condition. Super low miles. Everything works as it should.  This bike had a fastidious owner that took extremely good care of it mechanically and cosmetically.  Buy with confidence.  These first year are shooting up rapidly now.
The V-Max had some presence in Yamaha's line-up from 1985 until 2020, with a recession holiday in 1987.  Everything was built if not leading edge on the V-Max, beefy and bigger than you would've thought, except for the 10-and-change second dragstrip times.  If your two dimensions are X and time, the V-Max might still be the machine.
-donn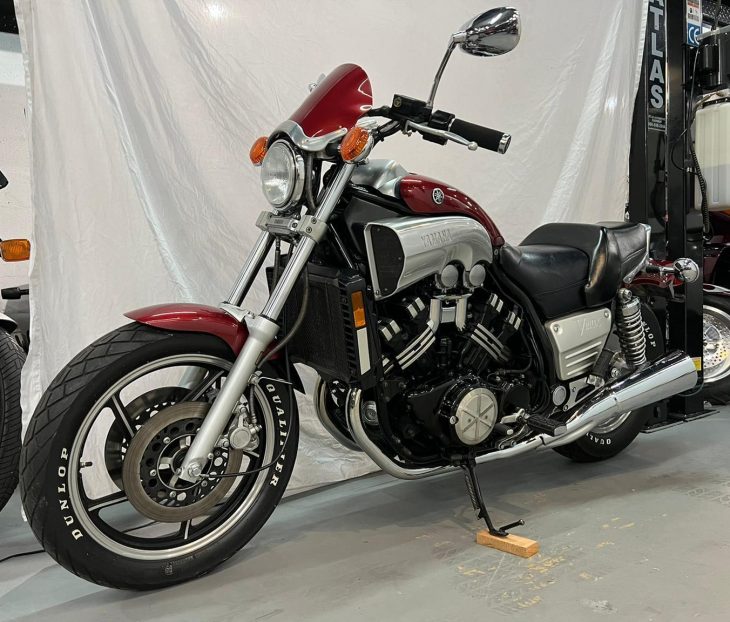 2 Responses.