Moto Guzzi's most recent Le Mans, the V11 is an interesting mix of brawn and refinement.  Today's Arizona example has been well-loved and preserved for the next owner.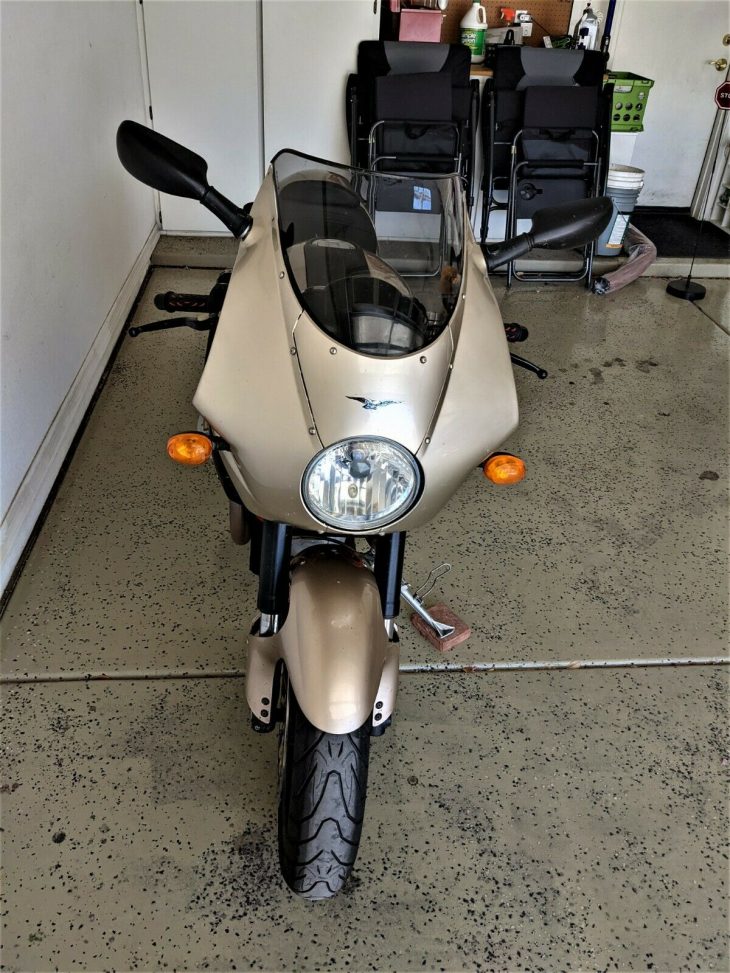 New owners Aprilia had sporting aspirations for the V11 and commissioned an up-rated two valve engine, claiming 91 hp and 69 ft.-lbs. of torque.  Marelli's multipoint sequential fuel injection keeps the 9.5-to-1 compression responsive and EPA compliant.  The new six-speed trans had the advantage of shifting more smoothly, and a Paralever-style driveshaft limits the torque reaction of the final drive.  Under the tank there's the usual steel spine chassis, stretched to a 1490mm wheelbase for stability.  Components are top shelf with USD Marzocchi forks and multi-adjustable Boge monoshock, with typically excellent Brembo brakes.  The upper-only fairing is one of the most protective on any Goose, and is well integrated with the 5.4 gallon tank and hideway pillion at the back.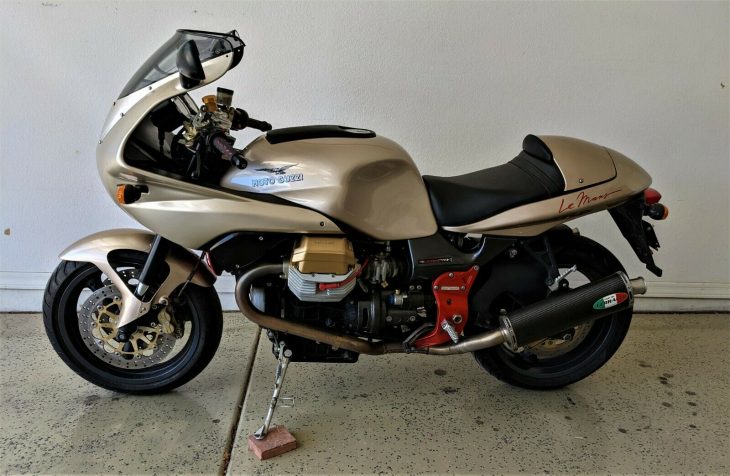 Said to have been passed from friend to friend, this Le Mans has miles but looks excellent.  Beside fluid and filter changes, little doubt the recent service included a valve adjustment, all the hearty two-valve engine requires to keep on keepin' on.  The light gold would stand out in greener pastures but wouldn't raise a sunglassed eyebrow in brighter climes, and almost matches the headers' patina.  Comments from the eBay auction:
This bike has a known history since new.  It was purchased in 2002 from AzSuperbike in Phoenix.  It has always been owned by 3 friends.   It has never been wrecked, raced or abused.  Cosmetically it is nice enough that I was asked a few weeks ago if it was new.  It's not, it has some rock chips.  But the paint and cosmetics are very good.  The valve covers were painted gold and the word "LeMans" on the seat cowl has been painted red by a previous owner.  I never changed them as I think they look great. 

Mechanically it has 23,400 miles on the odometer which I believe to be correct.  Last week I took it to my mechanic to be checked out.  He gave it a clean bill of health.  Then I took it on a 250 mile shake down run.  Absolutely no issues.  The Pirelli Angel sport touring tires have less than 500 miles on them.  The Ferracci carbon mufflers sound awesome. The only known issue is the trip odometer: it turns, but does not engage.  Several extras are included: the original mufflers, a shop manual and a parts manual.
The Le Mans has endurance racing in its genes, but the company has moved on to a line of roadsters, muscle bikes, even an adventurer – so for the moment the V11 is the last Guzzi to refer to Le Mans.  Better suited to an afternoon ride on some scenic byways, the V11 Le Mans did review as quick when under the guidance of a skilled rider.  This one looks to have been carefully ridden and tended to, and has several watchers mulling over the reasonable buy-it-now.
-donn