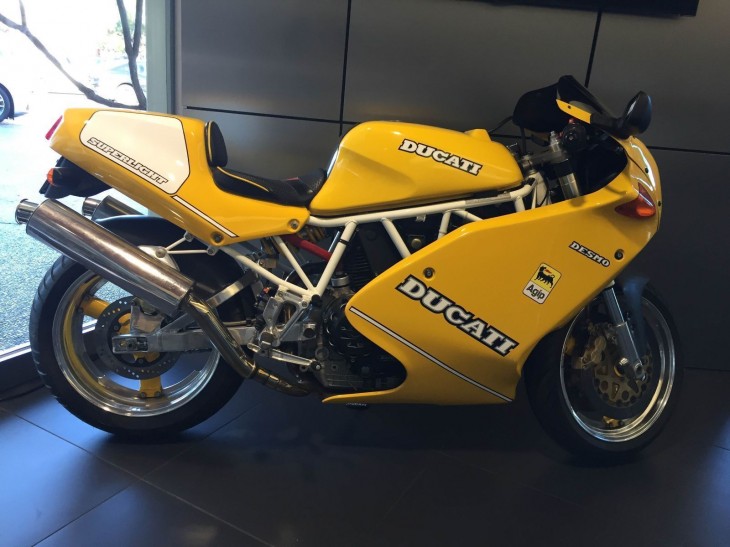 In 1992, Ducati introduced a limited-edition of their air/oil-cooled 900SS called the Superlight that featured distinctive Marvic composite wheels, cast-iron front rotors, a vented clutch cover, bits of carbon fiber bodywork, a solo tail section, and high-mount pipes to increase cornering clearance. Unfortunately, there was no engine performance increase as delivered. Available in yellow or red most years, depending on what part of the world you were in.
The "manufactured rarity" and a negligible performance increase weren't really enough to spark much interest at the time. It wasn't even all that rare, with 861 made in 1993 alone. Later years lost some of the lightweight bits, changing to the standard wheels and regular rotors on the front brakes, making it even less special, and turning the Superlight into a solo-seat SS with high pipes.
The older 900cc engines certainly won't set the world on fire in terms of performance and they do tend to run out of breath long before redline, but that midrange boom more than makes up for a lack of high-rev histrionics. And if 75-ish rear-wheel horsepower doesn't sound like enough, Ducati's two-valve twin does respond well to basic tuning, and there are big-bore and high-compression kits available to boost power significantly. The engine has been in production, in one form or another, since the early 1980's and is, in spite of Ducati's temperamental reputation, extremely durable when properly cared for.
With too many made to be particularly collectable, too little power to really impress, and later models missing the actual super-light parts, the Superlight suffered from a "manufactured collectability" that has kept values relatively low, although I'd expect prices of nice examples like this one to be next in line for a price spike among Ducati collectors.
The biggest draw of the Superlight is that many were purchased at least partly as investments and have been correspondingly well-maintained, making them some of the best-looking and best-cared-for 90's Ducatis available.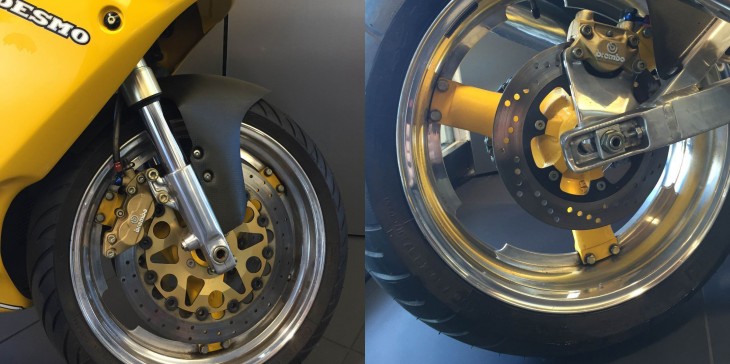 There are some additional pictures over at the original eBay listing: 1993 Ducati Superlight for Sale.
But unfortunately, there is virtually no information about the bike's history listed, just some reprinted specifications. There are a few minor scratches and scuffs as shown in the pictures, but nothing you couldn't live with, or easily repair if you wanted the bike to be perfect. I'd probably just fix the little tear in the seat and leave the scratches alone, since I'd plan to ride rather than show the bike. I'd certainly leave the color alone: the 900SS is one of the very few bikes that look good in yellow. In fact, I actually prefer it for this era's style, especially with the very slick half-fairing found on the CR models.
With just over 6,000 miles on this particular bike, mileage is low enough to be very desirable, but not so low you'd be afraid to ride it, or need to put tons of money into replacing bits that have gone south from sitting for too long. Although the Superlight isn't quite the limited-edition that Ducati implied, they're definitely less common than the high-mileage SS and CR's that tend to litter eBay and Craigslist, and early bikes with genuine lightweight bits should be plenty of fun strafing back roads with your riding buddies.
-tad