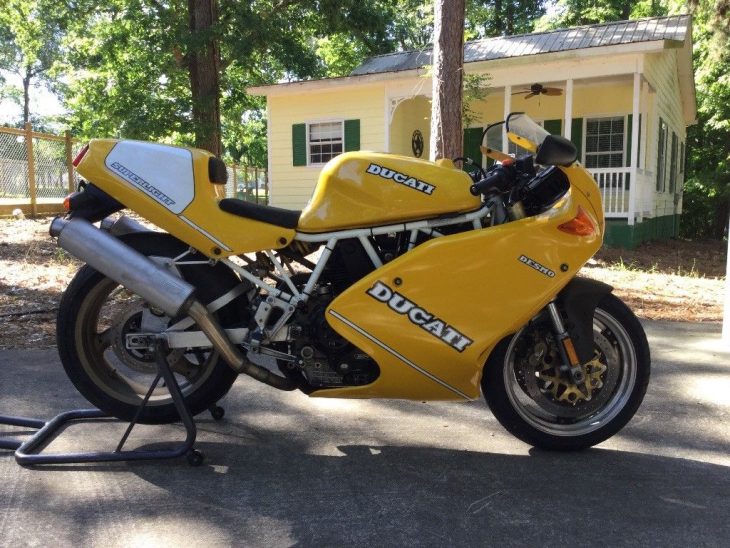 Prior to and even during the era of the 916, Ducati still needed to shift their relatively slow, old-tech 900SS. The 916 obviously grabbed headlines, handled like it was on the proverbial rails, and looked like sex. But it was also prohibitively expensive for the plebs to buy and especially to maintain, hideously uncomfortable for regular riding, and an all-around experts-only machine. The 900SS, on the other hand, was the everyman exotic, a real Ducati, but one that was based on slightly outdated technology. Today's Superlight helped stimulate a bit of fresh interest in the working-man's Italian sportbike by adding a bit of style, lightness, and shockingly yellow paint.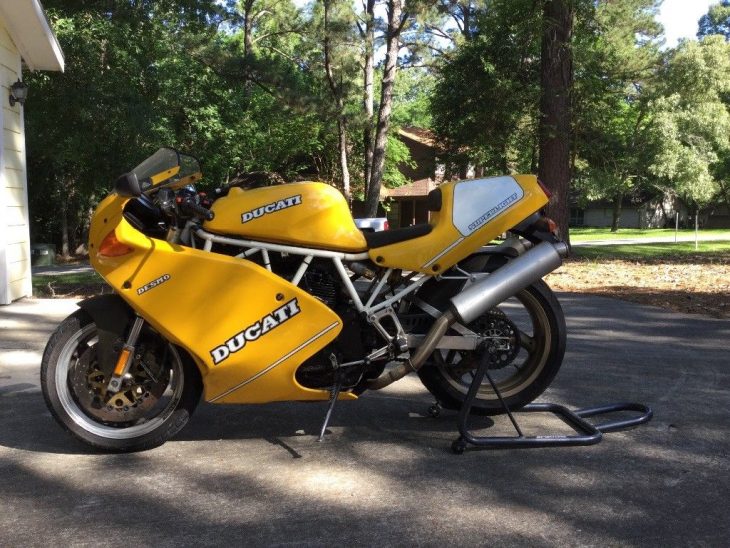 The fact that it's down a bit on straight-line performance doesn't mean it's a bad bike though, far from it. And "outdated technology" also means "simpler to maintain." Changing Ducati's toothed rubber cam-drive belts is a two-year or 12,000 mile service, whichever comes first. But the procedure is pretty straightforward and can be done by any competent mechanic. The valves on the two-valve engine aren't all that tricky either and the lack of liquid-cooling and the associated hoses and bracketry mean access isn't all that difficult. That is more work than a Japanese sportbike of the same period, but no one buys a now-classic sportbike thinking it won't need a bit of work, and at least here that work is pretty simple to do.
The Superlight was basically a 900SS with fully-adjustable suspension, a solo tail, open clutch, upswept exhausts pipes that increased cornering clearance, lightweight composite Marvic wheels with a distinctive polished rim, and the critically important numbered plaque on the triple clamp: just 861 were sold in 1993 so these are very rare, if not all that high-performance. Obviously, red is the traditional, and often preferred color for Ducatis, but it seems a shame that more aren't painted yellow like this example, since very, very few motorcycles look good in yellow. The handling of the 900SS was never in doubt, and the older Super Sport has much more comfortable ergonomics than the admittedly extreme 916. Just fit a more supportive Corbin saddle, throw on a backpack, and head out for a long day of riding, without concern that you'll need to down half a bottle of ibuprofen when you get back.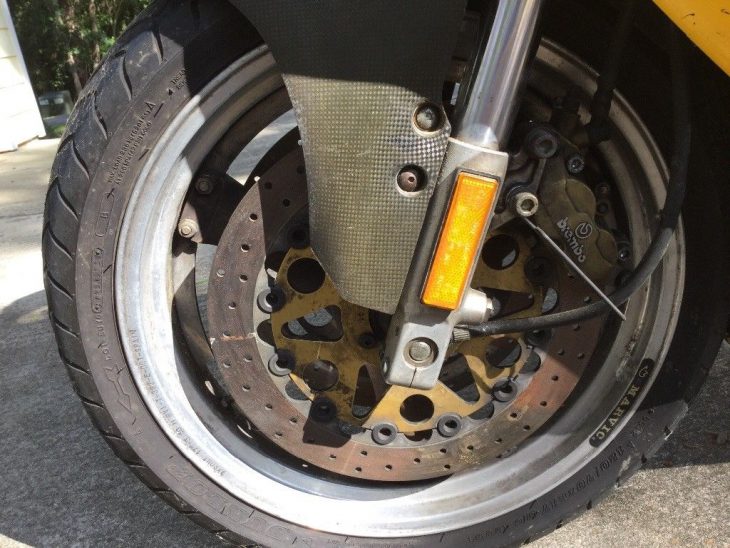 If eyeball-squashing acceleration is the only metric by which you judge a motorcycle, you're going to hate this bike. If you think a 170hp bike just isn't fast enough, this isn't your machine. But there's a reason that the two-valve, air-and-oil-cooled Pantah in its various iterations gets mentioned on every "best motorcycle engine ever" list: that sucker has character. I'm biased here: I think it's the best-sounding motorcycle engine of all time, especially with a bit of extra boom liberated by some carbon-fiber cans. But it also just has a great, punchy midrange that just kind of slings you forward after each shift. The 70-75 horses a good 900 makes at the rear wheel may not sound like much on paper, but it's plenty to whip you along a canyon road and legions of Ducati fans aren't just buying these because of some perceived mystique. I mean, of course some of them are just buying a name, the idea,  but the same is probably true of the majority of motorcyclists in one way or another.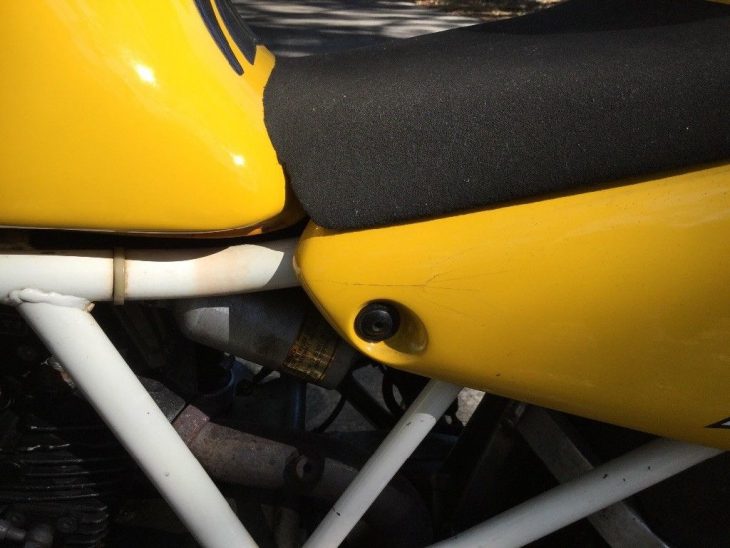 This collector bike is more of a rider, though: it's a little scruffy, some of the panels have fatigue cracks around their mounting points, and it generally needs some attention to the details. But if the mechanical bits are all in good working order, you can do a bit of a rolling-restoration on it while enjoying the sound and feel of your vintage-ish Ducati. Starting bid is about half what a cleaner, lower-mileage Superlight might sell for, so if you're handy with the wrenches, this might be a great way to pick up an appreciating classic for cheap.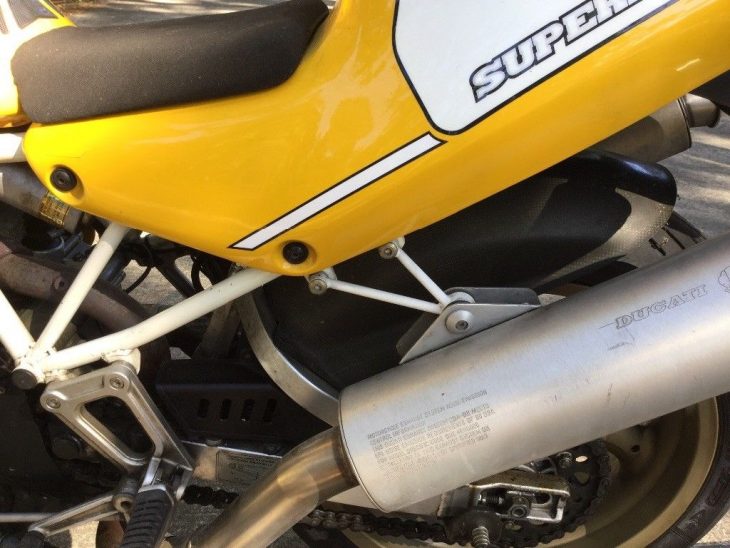 From the original eBay listing: 1993 Ducati Superlight for Sale
I'm the original and only owner. The Superlight was bought new in Austin, Texas and has a clear title. The yellow color was only available in the US. I'm a mechanical engineer and performed all routine maintenance myself. The bike has never been crashed. It is all original except the muffler brackets broke and were replaced and the rear wheel fatigued and was replaced with an appropriate Ducati Monster rear wheel. The bike is in fantastic condition with only some spider cracks in the body work in the usual places as shown in the pics. New Michelin tires, seat and windshield are in great shape, 26,041 miles. Comes with pictured rear stand. Runs, rides great.. You won't be disappointed. 
Miles aren't as low as some other examples we've seen, but aren't anything to worry about: well-maintained Pantah engines can triple this mileage with ease. Just change the belts and adjust the valves, top off with oil occasionally between changes if the level gets low, and enjoy. The weak spots are well-known and relatively simple to sort out, parts to maintain them are widely available, and most everything on the Superlight is shared with the more common SS-SP and SS-CR versions. Aside from those Marvic wheels of course. It's a shame the rear wheel isn't the correct item, but with no takers so far at the $4995 opening bid, I expect this will be on the cheap side for a Superlight. Grab this one, pocket the savings, and prowl eBay for a matching rear.
-tad