Here is a quickie: a 2006 GSX-R1000 reportedly from the Michael Jordan race stable and ridden by Steve Rapp. Rapp did indeed ride for MJM in 2006 – on the #15 bike alongside team mate Jake Holden – and finished 11th in points with a season best of 6th place.
From the seller:
This is a used bike.Steve Rapp rode it for the team in 2006. Bike comes with california title. This bike has a superbike motor that has JE pistons. Carrilo rods, Ape crank, web cams, yoshimura cam gear sprockets,ported and polished head. the bike has ohlins 25 mm fork cartridges. Ohlins ttx rear shock. Braketech front rotors, Brembo mastercylinder.Custom paint work and superbike tail. Keyless ignition. Yoshimura full race exhaust. Dynojet Power programer. Fuel tank has been signed by Micheal Jordan Steve Rapp and Jason Pridmore. Also vortex rearsets, and woodcraft clipons.I have not raced bike since installing superbike motor. It has been dynoed at 4500ft. It is 175hp with 82ft of torque. It has been riden at trackdays this year, estimate 1200 miles. has been well maintained . Oil change every 300 miles.forks and shock serviced this year.Is missing the plastic on left side of fuel tank ie small black piece that glues on. has scratches on swing arm from stands.Rear stand included."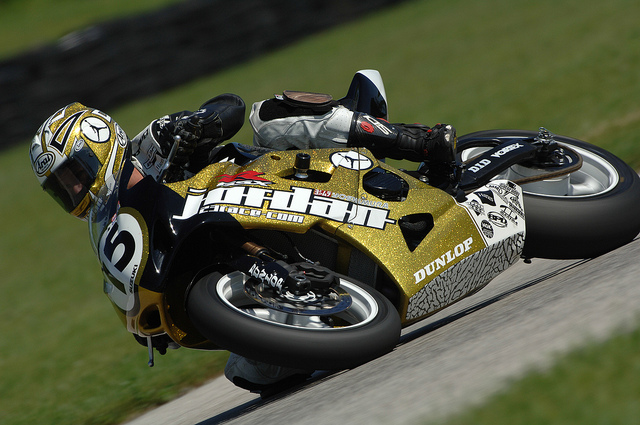 This is the age old question: How much for a used race bike? Does the fact that MJM campaigned this bike in AMA help at all? Does Steve Rapp add to the value? What about the signatures? There are likely some cool bits on the bike, but this is a production-based machine and not a prototype; you can likely find those bits online today. Click the link to check out this particular auction. Is the asking price fair? Make the jump and let us know!
MI