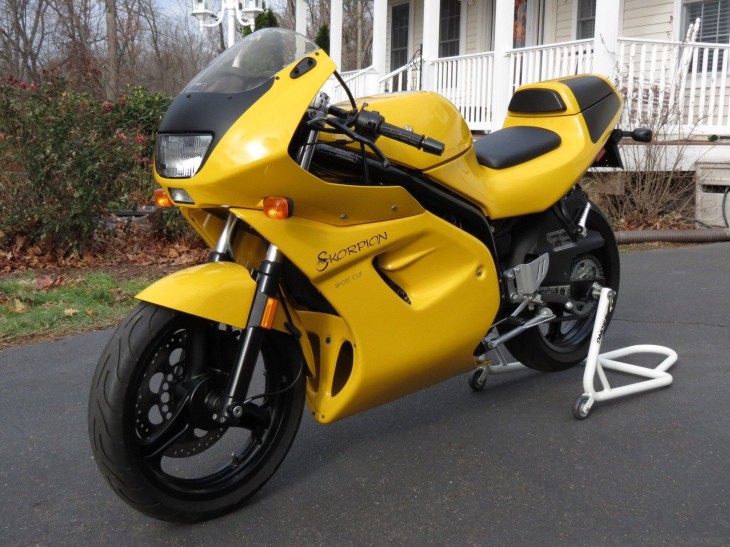 If you're looking for something a bit different that won't break the bank to buy or maintain, the MZ Skorpion offers something different for folks who don't mind being on the receiving end of the occasional double-take, a 660cc sportbike with just one cylinder… Built from 1994 to 2004 and a very popular choice for club racing in "Sound of Singles"-style classes these days, they offer handling and versatility in an unintimidating package that stresses finesse over raw power.
MZ, formerly known as "MuZ" was an East German company that dominated two-stroke racing, until defecting racer Ernst Denger fled to the west, taking their expansion-chamber tuning secrets with him to Suzuki…
There's a bit of "people's bike" DNA still here, and the entire MZ range of the time featured the same Yamaha 660cc five-valve single, here wrapped in fully-faired sporbike bodywork. Instead of chasing top speed and horsepower numbers, a single-cylinder sportbike offers useable midrange performance, reliability, and character.
Like some Communist dream of a sporting motorcycle for the proletariat, the MZ is good-looking, handles well, and fast enough to challenge all but the best riders, assuming their egos can cope with the mere 48hp produced by the thumping single, a bike with racy looks and a working-class heart.
From the original eBay listing: 2001 MZ Skorpion Sport Cup
The MZ Skorpion Cup is a very unique and super fun alternative to all the other 600 sport bikes out there. This one is a super clean version and sure to bring a smile to your face everytime you throw a leg over it and go for a ride…….street or track? You decide……..these things make great lightweight road race bikes or can be the perfect track day bike!! And your buddies will not be riding one! This bike is ready to go with all new fluids and brakes and perfect Michelin Pilot tires. You will not be disappointed!!!  Why be NORMAL when you can ride an MZ Skorpion cup bike?

Yamaha XT660 single engine
Grimeca Brake with new Dunlop Race pads
Factory steel braided brake lines
Michelin Pilot tires
Factory adjustable rear sets
Factory Clip ons
Rare Yellow color
Solo seat and rear passanger seat included
All fluids just changed
The seller also includes a picture of the included passenger seat to replace the solo cowl, and a nice aftermarket M4 slip-on that should make a pretty cool, thumpy dirtbike snarl when fitted. Because of course you'll be fitting that: there's really no point in trying to be subtle when you're riding a bright yellow sportbike.
This bike isn't perfect, but it is in excellent, road-ready condition with very low miles. And while a Buy It Now price of $4,000 is on the high side for these, it's still well within the impulse-purchase range. With a very unusual combination of rarity and bulletproof reliability, this is the ideal bike for the rider who wants to be different, but lacks any interest in designer-brand namecheck tomfoolery, the kind of rider who also probably drives an old SAAB 900 when their VW Bug is laid up for the winter.
Someone who appreciates the funky.
-tad