Update 10.31.2017: SOLD! Congratulations to buyer and seller! -dc
Ducati's line of SportClassic retro-inspired motorcycles generated plenty of buzz when they were released in 2006, marrying retro styling cues and modern performance. The original Sport 1000 and Paul Smart/1000S versions were solo-seat only, but got revised rear suspensions and exhaust systems that allowed for a dual-seat option, keeping costs down compared to the limited-release models and widening their appeal. But demand tailed off quickly for the whole range and they were discontinued after just a few years, although the more practical GT1000 hung on a couple years after the others. Today, however, these things command prices as high or even higher than new, with many examples appearing to be in very well-maintained shape and, as is common with Ducatis, have been upgraded with expensive aftermarket bits, like today's Featured Listing Sport 1000.
There's not much to be said about the SportClassic that hasn't been said before: it's a solid, if uninspiring performer, with good handling, tons of style, and decent reliability, a "mature sportbike" suitable for everyone from backroad scratchers to urban posers. If that sounds like "damning with faint praise" I don't mean it to be: the 92hp available from the air/oil-cooled, two-valve v-twin doesn't seem all that impressive when compared to the latest and greatest superbikes, but considering the bike's very reasonable weight and decent suspension it's plenty to have fun with and adequate for probably 90% of the riding public. Even today, those numbers are right on par with the new Thruxton R, with comparable power and lower weight.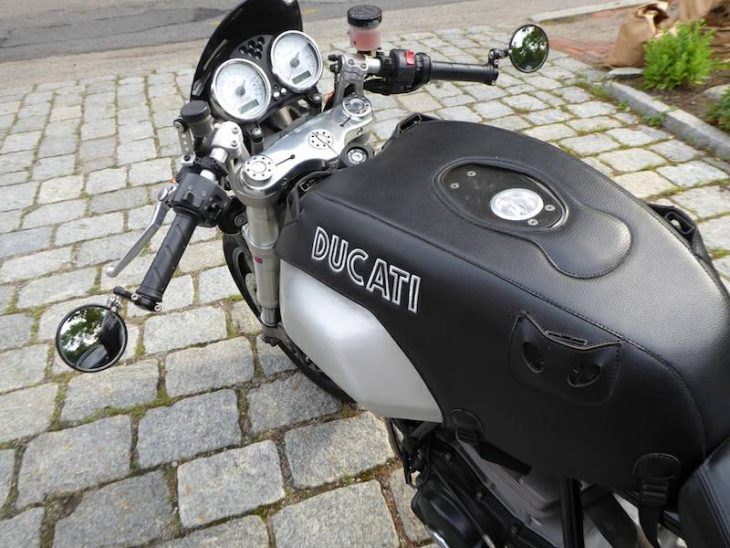 This particular bike avoids one of the major pitfalls of the model: this era's Ducatis often used plastic tanks that don't respond well to ethanol and can swell over time. Ducati was replacing the tanks but with the same plastic tanks, so this could be an issue for folks looking to pick them up second-hand. Here, the plastic parts have been replaced by aluminum which, as you may or may not know, does not swell when exposed to ethanol… The aluminum parts have been clear-coated. Personally, I like the look of raw aluminum, but I'd go with gold graphics over black for this bike. Maybe black paint with the Ducati logo left in bare aluminum? The new owner will get a set of tank decals that haven't been applied.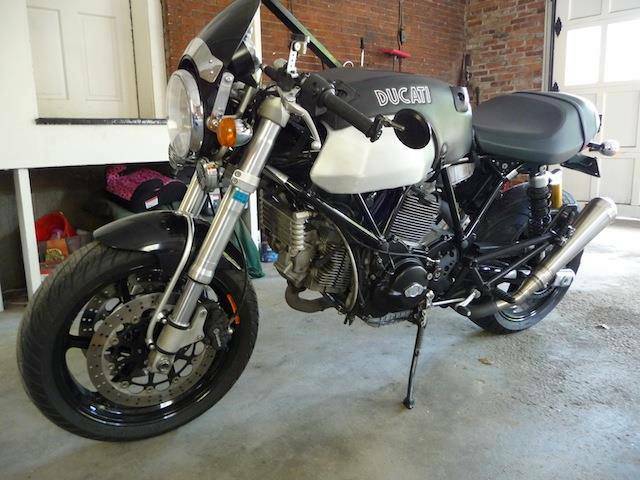 From the Seller: 2009 Ducati Sport 1000 for Sale
This is a very unique bike! A Sport Classic 1000 w/aluminum tank and seat cowl (not the stock plastic stuff), OZ Cattiva magnesium wheels, Spark stainless steel exhaust (great sound!), slipper clutch, flashed ECU, and more. Comes with original OEM parts plus a spare seat (without a cowl on it). Stock tank and seat cowl are black with a white racing stripe. 18.4K miles. One of the coolest Ducatis you'll see on the road. A true cult bike. Well cared for and dealer maintained. I am reluctant to sell it, but I have one too many sport bikes.

$12,000 – Portsmouth, New Hampshire
That black tank-protector shown is nice as well and included with the sale. It covers up the shapely tank, but prevents damage and offers up easy mounting for a tank bag. The original spoked wheels are gone as well, replaced by lighter, stiffer magnesium bits. The owner notes a significant improvement in handling as a result. If you don't like the changes, all the original parts are included to change it back to stock. The seller also helpfully includes a clip from Tron: Legacy featuring a Black Sport 1000 in case you've not seen the movie or would like to see a similar bike in action. The asking price for this example is $12,000, and it's currently located in Portsmouth, New Hampshire. Miles aren't collector-bike low, but Ducati's two-valve twin is a pretty durable engine when properly maintained and these SportClassics certainly look like they're holding their value.
-tad