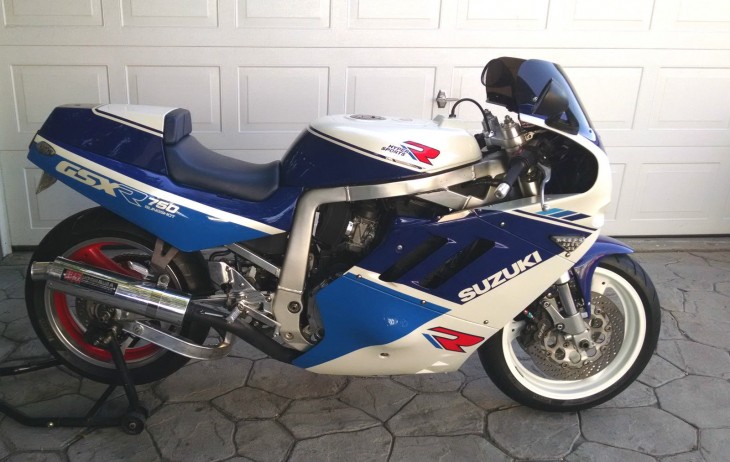 Today's GSX-R750 is sort of the polar opposite of Sunday's Ducati Supermono: the Gixxer was always intended to be ridden and enjoyed anywhere, street or track. It needed no army of trained technicians to make it run, or a crew to push start it like the Supermono did, or pro-level riding skill to appreciate, or a degree in engineering to understand. It just flat worked, everywhere, all the time.
The People's Superbike.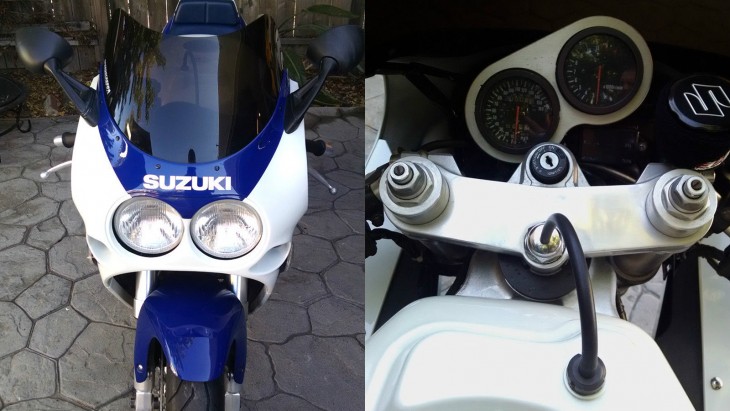 The "J" model was introduced in 1988 and was the first significant redesign of the bike. The engine remained oil/air cooled, but internals were reworked with a shorter stroke that allowed higher revs and resulted in a displacement of 748cc. The bike now featured Mikuni  BST36SS carburetors that gave the bike its "Slingshot" nickname. As always seems to be the case, the newer bike made more power, but was slightly heavier. 112hp may not seem like much power now, but the GSX-R750 was the premier hooligan bike of the age and makes plenty of power to keep riders entertained.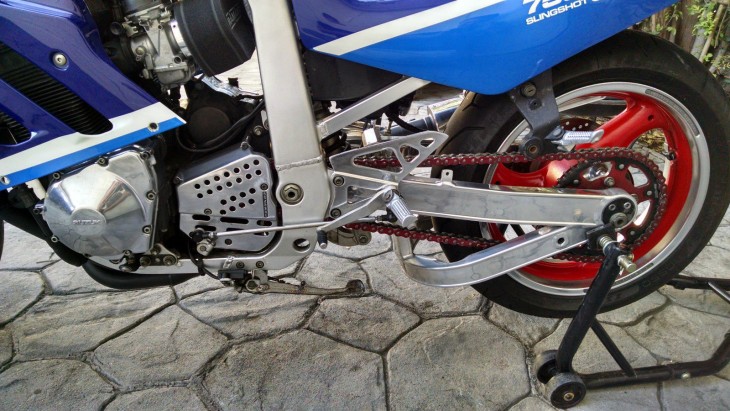 So why would you want one of these middle-child bikes? Well the style, first of all. Looks may be subjective, but this happens to be the only era GSX-R I actively lust after. Maybe I imprinted early and was inspired by the blue and white Gixxer I saw in high school, with one headlight sporting a bright yellow headlamp and one clear for a heterochromic, endurance-racing style. Or maybe the owner was just French…
Or maybe you plan to tear up the back roads on your classic Japanese sportbike and want to fit the latest, stickiest rubber. Those 17″ wheels will make that much easier, although the relatively skinny 160 that's fitted as standard reduces your choices somewhat. I'm sure you can probably go up to a 170, or fit a readily-available wider wheel from another year… The Gixxer forums I'm sure will be full of suggestions, I'm sure.
From the original eBay listing: 1988 Suzuki GSX-R750 for Sale
This bike is a truly unique example of a late model GSX-R in exceptional shape. Completely restored with rebuilt motor and painted only a few thousand miles ago, the chassis has 20K on it. Tons of extras, tuned, titled, registered, and ready to ride. I am thinning out my herd but not in any rush to sell so if it doesn't hit my buy it now or a reasonable offer is made no big deal, I'll keep riding. I am simply testing the waters so make me an offer I can't refuse or simply gawk at my photos and enjoy:-)

The restoration includes the following: A long stroke 750cc motor (similar to the RK model, arguably the best of the oil cooled) with Weisco piston kit, 771cc w/ 11:1 compression, pocket port work done on the head, new bearings and gaskets all around. The transmission had the gears under-cut and shimmed (shifts like butter). Has the original Mikuni Slingshot BST36mm but rebuilt with Stage 3 jets and SS needles. Also, I had a set of custom Velocity stacks made with screens and set of RamAir filters to slip over (for riding on the street).  It has a ceramic coated exhaust (Xtreme Coating) full system from Yoshimura with a polished aluminum canister, less than 100 miles on it.  Suspension has been completely over hauled. The Front forks are off a 92 1100 (inverted style tubes) with new oil and seals, LG valve kit installed for 180+ lb rider. The rear is off a 92 1100 as well but has very trick and ultra-rare Metmachex swing arm (imported from across the pond) with eccentric adjusters, recently had polished less than 100 miles.  New Super Sprocket and X-Ring chain, had to go down a tooth on the counter sprocket due to too much torque off the line. Both wheels have new bearings have been powder coated, the rear has the lip polished and cleared. New rubber all around – Pirelli Diablo Rosso II. Battery is new- Yusa sealed. SS braid brake lines. Paint has been repainted to the factory colors. Seat reupholstered to factory spec vinyl. Tank has a rebuilt petcock and the inside is uber clean. LED turn signals instead of those droopy rabbit ears.  Side covers have been polish if you wanted to go the half fairing / naked look. Comes with a factory service manual, rear seat and tank bra. I know am missing something but I have a folder knee deep of records and receipts you'll get.

Complete serviced done 100 miles ago, new oil, plugs, carbs and valves serviced, all maintenance done by local Suzuki mechanic for over 20yrs.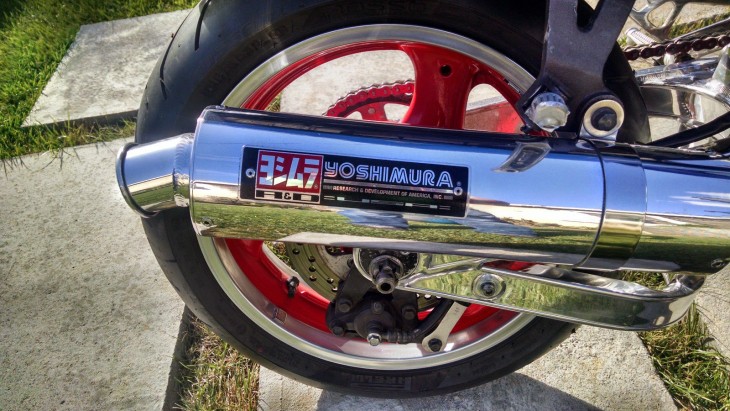 An '88 wouldn't have had the upside-down forks seen here, but they're a logical, period-correct update that came along for the 1991 model here in the US, although everywhere else got the USD forks a year earlier… Fewer corners in the US, I guess…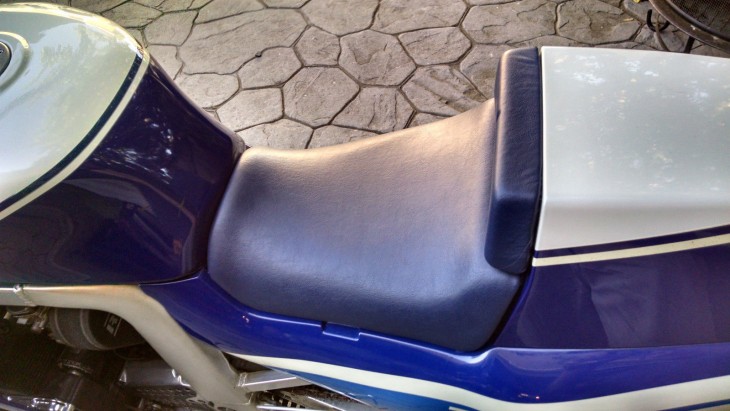 Other than that, this bike looks absolutely perfect, except for the missing fairing lower that looks to have been removed for the video, to show the bike starting from cold. And the turn signals are better than the stockers, but maybe something a bit less conspicuous would have been even nicer?
Is this bike worth $9,500? Well you can still find decent examples for less than half that, but they're getting rarer all the time. I'm sure you couldn't replicate this bike for that money, so this might be just the bike for someone who wants the best, and is happy to pay for it.
Interestingly, a nearly-new GSX-R750's are going for similar prices…
-tad