Update 4.23.2018:  We've updated most of the listings below with their sale prices, and estimates from Bonhams were very close in most cases.  Their showcase pieces did very well also.  From Bonhams:
Bonhams Spring Stafford Sale took place this weekend (21 and 22 April) at the International Classic MotorCycle Show and saw an incredible 92% of lots sold, achieving a total of £3,376,045 (US $4,708,029).

Several world records were broken, including the 1970 Clymer Münch 1,177cc TTS 'Mammoth' which achieved a staggering £154,940 and the 1973 MV Agusta 750S which realized £96,700, the highest prices ever achieved for these models at auction.
Congratulations to Bonhams on a great sale and to all the new owners!
-dc
---
For those lucky enough to be in attendance at the Staffordshire County Showgrounds in Stratford, UK, there will be an amazing collection of motorcycles passing over the auction block courtesy of Bonhams. But fear not: you need not be in attendance in order to participate in the auction. And just so you don't miss out on any of the key lots going up for sale, RSBFS is here to help you navigate through the drool-worthy articles on hand. Register early, and bid with confidence!
For the rest of us, let us know what you think of the sale and estimates in the comments below.
– RSBFS Team
1998 Ducati 916 SPS – This 4,000 mile machine has a Bonhams estimate of $21,000 – $27,000 USD.  SOLD – US$ 20,196 inc. premium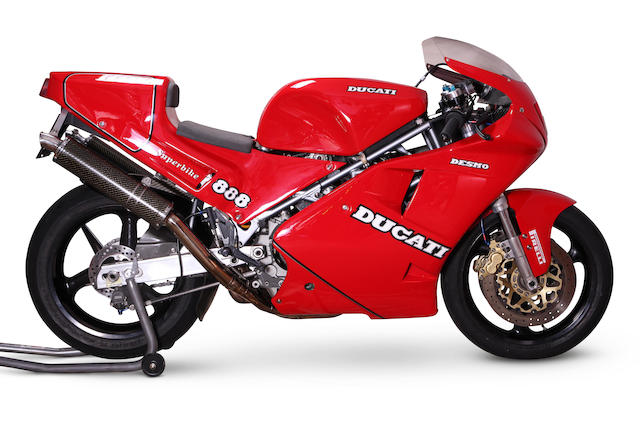 1990 Ducati 851 SP2 by NCR – Never been raced, but chock full of NCR parts. Bonhams estimate: US $39,000 – $49,000 USD.  SOLD – US$ 27,631 inc. premium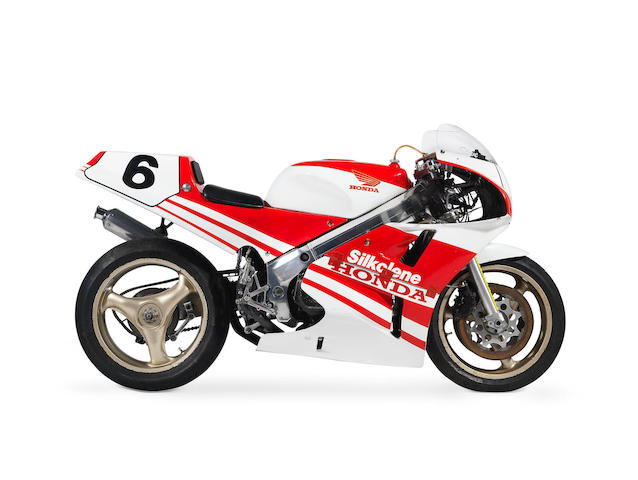 1989 Honda VFR750R Type RC30 – this works Honda is an Isle of Man TT and Macau Grand Prix veteran. Bonhams estimate: US$ 35,000 – 49,000.  SOLD – US$ 40,393 inc. premium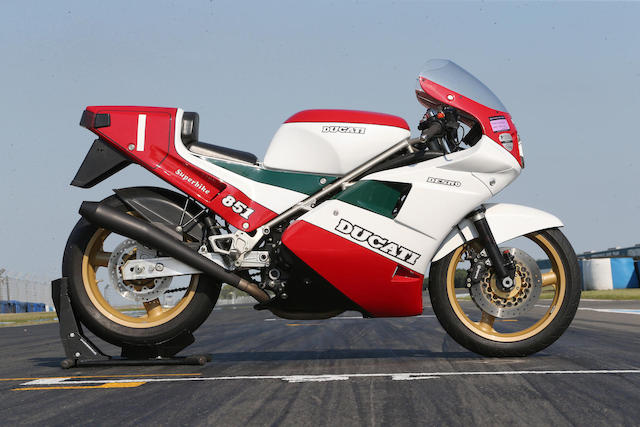 1987 Ducati 851 – Alan Cathcart's personal machine since new, this tri colore beauty has a Bonhams estimate of $49,000 – $63,000 USD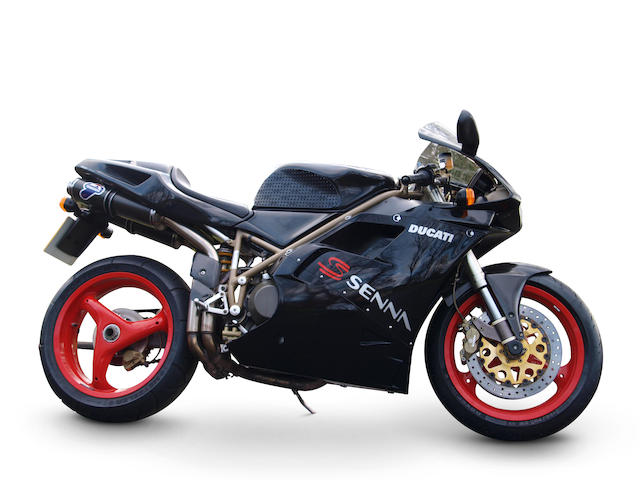 1998 Ducati 916 Senna III – This low mileage 916 is number 281 of 300. Bonhams estimate: $14,000 – $17,000 USD.  SOLD – US$ 22,620 inc. premium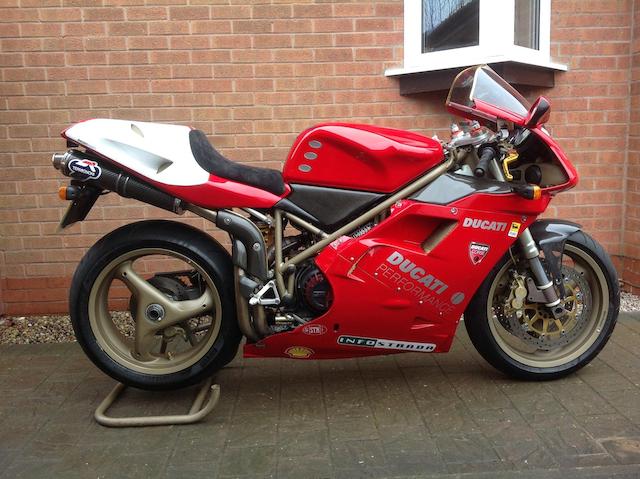 1998 Ducati 916 SPS – With a documented history (including complete engine rebuild) this SPS has a Bonhams estimate of $18,000 – $24,000 USD.
1999 Ducati 996 SPS2 – Only 150 examples of this Euro-spec model were built. Bonhams estimate: $13,000 – $17,000 USD.  SOLD – US$ 13,733 inc. premium
1986 Ducati 400 F3 – With only 327 kilometers showing, this late Cagiva-era Ducati has a Bonhams estimate of $5,600 – $8,400.  SOLD – US$ 5,655 inc. premium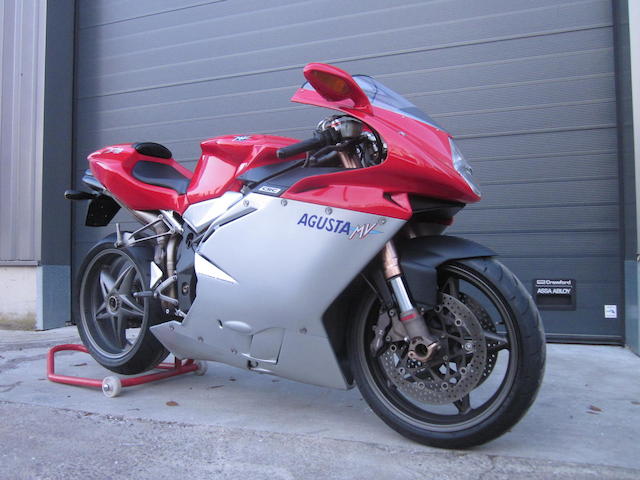 2000 MV Agusta 750cc F4 S – This '1+1' Biposto example of the astounding F4 lineup has a Bonhams estimate of $9,800 – 13,000.  SOLD – US$ 10,987 inc. premium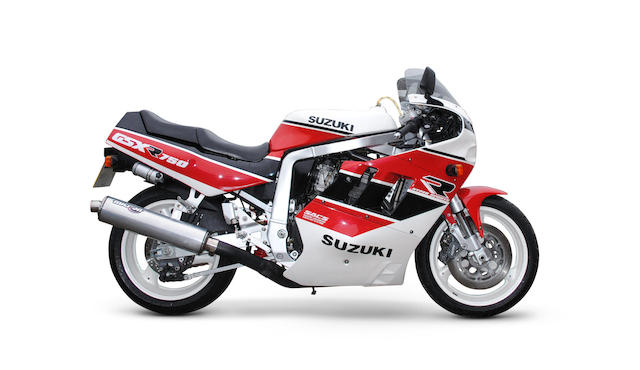 1990 Suzuki GSX-R750L 'Slingshot' – Presented as virtually new after an extensive restoration, this bike will be sold at No Reserve. Bonhmas estimate: $4,900 – 6,300.  SOLD – US$ 6,947 inc. premium
1988 Honda VFR400R Type NC21 – A rare oddity in the US, this baby RC30 shows approximately 23,000 miles. Bonhams estimate: $3,100 – $3,900.  SOLD US$ 4,524 inc. premium
1978 BMW 980cc R100RS 'Krauser' – Though rather high mileage at 80k+, this looks well looked after. Bonhams estimate: US$ 7,100 – 11,000.  SOLD – US$ 7,755 inc. premium
1971 Moto Guzzi V7 Sport 'Telaio Rosso' – Recently restored, previous magazine tester. Bonhams estimate: US$ 34,000 – 42,000.  SOLD US$ 43,625 inc. premium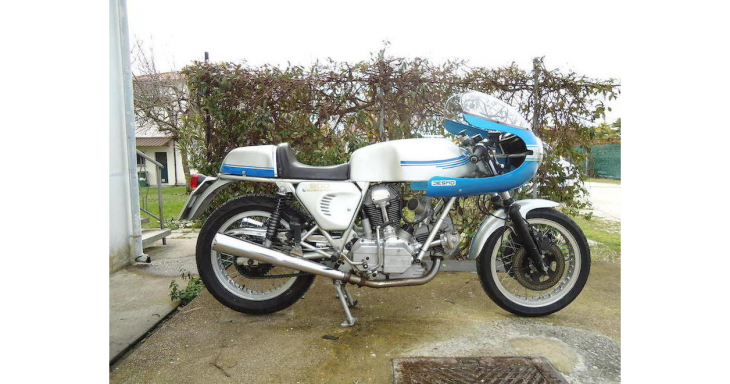 1976 Ducati 900SS – Used in the late 70's in amateur racing, it was later returned to road duty but includes many spares. Bonhams estimate: US$ 35,000 – 45,000.  SOLD – US$ 37,162 inc. premium
1977 Benelli 750cc Sei – odometer shows 13k KMs, includes receipts. Bonhams estimate: US$ 11,000 – 17,000.  SOLD – US$ 22,620 inc. premium
1979 Honda CBX1000Z – Imported to the UK via Canada in 1982. Includes receipts and Delkevic exhaust system. Bonhams estimate: US$ 14,000 – 20,000.   SOLD – US$ 15,349 inc. premium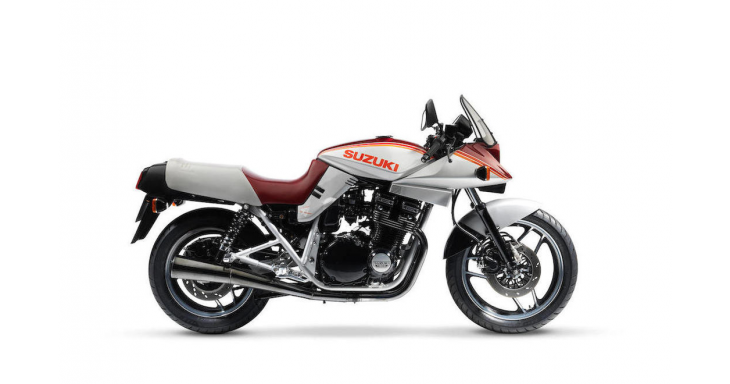 1983 Suzuki GSX1100 Katana – Shows nearly 25k miles and includes some receipts. Bonhams estimate: US$ 7,100 – 11,000.  SOLD – US$ 12,926 inc. premium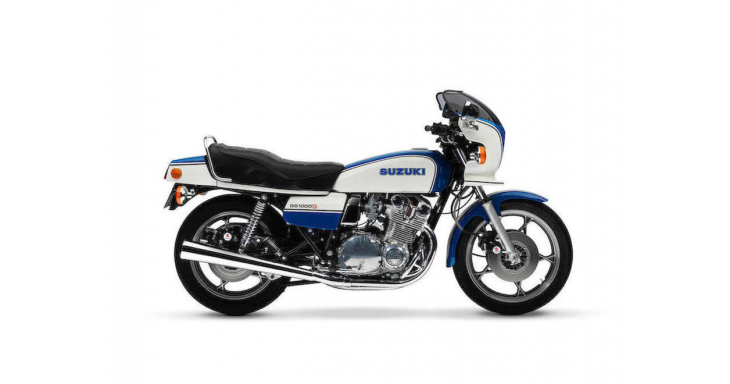 1979 Suzuki GS1000 – No mention of Wes Cooley, is it a clone? Bonhams estimate: US$ 6,400 – 9,200.  SOLD – US$ 11,310 inc. premium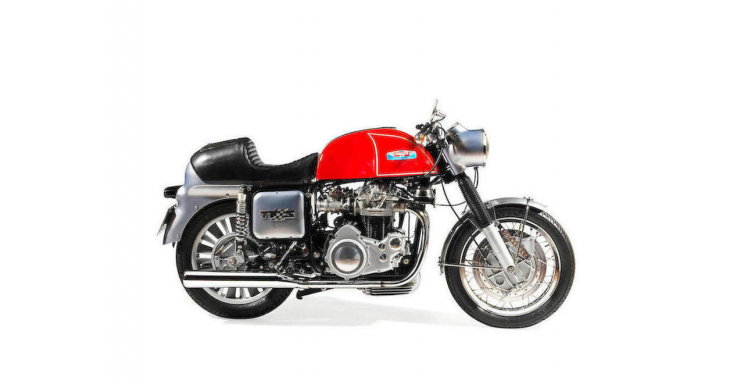 1970 Clymer Münch 1,177cc TTS 'Mammoth' – One of the featured lots of the Stafford auction. Completely restored. Bonhams estimate: US$ 110,000 – 140,000.  SOLD – US$ 217,692 inc. premium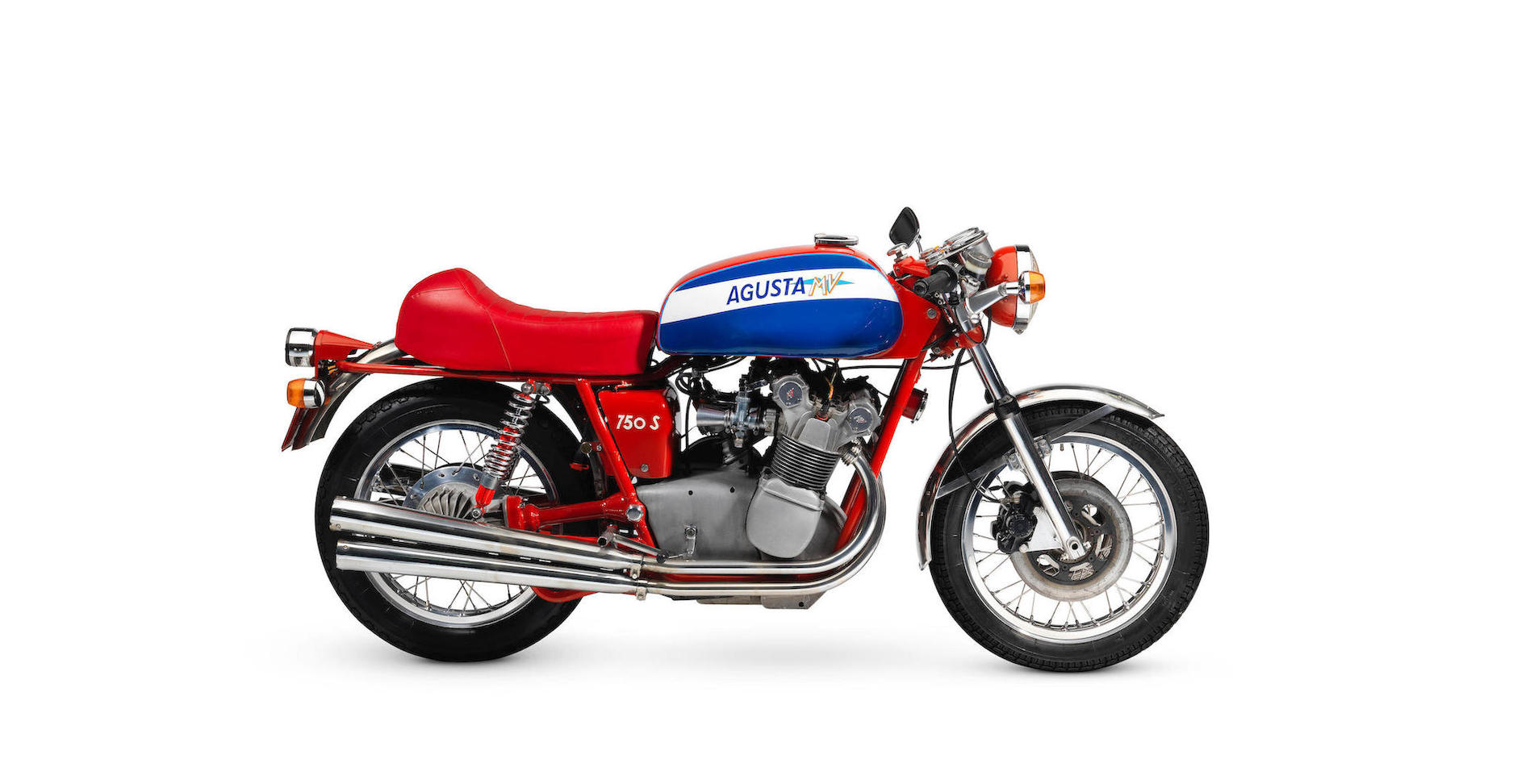 1973 MV Agusta 750S – Another featured lot at the Stafford sale and noted as one of the most desirable of post-war motorcycles. Bonhams estimate: US$ 99,000 – 130,000.  SOLD – US$ 135,864 inc. premium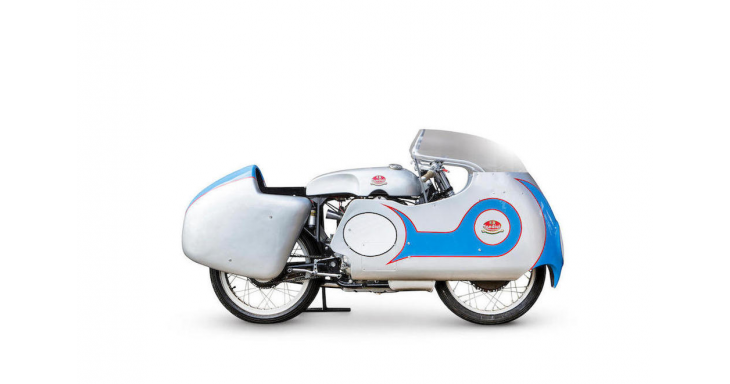 1957 F.B. Mondial 250cc DOHC Grand Prix Racing Motorcycle – World Championship and Isle of Man TT-winning motorcycle of great historical and technical interest. Offered with assorted correspondence relating to its provenance. Bonhams estimate: US$ 110,000 – 170,000.  SOLD – US$ 129,569 inc. premium
Honda 250cc RC163 Grand Prix Replica – The 250cc inline four gem was a championship winner, this replica is suitable for parades or vintage racing.  Bonham's estimate: $20,000 – $25,000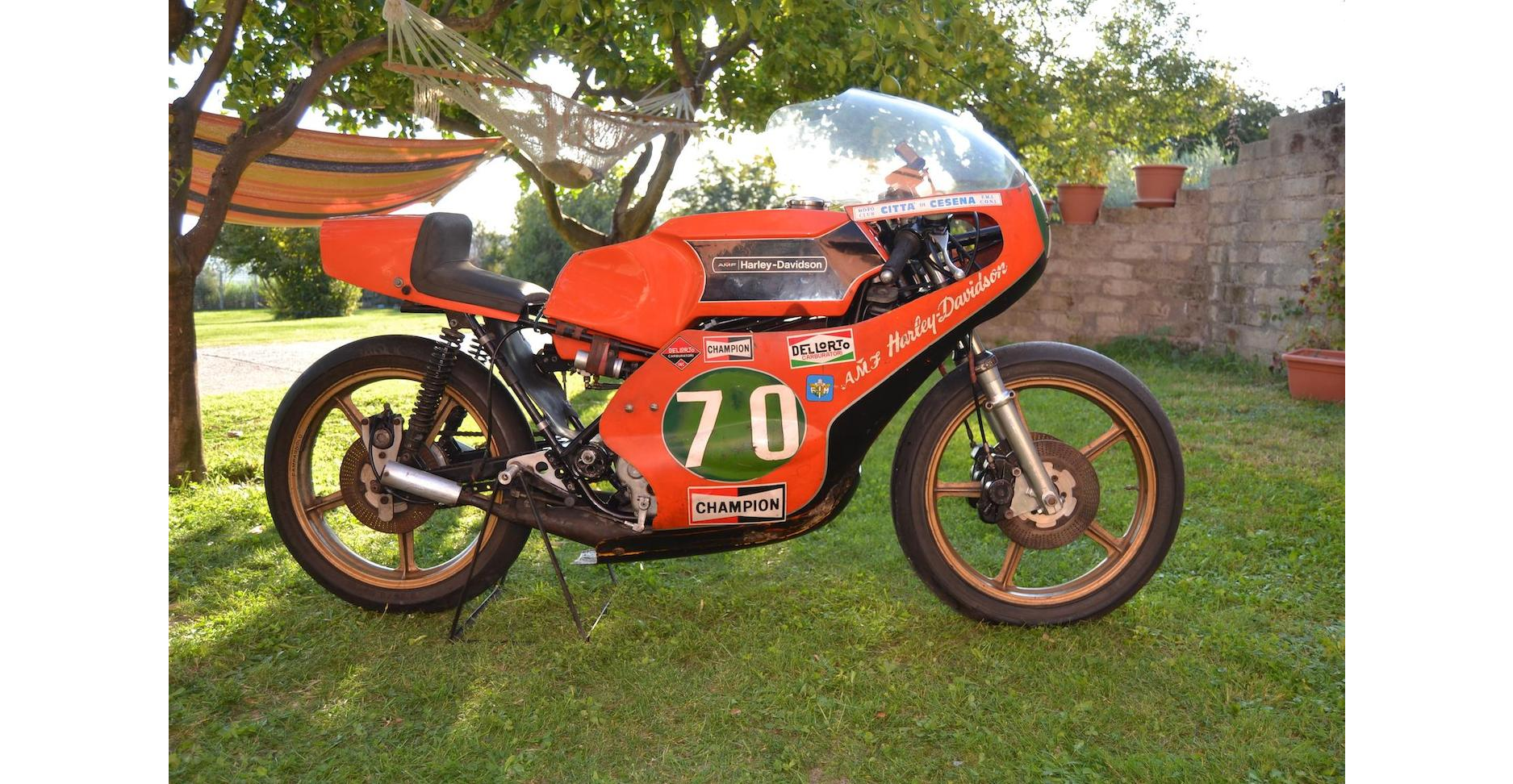 1974 AMF Harley-Davidson 250cc Grand Prix Racing Motorcycle – This Aermacchi-designed two-stroke is unrestored and was in the stable of the Cesena Motorcycle Club before being on display at the Rimini Motorcycle museum for the past 30 years.  Bonham's estimate – $17,000 – $21,000.  SOLD – US$ 17,773 inc. premium