The Other Senna Replica:  1998 Ducati 916 Senna #297
It might not be one of Ducati's more popular limited edition models but it sure is a pretty bike.  This one hasn't seen a whole lot of use to ruin those good looks.  I had almost forgotten about these bikes since the introduction of MV Agusta's Senna model.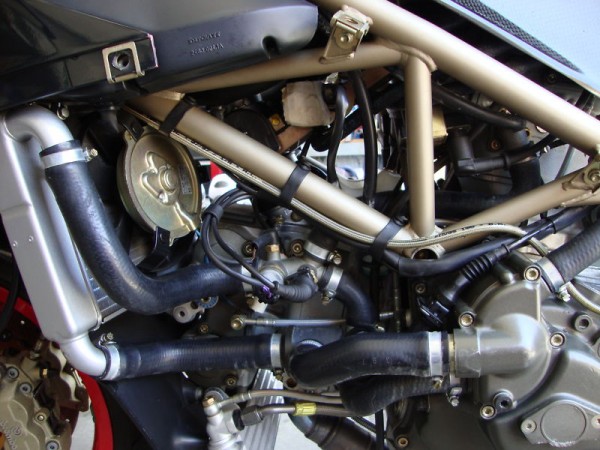 Looks squeaky clean to me.  I wasn't up on the proudction subtlties of a 916 Senna and found this great explainer from Motorcyclespecs.co.za  and I couldn't explain it better if I tried:
The great Brazilian Formula One driver Ayrton Senna was a friend of the Castiglioni brothers, and an owner of an 851. Only a few months before his death in 1994 Senna agreed to the production of a limited edition 916 Senna, with the profits going to the Senna Foundation. The Senna 1 appeared for 1995, and setting it apart from the regular 916 was the black and gray color scheme with red wheels. Apart from steel Pankl con-rods, the engine specification was that of the 916 Strada, while the chassis was similar to the 916 SP. This included the solo seat, aluminum rear subframe, Öhlins shock absorber, and fully floating cast-iron front brake discs. Also shared with the SP were adjustable brake and clutch levers, stainless-steel brake lines, and carbon-fiber front fender, clutch cover, chain guard, and exhaust pipe insulating panel.
Because of production difficulties there was no Senna for 1996, but another series, the Senna II, was produced for 1997. These were virtually identical to the earlier version, but were painted a lighter gray. The final series was produced for the 1998 Model Year. These bikes were painted black and featured a carbon-fiber airbox and exhaust heat shield. The Senna missed the mark as a limited edition model because it was not quite as exclusive as anticipated, and only provided the performance of a 916 Strada.
It's a bit confusing, the auction states the bike has 1000 miles on it yet it looks to me the odometer has a big goose egg.  The Senna was kind of an odd mix, lower spec engine with higher spec chassis components.  I can see why it wasn't a huge hit.  Everyone wants a high spec engine, Ducati of all manufacturers should know that.
Here are the details on the bike up for auction:
This bike is in mint condition like new from Ducati's showroom floor.  From what I know there are only a handful of these Senna's in the US.  I am the original owner, and I have all the accessories that came with the bike new; Extra Exhaust, EPROM Chip, Rear Stand, Cover, tool kit, manuals, and I'm throwing in two new oil filters, Ferodo CP911 front brake pads, and two new Pirelli Dragon tires.  It breaks my heart to be selling this georgeous bike.  The buyer will need to handle all shipping details and payments for shipping.  I strongly advise the new buyer to not ride this motorcycle on the current tires mounted to the motorcycle.  These tires are the original Michelin TX15/25's and that makes them 12 years old at least and though they look like they are in good condition they should be ditched for safety and the new Pirelli's mounted.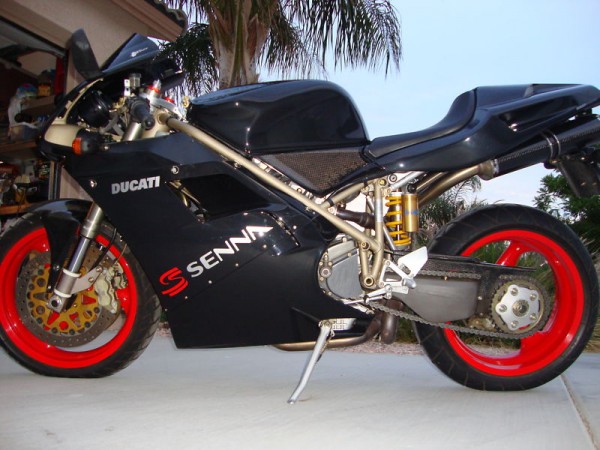 Did you know the profits went to a charity?  I sure as heck didn't.  What do you think she is worth?  I did come across a VERY similar bike listed for $22,000.  I freely admit I don't have a clue if that is a realistic price but it does seem high if this wasn't a very popular model.  Tuck that info away for your bidding strategy.  .
IK