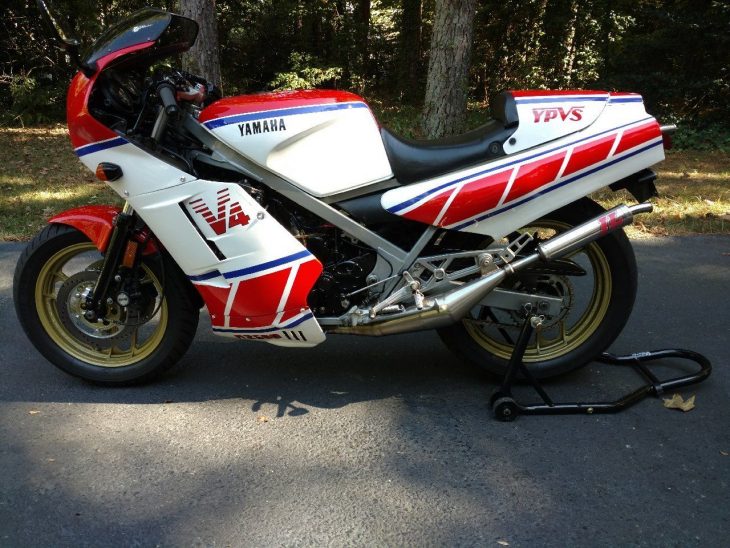 Yamaha's two-stroke Grand Prix replica went by a few different names, depending on where it was sold: RD500LC in Europe, RZV500R for the Japanese market, and RZ500 in Canada and Australia. You'll note that nowhere do we mention which version we got here in the USA. The reason? We didn't: this wild, two-stroke four-cylinder was never officially imported during production that lasted from 1984 through 1986. I'd assume this particular RZ500 probably slipped across our northern border at some point, although it's always possible it was smuggled into the US in someone's luggage coming back from vacation in Australia…
Of course, as lightweight as a two-stroke can be, that's all relative: in 1984, a sportbike making 88hp and weighing 450lbs dry was considered pretty darn lean and mean. Of course, that was nearly 100lbs more than Suzuki's rival RG500, which also made a bit more power. But neither would impress today's riding public, weaned on 120hp 600cc supersports and 150+ hp 1000cc superbikes. But fans of two-stroke performance aren't necessarily interested in top speed or pure performance. They're into the character of that performance, in that particular two-stroke zing that pretty much requires constant use of the slick six-speed gearbox to make any sort of progress, accompanied by the two-stroke's trademark ring-a-ding and the smoky haze left in its wake.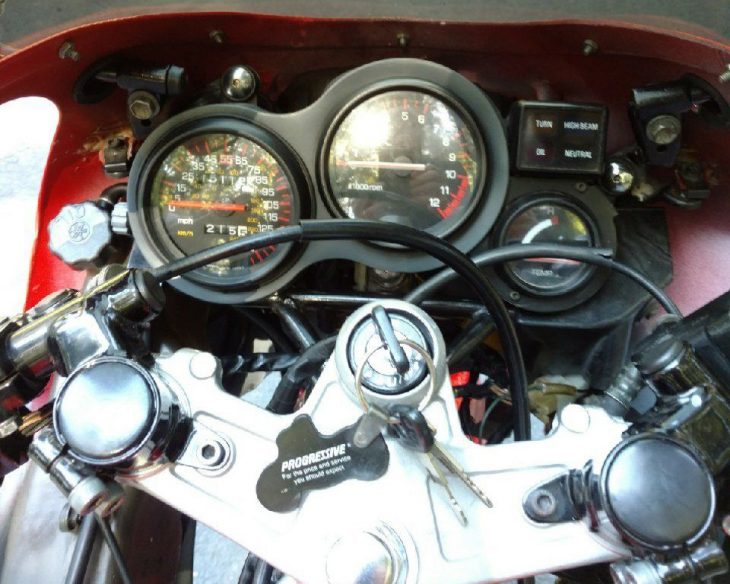 The Yamaha was powered by the kind of oddball engine you just don't see enough of these days: a liquid-cooled 50° two-stroke V4 that featured twin cranks, a pair of YPVS power valves and lubrication handled by Yamaha's Autolube oil-injection. 80s fashion meant a 16″ wheel up front, along with anti-dive forks, and an 18″ rear wheel. Two-stroke engines themselves are generally very compact, but the expansion chambers required for performance applications meant different packaging challenges, and led to the RZ500's underslung rear shock that cleared space for the rear cylinders' exhaust pipes.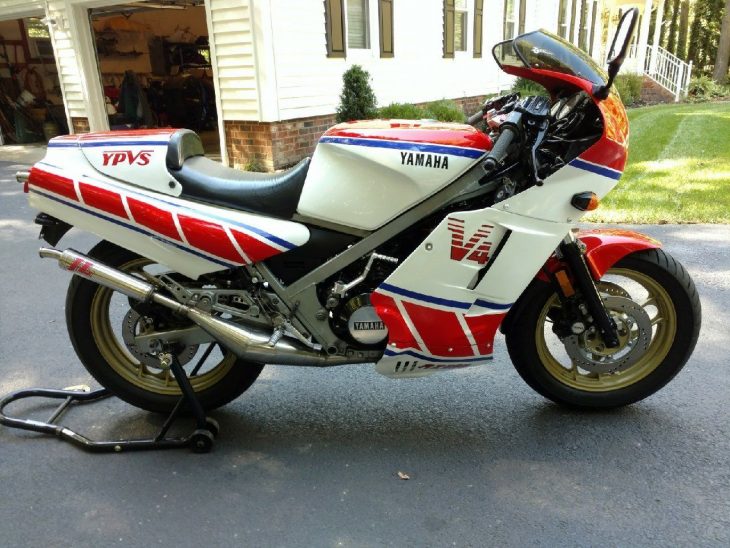 The seller's description indicates that the bike is not completely stock, but anything other than a mothballed time capsule is likely to have had some wear-and-tear, and it seems like the current or previous owners have taken every opportunity to update or improve the bike when opportunities presented themselves.
From the original eBay listing: 1985 Yamaha RZ500 for Sale
1985 YAMAHA RZ500 V4 Two Stroke
Excellent condition, Looks amazing and runs great
COMPLETE engine rebuild and Stage III porting by Wilson Performance about 6500 miles ago. Total cost $6,400.00     (documentation attached)
Wilson Performance Air Filter System (documentation attached)
Wilbers rear shock Series 640. Complete factory rebuild in Aug 2017 (documentation attached)
Jim Lomas polished stainless steel chambers
Mikuni 34mm round slide carbs (nicely jetted)|
New AVON AM26 Road Runner tires
New chain and sprockets with 520 chain conversion
DYNA Coils
New bodywork
Factory Yamaha Service manual included and the rear stand
Bodywork kit is from Australia and runs about $1100.00
EBC brake rotors front and rear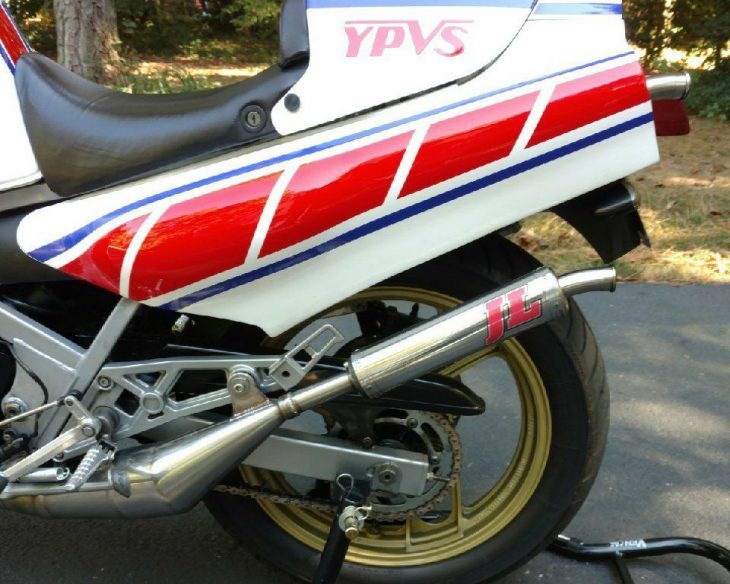 The Buy It Now price is listed at $15,000 on the nose, pretty much the going price for a nice RZ500 these days. From the description, this bike looks like it's in very nice condition and is ready to be ridden, with proper maintenance and mild performance updates that should increase power and rideability. With new bodywork and the non-stock exhaust, this might not appeal to the most dogmatic of purists out there but, for everyone else, it looks like a very nice example, and the recent engine work should hopefully put prospective buyers' minds at ease.
-tad