At least in the USA, the two-stroke engine was winding down in the mid-1980's, as the State of California ratcheted down emissions, and the Federal Government applied the fleet concept to motor vehicle manufacturer's emissions.  The final few years were a hodgepodge of catalysts and evaporative emissions canisters, but the sweet handling bikes were quite memorable in their light weight and peaky powerplants.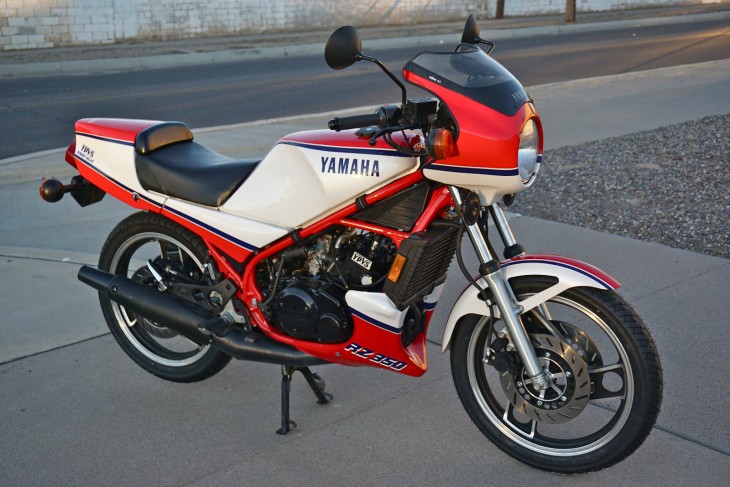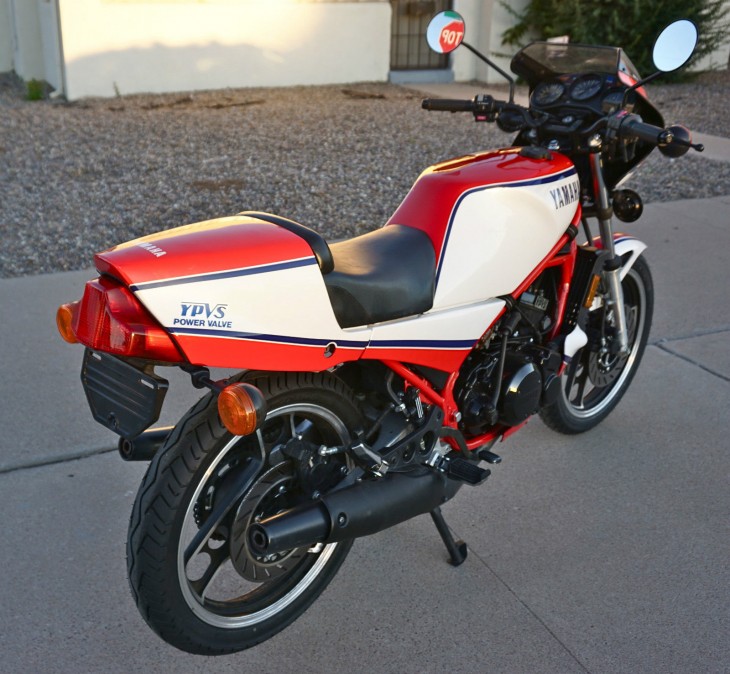 One of the first perimeter frame motorcycles, the RZ350 has no center backbone, the frame tubes follow and support the bottom of the fuel tank as they progress back toward the swingarm pickup points.  The 347cc engine is cradled in between the bottom tubes and generates 60 hp.  At the small end of the Yamaha line-up,  the RZ350 had plenty beside the 9500 rpm redline to interest experienced riders.  Yamaha's Power Valve System has motorized control of the exhaust port height, extending the torque band substantially.  Fairly conventional front suspension with monoshock rear.  Brakes are triple 265mm disks, and tires are the same front and rear – 4.10 x 18.  But the low weight is what helps all those features work better, with half fuel the bike weighs just 371 lbs.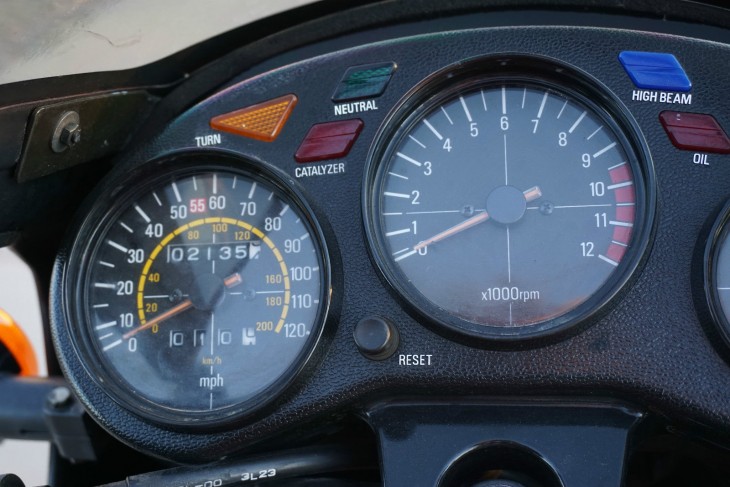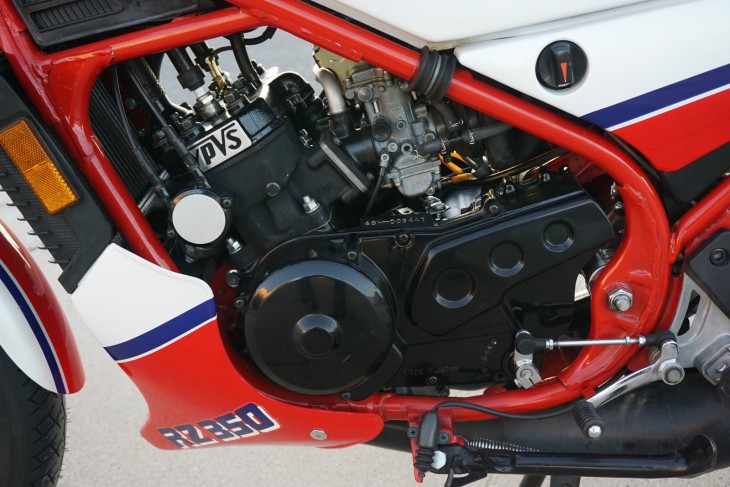 30 years old with just over 2,100 miles, this survivor is in amazing shape.  Original turn signals are still there, along with plastic trim and reflectors on the radiator, and filler panels below the front of the fuel tank.  The single seat looks great, though the dual seat fairing is also included.  From the eBay auction:
What an incredible time capsule! Runs flawlessly. Look at close up of carburetors, still has the factory idle screw setting.
I have only owned this bike a short time but I did have the brakes flushed, tires changed and cable lubed. I have decided not to
ride this bike because the mileage IS so incredibly low (2135).
I have the original tires (pictured) and I have the dual seat cover (pictured). The only flaws are tiny and there are two of them on the tank (pictured).
Inside the tank is a baffle, it has slight rust on it. This one has the red frame! Not sure how many came with the red frame.
I believe even though it does not have the signature on the cowl it is still the Kenny Roberts special RZ.
Identical to the Kenny Roberts signature edition in every way except the paint ( and signature ), the red, white and blue model has its own appeal.  At this age new caliper seals and brake lines would have to be considered, as would checking the wheel and steering head bearings.  But if you were inclined to continue this beauty's modeling career, they could stay as they are…
-donn
6 Responses.